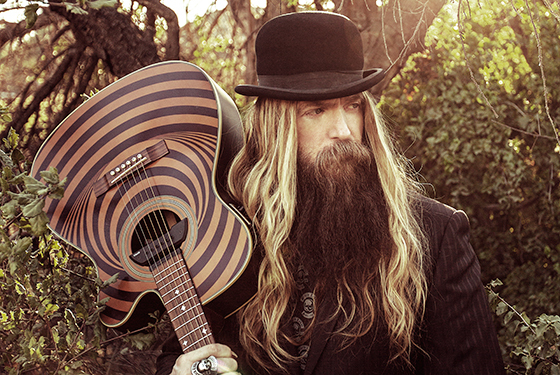 (Photo Credit: Justin Reich)
Zakk Wylde is one of those figures in rock music that has found himself in the middle of all of the other guitar virtuosos, his teachers, his inspirations, and shaped an already deep legacy that has placed him in all corners of rock-n-roll. Wylde came into his own upon his run playing guitar for Ozzy Osbourne (who he refers to as "The Boss") in the late 1980s on through the mid-1990s. Zakk Wylde as continued to have a close knit relationship the Ozzy over the years, joining the band whenever needed, all while creating his own band Black Label Society, among countless other projects that Wylde has contributed to.
Recently, Zakk Wylde released his second solo album Book Of Shadows II, twenty years after the first one, which are records showcasing his mellow rock influence that has been important throughout his life. I was able to chat with Zakk Wylde recently about expressing this mellow side on record, along with his respect for his peers, and his memories about first starting out in music.
While your solo albums are this lighter side of you, the other stuff you do like Black Label Society is heavier. It's all rock n roll, but why do you think you were able to creatively show this other side to you when there is so many other artists out there that might not have the ability or opportunity to do so?
Maybe they don't want to. Who knows? Any of my other buddies that do heavy stuff, they might play jazz and stuff like that on the side. They are like 'I can never put any album out like that'. Something so drastically different than what they are doing. For me, the mellow stuff has always been in there anyways. Even with "The Boss", when I was rollin' with Ozz, we'd do "Mama, I'm Coming Home" then we'd do "No More Tears", then "Road To Nowhere", and stuff like that. "Time After Time" and "See You On The Other Side". That element has always been in there, even when I'm rollin' with "The Boss". For me, even when you're listening to Zeppelin, I love when they do "Black Dog" and I love it when they do "Going To California". For me, with the Book Of Shadows as well, it's basically my love for all of the music, like listening to Neil Young, Van Morrison, The Band, Allman Brothers, Bob Segar, Percy Sledge, Sam Cooke. It's like me and you just sitting around road tripping it and listening to the Eagles and all of this mellow stuff. Even with Ozz back in the day, it's just like me and you sitting and drinking cocktails. It would just be a rolling Irish pub. Just sitting up in the front listening to the Eagles, Neil Young, or whatever. All this good amazing mellow stuff talking about the production on the records, listening to how amazing the songs are. Just solving the problems of the world whether we're talking about religion, current events, sports. That's a good time. Its just my love for that music and Elton John and all that type of stuff. At the same time, I love between Sabbath and Zeppelin, when you're writing riffs, I love doing that as well.
When I hear you speak about music in other interviews, what I always notice about you right off the bat is that you have respect for your peers and respect for the people that came before you. You don't kiss anyone's ass, but you give credit where credit is due. How important is that to you to show that respect? Where does that come from?
Even if you're an athlete, you talk about all the players that came before you that you loved and inspired you and influenced you and gave you passion and love for the game. That's how it was when I played sports. It's the same thing with music. All the guitar players that I loved and all the musicians that I loved, whether its Elton John, Neil Young, Frank Marino from Mahogany Rush, Al Di Meola, John McLaughlin, just a list of all these amazing musicians that I love. Jimmy Page, Tony Iommi, and all the guys. Not only that, if you're a chef, that's where you learn, me and you, how you learned out to cool is from all these amazing chefs that all combine it into this Rolodex of knowledge. Also, it's all the Crayons and everything like that. You do what you do. You can always reference things. For me, that was it always is. Even when we're producing a record, mixing it, or whatever, that's how you learn. All your favorite musicians that when you're learning are really your teachers. That's why I always reference them anyway because outside of the fact that I love them, its just how much they inspire you.
When looking back to the beginning of your music career with doing various bands then linking up with Ozzy, what are your best memories about that time?
Before obviously getting the gig with "The Boss", the bands that I was in I remember called Zyris, it was definitely a learning experience in regards that I always I always tell kids 'You have to play was you love.' With us, we had no identity. We knew what we liked. I was in there between Sabbath and Zeppelin and Randy Rhoads and everything like that, and Al Di Meola, John McLaughlin, and Frank Marino, I knew what I liked, but the guys in the band were into like Bad Company, Zeppelin, we're all in the same type of things. Bon Jovi was huge and being from New Jersey too, you needed to be like that if you want to make it in the music business. But we're not into that. I'm in Randy Rhoads and I'm doing solos on the records, and they're like you can't do that, just play the melody of the chorus. In the mean time, we're learning the solos to "Mr. Crowley" and "I Don't Know" and this is what moves me. I remember one night, we're playing our music at the Stone Pony, and we had to play longer to we started playing covers and we played "Rock-N-Roll" by Zeppelin and it was so much more fun to play that then play our own music. Something's wrong here. Obviously, we like playing this. Why don't our songs sound like this? I always tell kids 'Whatever music is it that you love, what moves you, and what you have passion for, that's what you should be doing.' That's just across the board in life in general. I just tell my kids that. Don't be what me and your mother want you to be. I just want you to be happy. Whatever it is you love doing, that's what you should be doing. Because I play music, doesn't mean you should be playing music. What is it that you love doing?
Zakk Wylde brings the Book of Shadows II tour to the Majestic Theatre in Detroit on Thursday, July 28th with special guests Tyler Bryant & The Shakedown and Jared James Nichols. For more information, visit zakkwylde.com.
Calling all HuffPost superfans!
Sign up for membership to become a founding member and help shape HuffPost's next chapter