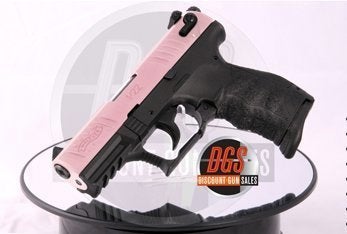 WASHINGTON -- A gun seller thrust into the spotlight last week over its alleged ties to the Susan G. Komen Foundation is launching another production run of its pink "Hope" handgun and donating proceeds to a different cancer organization.
Discount Gun Sales released an open letter on Monday clarifying that it never had a business partnership with Komen, which also vehemently denied such a partnership last week in the face of reports that said otherwise. The two have had a loose relationship, but nothing formal, said the gun seller.
"In a statement to the press, Komen's spokesperson explained that the foundation does not have partnerships with companies in the firearms industry," the letter stated. "Discount Gun Sales and Komen are 'teammates' only in the sense that we support cancer research. We apologize to our customers and the Susan G. Komen Foundation for any confusion."
That doesn't mean Discount Gun Sales never donated any money to Komen, however. And if it did, it won't be doing it anymore.
"We respect Komen's decision to disassociate itself from the firearms industry, and we will instead donate the proceeds from our P-22 'Hope Edition' to the American Cancer Society," the letter said. "We have decided to produce a limited run of 250 units using the latest revision of the Walther P-22, the 'Q Edition.' The pistols will sell for $449.99, and Discount Gun Sales will donate $50 to the American Cancer Society for every one that is sold."
A Komen spokeswoman didn't seem to have any hard feelings. "Like so many companies, Discount Gun's owners and employees are hoping to end a terrible disease, and we're thankful for their support of cancer causes," said Komen communications director Andrea Rader.
Andrew Becker, director of media relations for the American Cancer Society, said he had no comment on Discount Gun Sales' plan since since he hadn't even heard about it. "We have no knowledge of this announcement, and we have not been contacted by this company," he said.
It remains unclear whether Komen ever received donations tied to sales of the "Hope" handgun. Discount Gun Sales at least originally planned to donate proceeds from sales of the gun "to a charity that people would recognize, and Susan G. Komen is very well known in the Seattle area as a result of their 'Race for the Cure,'" according to the letter.
A source at Discount Gun Sales, who requested anonymity, told The Huffington Post that the company did donate proceeds from sales of the "Hope" gun to the Seattle affiliate of Komen a couple of years ago. "Yeah, yes, we cut them a check," said the source, who said the company had donated a portion of the sales of 25 to 35 of those handguns, which were priced at $429.99 apiece.
But representatives for Komen's Seattle chapter and national headquarters say they have no record of any donation from Discount Gun Sales. "We checked our records again, and I can categorically state that the Puget Sound affiliate of Susan G. Komen for the Cure has never received a donation from Discount Gun Sales," said spokesman Jim Clune.
A customer service representative at Discount Gun Sales headquarters said Monday that no one was readily available to discuss providing a copy of the alleged check made out to Komen.
Komen, the largest breast cancer charity in the nation, made waves last week for cutting off funding for Planned Parenthood, before ultimately reversing course on Friday and stating that the family-planning organization will remain eligible for grants. Emails later proved that Karen Handel, Komen's staunchly anti-abortion vice president for public policy, was the main force behind the decision to defund Planned Parenthood and the attempt to make the decision look nonpolitical.
The publicity surrounding Komen and the pink handgun has been a boon to Discount Gun Sales. An employee at one of the gun retailer's stores in Seattle, who requested anonymity, said Saturday that he had been swamped with calls from people interested in the gun and had been collecting names in the event that Discount Gun Sales decided to make more of them. By Monday, the company announced it was launching a second production run after a gunsmith who survived Stage IV cancer read about the Komen dust-up and proposed making a new edition of the gun.
Update: 4:50 p.m. -- This story has been updated to reflect a response from the American Cancer Society.
Popular in the Community