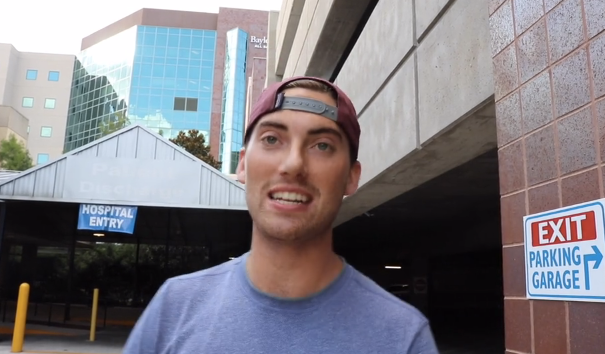 This is an amazingly heartfelt and hilarious moment. 
Danny Kolzow, a 23-year-old nurse in Texas who has Alport Syndrome, experienced loss of kidney function and needed a transplant. So when his friend Graham McMillan found out he was a match, the soon-to-be-donor decided to to break the big news in the most perfect way.
"I heard urine need of a kidney, want mine?"
McMillan, 24, showed up to Baylor All Saints Medical Center in Fort Worth, Texas with a sign that read "I heard urine need of a kidney, want mine?" and shocked the grateful Kolzow. The emotional reveal was caught on video and recently went viral. After watching the clip, it's not difficult to see why. 
Watch as McMillan, who's a high school ministry discipleship director, walks toward his friend and fellow Texas Christian University alum while reading his sign aloud. Kolzow, who's clearly moved by what's going on, proceeds to break down in tears and the pair shares a few powerful embraces. 
Following the viral video, the two underwent surgery on Wednesday and are doing well, according to a Facebook post from TCU.
The nurse explained to the Dallas Morning News that he didn't expect to need a kidney transplant quite so early in life. 
"I thought I would be 40 years old," Kolzow told the outlet, regarding when he predicted he'd need the procedure. "But it really picked up its pace the last couple of years with how fast it's declining."
Kolzow said it was "incredible" to receive the good news. And for McMillan, the donation is just something he was happy to do. He told WFAA before the surgery that the transplant will bring their bond to new heights. 
"In a very physical sense, I think Danny and I will be connected spiritually for the rest of our lives no matter what," McMillan said. 
REAL LIFE. REAL NEWS. REAL VOICES.
Help us tell more of the stories that matter from voices that too often remain unheard.
BEFORE YOU GO
PHOTO GALLERY
Inspiring Organ Donor Stories