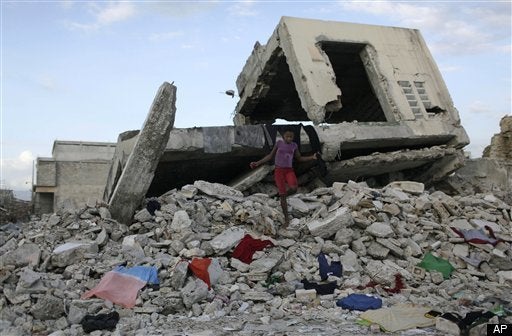 Yesterday, I arrived in Port-au-Prince, Haiti. To see the devastation of a country ravaged by disaster, hunger and disease, with my own eyes was truly heartbreaking.
There is simply no escaping the abject poverty and the destruction wrought by a cruel history of natural disasters, including January's massive earthquake, hurricanes and the current cholera outbreak.
The 2010 earthquake also virtually destroyed the higher education system, which even prior to the disaster was critically under-resourced. As a result of the earthquake, 28 of the country's 32 major universities were destroyed, and an estimated 121 of 200 university professors and administrators were killed. Staggering statistics.
Where does this leave students ten months later? And how can a country rebuild without higher education? University of the People (UoPeople) has some ideas, but we need your help.
I am here because UoPeople is providing talented youth with the opportunity to access to higher education. Over a three year period, UoPeople aims to educate 250 Haitian students, providing Haitian youth with the skills they need to rebuild their country. This will cost a lot to implement, but together I believe we can help transform the lives of these individuals.
I have met our first 16 students and they are truly an inspiration. Men and women, ranging from ages 20 to 29, they all have rousing stories to tell and immense dreams to help create a better life for their families and their country.
As one of our incoming students Elysée notes:
After high school, I could not go to university because it was too expensive. Every day, I would stand in the street talking with my friends about what we would do if we had money. We hoped that 2010 would be better, but then the earthquake destroyed everything, houses, businesses and many lives. Since that day, I have been sleeping in the street, under a tent, and nobody cares about my education anymore. University of the People is better than food and a tent. And education is even better than a visa or a green card.
Elysée's story is only one of many and we need your support to provide these students with online tuition free education, as well as access to computers and satellite internet connection so that these students can access their studies.
These are basic resources, but incredibly limited in Haiti. We cannot underestimate their value to these students' education. So please do not underestimate the value of your donation. The smallest contribution can make an enormous difference.
Haiti is a well of untapped potential, but access to food, shelter and medical care has understandably taken precedence over access to education. UoPeople is helping to change that picture.
Together we can help bring higher education to Haiti. To donate to the project and to learn more about our work in Haiti, please visit our website: Haiti: Donate to educate!