It's never fun to talk about your failures, but if there's anything that can be agreed on about my memoir, Wish You Happy Forever, it is honest. And quite honestly, our efforts to help the children of Huazhou, China were a dismal failure. But that was back in 2002. Now we have a new story to tell.
A few months ago, when I began to talk about the book on my Facebook page, I received a message from one of our supporters asking if there was any way that Half the Sky could help the children at a particularly troubled orphanage in southern China. The place, of course, was Huazhou -- the very place we'd failed to reach 11 years before.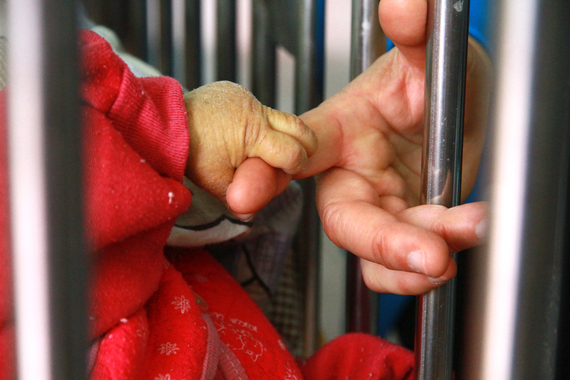 "I visited two orphanages this summer," she wrote. "Wuhan, which has a Half the Sky program, and Huazhou, a small rural orphanage, which doesn't have any outside help at the moment. What a contrast! This is one of the many babies in Huazhou. The orphanage is grossly understaffed, and it shows. I saw 30-month-olds who didn't have the strength and development to walk. This is an orphanage that gets second-class funding and, based on the condition of the kids, it needs outside help. Please, Half the Sky, help Huazhou!"
Half the Sky is not establishing new children's centers in orphanages these days so much as inspiring them. We're still operating our programs in more than fifty cities, but we're also engaged in a nationwide effort to train every child welfare worker in the country how to provide China's most vulnerable children with the nurturing care they need in order to thrive. And because it's such a vast place with many more children than we could ever reach on our own, that means our primary focus must be on teaching and mentoring -- helping others to set up their own programs. But Huazhou seemed to be light years away from being able to turn things around on its own. So we decided to pay them a visit.
I received a message from Rachel Xing, our chief operating officer:
"On the way from airport, Huazhou Director Chen says he feels hopeless for the institution and for the children. He has little money for children to get medical treatment, and staff is in low spirits due to poor salary and benefits. Our heart is sinking while listening to his depressing words, although he seems a nice man.
"Then we arrived at the institution. Deputy Director Li showed us floor by floor of each section. She is a very nice lady and cares for children very much. The attached photos say for themselves. No activity for any children at all. They are all bare foot, sitting on floor or chair, looking around, dirty. No toys at all. Infants all in crib ... no surprise. No toys.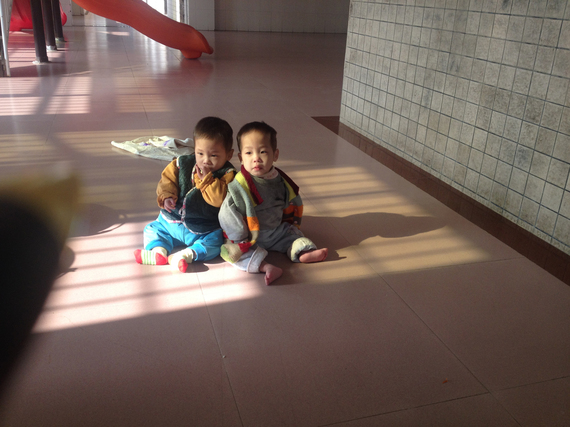 "Children are thin and pale. Quite a few keep banging head. When I touch them, they all hide away or cry or are afraid. Something is blocking my throat now when I even think back today's visit. We all felt urgency to start programs here right away."
And so we did. Thanks to a generous corporate foundation, we began our work in Huazhou in early January. Over the next weeks, I want to tell you the whole story. In so many ways, the Huazhou story is the story of all of China's forgotten children. And the story of the second chance that Half the Sky is determined to give to every single one of them.
Half the Sky operates nurturing, family-like children's care centers inside state-run children's welfare institutions in 53 cities across China. The organization is working to help the Chinese government re-imagine its entire child welfare system by training every caregiver across the country in its innovative approach.
REAL LIFE. REAL NEWS. REAL VOICES.
Help us tell more of the stories that matter from voices that too often remain unheard.