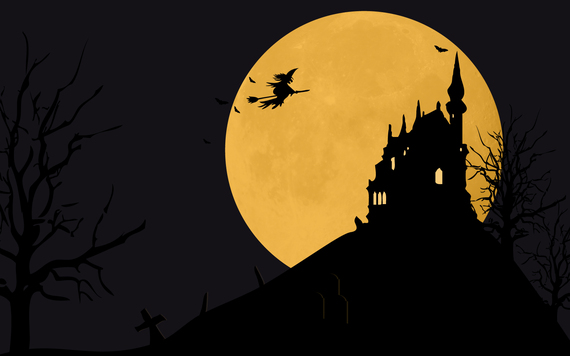 This is the time of year where many churches will engage in "Trunk or Treat," "Hallelujah Fest," or some form of fall alternative to Halloween, which can consist of: hayrides, petting zoos, cotton candy, popcorn, inflatables, theme-related costumes and games, candy parades, and my favorite, the "Hay maze for children, consisting of a series of questions and answers presenting the plan of salvation." Check out all the possible alternatives here.
I have to admit, I find this amusing; however, I am a bit perplexed about the message that the anti-Halloween tomfoolery is sending. As a child, I remember hearing my parents sternly talk about why we would not "celebrate the dead," because that is "demonic." Consequently, I never got to attend a costume party; I never went trick-or-treating; I never experienced a Haunted House- all because "we do not celebrate the dead." One Halloween, I remember we had a large bonfire where we burned all of our "secular" music as a way to "resist the enemy." I do not know what good that brought about, but I know I lost some good music that night (don't get me started on the hayrides that ended in dramas about the Rapture). As I have gotten older, I have realized how unnecessary all of it was when I consider what Christians believe.
Is not the Christian faith built on the "celebration of the death" of Jesus? Every year around Easter, we celebrate the Cross, the place where Jesus was crucified. We have solemn services on Good Friday to show our thankfulness for his death. Yes, I know, the story ends in a resurrection, but isn't resurrection a celebration of the "return of the dead?" What do we do with the passage in Matthew when Jesus dies and "the tombs also were opened, and many bodies of the saints who had fallen asleep were raised. After his resurrection they came out of the tombs and entered the holy city and appeared to many (27:52-53, NRSV). This is not a comforting part of the story, but it is scary as hell! According to the gospel writer, previously dead, decomposing bodies were walking around and appearing to many (rigor mortis?). Here, I give you the biblical basis for The Walking Dead. And how about the fact that Jesus' disciples do not recognize him when he reappears? HE WALKS THROUGH A WALL! Is this not a ghost story? How about the "Holy Ghost?"
On a more serious note, I received an email last year asking "if" Christians should celebrate Halloween? My answer was simply, "are we still talking about this?" I wondered if, all these years later, people still protested the holiday? What I found was, to my surprise, many Christians still refuse to celebrate Halloween- prompting me to ask: what better way to honor someone's life than by memory-filled celebration? Does the Church not celebrate the death of the Saints? What is wrong with celebrating those that have passed on? And what harm is there in wishing that their presence was still with us? This is the basis of the Christian faith: the presence of the deceased, an immortality of the soul. Christianity is just one of many faiths that teach that death in this life is not the end, but another beginning.
To those that refuse to decorate or take your kids trick-or-treating, I beg you as a veteran of all the different church-sponsored Halloween alternatives, loosen up; enjoy yourself; see Halloween as a way to dress up, have fun, and eat candy. See the joy that it brings the children, the way it brings families together and if you want, the way that it makes us think of the otherworldly. But please, please, resist the urge to protest it!
For further educational exploring into the origins of Halloween, see the History Channel's "History of Halloween."
REAL LIFE. REAL NEWS. REAL VOICES.
Help us tell more of the stories that matter from voices that too often remain unheard.