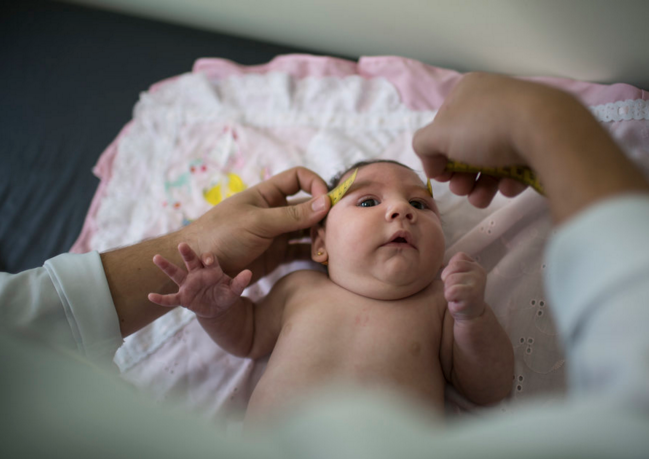 Zika virus is a cause of microcephaly, a condition where infants are born with smaller-than-normal heads, and other fetal brain defects, the U.S. Centers for Disease Control and Prevention confirmed Wednesday. The World Health Organization is advising pregnant women to avoid the Caribbean and other parts of Latin America, where the mosquito-borne virus is prevalent.
Branswell's articles on Zika are clear and concise, and she has a knack for making the complex totally accessible. She's been on the infectious diseases beat for 16 years, cutting her teeth on the SARS virus during the outbreak of 2003. That's when she got hooked on "watching science unfold in real time," she says.
Branswell recently spoke with HuffPost from the STAT News offices in Boston to share what it's like to cover an outbreak firsthand. This interview has been edited and condensed for clarity.
When did you realize Zika was bigger than just a minor outbreak in Brazil?
In November I saw something on the WHO website. Part of their homepage has a list of disease outbreak notices, and I like to keep an eye on that area. I saw microcephaly on there, and I thought, That's not an infectious disease. How can you have an outbreak of microcephaly? People were saying it might be linked to Zika. And that's when I started paying attention. Then we were watching it. Then as the year ended it became apparent it was getting big. I haven't written [about] much else besides Zika since then.
With outbreaks like Ebola, SARS and H1N1, there is a tendency for the media to jump on the topic and cover it with what sometimes feels like over-the-top force. STAT is taking a more measured approach. Tell us about that.
I am glad you think we are taking a measured approach. There is too little evidence right now to say what's happening for sure. From previous experience, I have seen time and again where initial information turns out not to be correct. That's true in any emerging story. You have to be really prudent about how you approach it. We have tried to do that with Zika.
I think what's more true is the media covers outbreaks in a big way. We hit things like a tsunami. We are taking the Zika virus seriously. We want to do smart stories and help people put it in context. We are trying to figure out where the story is going next and what kind of questions people might have, and how we can answer them.
In America, we generally don't have to worry about mosquitoes until the summer. Looking ahead, what are you thinking about in terms of covering the season?
There are already Zika cases being reported daily. If you were to chart them on a map, most states will be lit up. I think public health authorities are going to be on edge. I'll be watching southern Texas, Florida and Louisiana, and also parts of California.
The CDC has been making a point of trying to prepare people for the probability that outbreaks will happen this summer. But I don't think we'll see the same kind of massive outbreaks as we're seeing in Brazil.
On a personal note, since you cover some pretty scary outbreaks, do you find yourself wary of germs? Ever tempted to wear a face mask? Bathe in Purell?
No, I don't. But I do wash my hands. I kind of hope most adults would! I don't really have a huge sense that, Oh my god, these things are coming for me! Though if I were writing about H7N9, the bird flu, and going through markets in China where live birds are sold, I might wear a mask there.
I actually find it all fascinating. Each outbreak helps you figure out who to call and how to understand epidemiology, and what important questions you need to ask. With every outbreak, you get better at covering it. Each one has its own particularities. Zika is the first time I have covered an outbreak that's mosquito-borne. I find it compelling, and the only way it affects me is I get really tired as I am working full-on.
I remember someone telling me that health reporters either become hypochondriacal or act like doctors. I'm not hypochondriacal, and I don't think I am a doctor, but I might not be the best judge of that.
This article has been updated to adjust Branswell's reference to H1N1, also known as the swine flu, to H7N9, the avian flu.
Go Behind The Scenes With Other Reporters:
Related
Popular in the Community