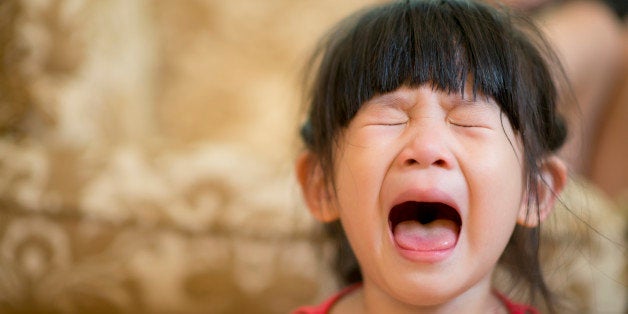 So, it was my daughter's first day at preschool and after dropping her off at school, we were both a mess. I was so torn. She was so sad to leave me and I her. She was hysterical when I dropped her off, but the director assured me that five minutes after I left, she was engaged and just fine.
Did I do the right thing by leaving her? Would she be crying all day for me? That first day was torturous for me. I kept looking at my watch thinking, what was she doing now? Was she crying again? Thinking maybe that I had abandoned her? When it was finally time to pick her up from school I was overjoyed. I had to rush because I just knew she was counting the minutes as I was. She must be crying in a corner someplace waiting for me!
When I entered the school yard she wasn't in the corner at all, she was actually playing on the playground with a few other little girls. She was having a great time, and when she finally saw me, she ran to me and asked if she could play a few more minutes. I couldn't believe how well she did that day. I was almost sad, that she didn't want to run away with me; that she didn't need me as much as I thought she would. However, I knew in my heart, that this day was such a win for her, such a milestone for the both of us.

To say that the rest of the year was easy, would not be true. For the next three weeks, she cried at drop off every day, despite that fact that five minutes after I left, she settled down and had a wonderful time.
She was even worse when my husband would drop her off at school, because as soon as she would start to cry, he would bring her home. Needless to say, I became the permanent drop off person.
I realized that so much of the anxiety my daughter felt about school was the anxiety she felt from my husband and me. She saw him crumble when she would cry at drop off and when he brought her home, it only made her feel more fearful that Daddy must not think this is a good place for her.

Although she was only 2 she heard my husband and I talk about whether or not "we" were ready for her to start school. She noticed the "big deal" we were making about her first day, and how I teared up when I dropped her off. When I picked her up the first day I asked her if her day was OK, rather than saying something positively affirming her day such as I heard you had an amazing day today, or I'm so happy you made so many nice friends. I knew that if she was truly going to get over her separation anxiety then she had to see that Mommy and Daddy were over it too.

The next day and for the next week, we started talking about all of the exciting things she did in school that day. We asked her what her favorite part of the day was. Did she enjoy reading The Very Hungry Caterpillar? What color did they work on today? Then at drop off, I really held it together. I walked in with a stiff upper lip, handed her to her favorite teacher, and walked out with a smile. Within a week, the tears stopped, she started asking to have some of her new friends over for play dates, and even asked to go to school on Saturday!

Now it would be crazy to say that she never went to school with tears in her eyes ever again because of course she did. After a long weekend or vacation week away it was almost always another difficult transition back into the school routine, but this time, we put our anxiety aside and she adjusted much more quickly.
As parents, we don't realize just how intuitive our children are, no matter how old they might be. They love and trust us, and they can sense when we feel uneasy about a situation. Showing our children that we believe that they are going to be OK, have a positive experience, and feel confident that this is the right place for them, will often be the driving factor in how quickly a child adjusts to preschool or any new experience we expose them too.
Consistency is also key. When a child is kept on a regular schedule and can anticipate what is happening they feel more secure and comfortable. We always tried to make sure that our daughter attended school regularly and tried to keep things that might disrupt that consistency to a minimum by trying to schedule doctor appointments after school, or doing special things on the weekend instead of on a school day.
My daughter is in high school now. My husband has finally been allowed to do the morning drop off again, and she never cries. She runs out of the car, confident to take on the day. It all started in preschool. I knew it that first day that I found her making friends on that playground. She was going to forge friendships, learn about the world, and become a child with thoughts, opinions, and dreams. We just had to let her know that we were comfortable and confident to allow her to do it.