When it comes to athletic achievement, the Seven Summits Women Team from Nepal is second to none. This elite group of female mountain climbers have scaled the highest peaks in the world, including Everest.
They are much more than great athletes. They are also advocates for women's rights.
The climbers are Maya Gurung, Pujan Acharya, Pema Diki Sherpa, Chunu Shrestha, Asha Kumari Singh, Shailee Basnet, and Nimdoma Sherpa. When it comes to teamwork they set an example for everyone.
But now these women face their greatest challenge. They must save Nepal from the devastation of last month's massive earthquake. They want your help. As their team motto says, "Together We Reach Higher."
The earthquake in Nepal has claimed over 7,000 lives. Millions have lost their homes and livelihoods. Each day reveals more of the devastation. What you have seen reported in the media so far is not nearly the full story.
Just last night the United Nations said, "figures show that the number of houses destroyed in the earthquake-affected districts is at least twice as high as previously reported."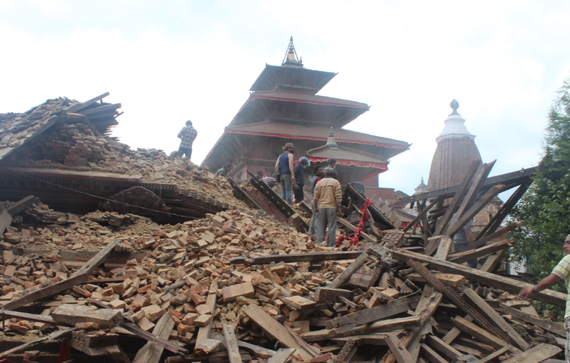 Shelter and food aid are critical needs right now in Nepal after the earthquake. (WFP/Allison Prather)
There are now over 500,000 homes in Nepal either destroyed or damaged. There is a story of loss and suffering behind each number.
The team members have been personally impacted. Maya's mother is one of those who lost her home. But now she is helping with the relief effort, handing out biscuits to the hungry and homeless.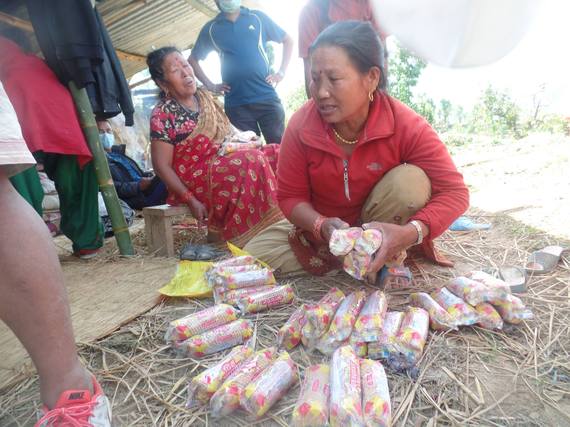 Maya's mother volunteers to distribute biscuits. She has lost her home but is happy to help. Every effort counts in healing the nation through this tragedy. (photo courtesy Seven Summits Women Team)
Another team member, Nimdoma Sherpa, is known globally for scaling Mount Everest at age 17. She is an ambassador for the UN World Food Programme (WFP), which is leading the hunger relief effort in Nepal.
Now Nimdoma is trying to reach her home village of Simi Gau, in the remotest regions of the country. Her own cousin is among those who perished in the quake. Her mother is without a home.
She is bringing relief supplies with her. Earthquake victims need tarps, rice and other supplies to survive.
Imagine Nimdoma traveling on roads filled with falling rocks and debris. Imagine walking in the cold of night, on little sleep because you must reach your destination. Lives depend on it.
That is the journey Nimdoma Sherpa is taking as we speak. She has already brought rice to Khare village, which she distributed along with family members of her teammate Pujan.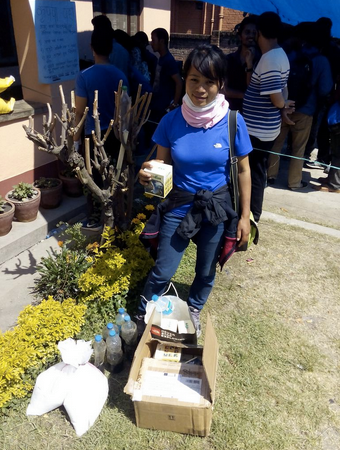 Nimdoma is on a long long road to reach her village, Simi Gau, a remote village in the Rolwaling mountain region in Dolakha. She is distributing relief supplies on the way. (photo courtesy of the Seven Summits Women Team)
The Seven Summits Team says they have reached 10 villages so far with food, shelter and other supplies. They need support to continue to bring life-saving aid.
There is also a long road to recovery and reconstruction. The homeless, many of whom were already impoverished, will have a difficult time rebuilding.
The people of Nepal have the spirit to overcome this tragedy. They have heroes like the Seven Summits Team. But they also need the international community to back them.
Nimdoma Sherpa knows what a difference that help can make. As a child she received school meals from the World Food Programme, which gave her the strength to develop and become who she is today. Now she wants others to receive this help.
Related
Popular in the Community