Outside a four-hundred-square foot nano-brewpub tucked into a well-trafficked corner of San Francisco's Mission District, a lone green flag fluttered in the wind to attract passers-by. It was the final day of San Francisco Beer Week, and the bigger events -- new releases from well-known brewers, the raucous merriment of the barley wine festival, beer and food pairings from high-end restaurants -- had already passed.
Woods Cerveceria's final event had officially begun at noon, but at 12:45 the little bar was still empty. The two brewers shuffled behind the bar, nervously conferring about the size of the pours to be included in the tasting flight, and how much it should cost.
They needn't have worried. By 1:30, the space was packed with a lot of young men and women in flannel shirts and heavy eyeglass frames, the familiar faces of the neighborhood. But with ingredients like yarrow, eucalyptus, and candy-cap mushrooms, Woods' new 'Shaman Series' wasn't quite business as usual.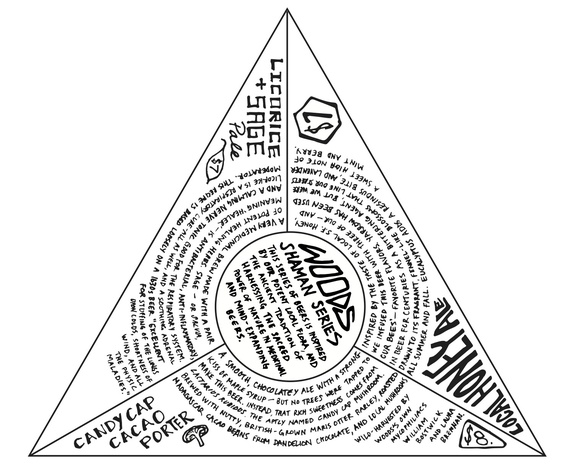 Strange Brews: The Shaman Series 'Tasting Notes'
Patrons took cautious first sips, furrowed their eyebrows, cocked their heads, swilled beer around in their mouths, swallowed, and glanced at the menu once more. Then they took second sips. Soon they were exchanging glasses, comparing observations, and, most of the time, ordering second rounds.
By 3 p.m., there was a line out the door.
Throughout its 10,000-year history, beer has been -- and still is -- a symbol of tradition; after all, it's essentially bread in liquid form. But as the craft brewing industry has exploded over the past couple of years, brewers have scrambled to accommodate the latest flavor of the moment. A couple years ago, they were all about California style IPAs: the more hoppy bitterness, the better. More recently, Flemish style sours have become all the rage: sweet, bright, and aggressively tangy. But if the cult success of Woods "Shaman Series" is any indication, we might soon find ourselves opting for brews inspired by our own backyards.
Before hops conquered the world of Western brewing during the 16th and 17th centuries, beer was brewed with all sorts of local herbs, roots, and flowers. Hops, on the other hand, were considered so nefarious -- leading to "tormenting diseases, and a shorter life" -- that they were often compared to tobacco.
Herbal beers are thus vestiges of an age in which beer was consumed for breakfast, lunch, and dinner -- water could not be trusted in those days. But beer did more than simply hydrate; every housewife had her own arsenal of "physical ales" designed to treat everything from a mild headache to the plague.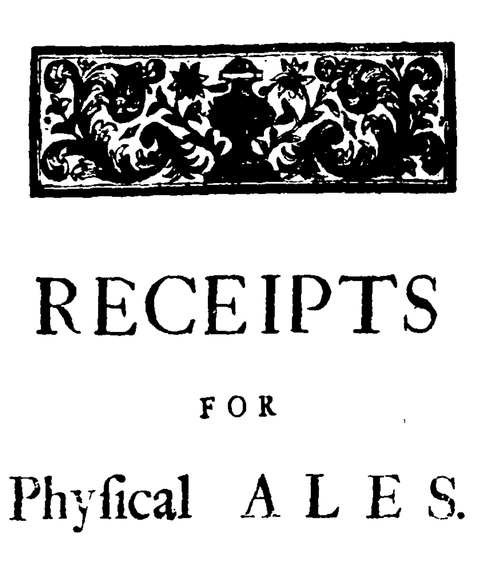 It's not easy for our 21st-century minds to understand why people placed so much faith in fermented remedies. But before the advent of chemistry and modern nutrition, our relationship with nature was far more intimate than it is today. Every plant and flower literally teemed with mysterious occult properties that had the power to heal or to harm. In fact, before we discovered calories and vitamins, practicing medicine had more to do with combining tastes and smells than prescribing nondescript powders and pills. By tinkering with the sensory properties of local herbs, roots, and flowers, local brewers hoped to preserve the balance of preternatural fluids coursing through our earthly veins.
Today, underutilized ingredients like rosemary, sage, and licorice are making their way from online home-brewing forums into craft beer's big leagues. Even obscure ingredients like mugwort and bog myrtle are starting to turn up in specialty brews. But I'd be lying to say that the folks at Woods Cerveceria are doing this for your health.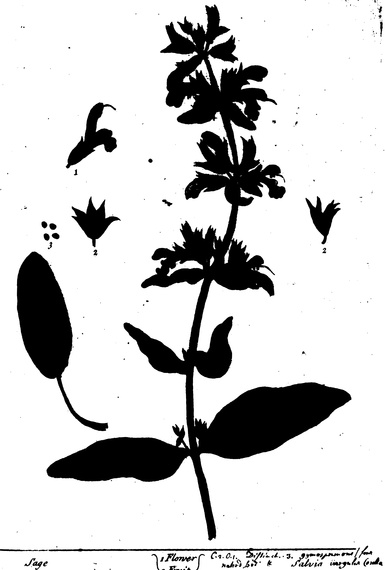 Will sage -- lauded for its medicinal properties since Antiquity -- become craft beer's new flavor of the month?
"We want these flavors to capture a sense of a particular time and place," says William Bostwick, who together with Samuel Gill and Brendan Incorvaia, brewed a 'Honey' Ale with eucalyptus, lavender, and yarrow plants pollinated by San Francisco bees (no actual honey was used). Perhaps it's about time for an industry in which English-Style Bitters are brewed in Chicago, Belgian Blondes in L.A., and malt and hops can be shipped from opposite sides of the world.
Better yet, this new crop of historic brews is redefining our ideas of what beer should taste like. When you walk into a bar and order an IPA, you usually know what you're going to get. Herbal beer defies these categories without compromising on flavor. In fact, they help explain how our forbears were "enticed ... to a degree of Extravagance, by their too frequent Expence of Money and Time in the Enjoyment of this delicate improv'd Ale."
Some things never change.