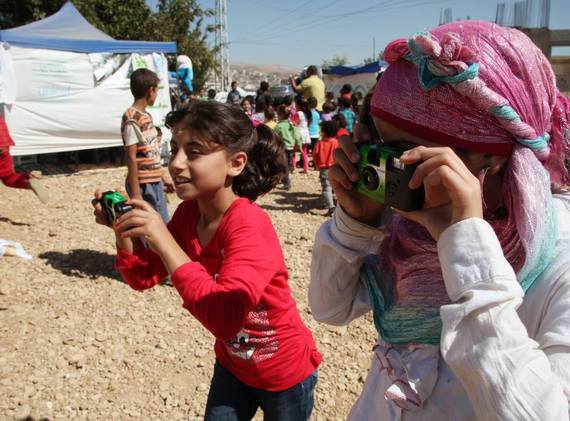 All Photographs (c) Zakira, Courtesy of Zakira
The refugee crisis is all over the news. The European Union home affairs ministers will hold emergency talks on September 14 in Brussels on the continent's escalating refugee crisis. A Berlin couple has launched the 'Refugees Welcome' website matching refugees with roommates in Germany and Austria.
Thousands of families in Iceland are putting pressure on the government in a bid to raise the country's cap of just 50 asylum seekers a year. Some are even offering to accommodate them in their own homes.

Their Facebook page reads: "Refugees are human resources, experience and skills. Refugees are our future spouses, best friends, our next soul mate, the drummer in our children's band, our next colleague, Miss Iceland 2022, the carpenter who finally fixes our bathroom, the chef in the cafeteria, the fireman, the hacker and the television host. People who we'll never be able to say to: "Your life is worth less than mine."
Reading those words reminded me of an organization in Lebanon that's helping refugee children find their own voice. Walking around Beirut, I found myself stepping into a small café. The photos hanging on the wall showed the daily life of refugee settlements across Lebanon. As I asked about the photographers I was told the work was not of professionals, but refugee children. By looking at some of the pictures it was hard to believe that they had been clicked by children as young as 5 years old.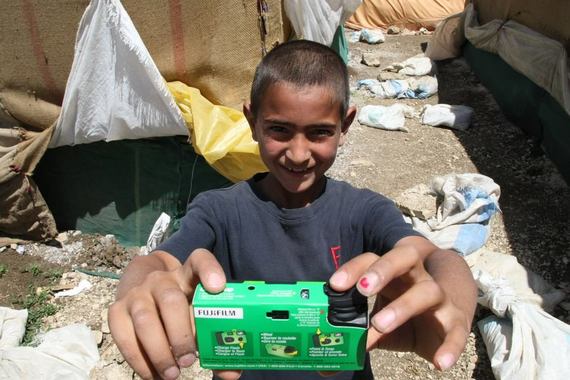 The idea of getting children to snap pictures of camp life struck Lebanese photojournalist Ramzi Haidar while on assignment in Iraq in 2003. His project 'Lahza 2' provided 500 Syrian refugee children with basic photography skills and a new vision for their future.
"We treat all children alike, regardless of their country of origin. Our projects are about ensuring their right to live as normal a life as possible," Haidar tells me.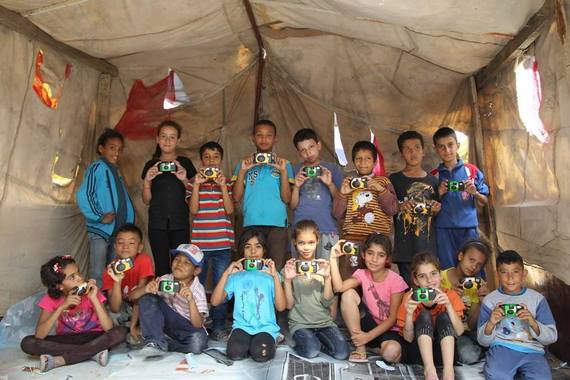 Over the years, the Lebanese foundation Zakira, in collaboration with UNICEF, trained thousands of refugees in photography to encourage their creative impulses.The pictures are a living museum, giving us access to hidden corners of refugee camps, revealing glimpses of personal and collective lives through the eyes of children.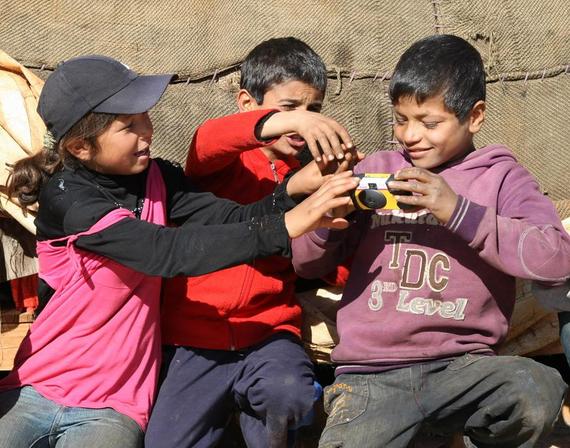 Haidar tells me that conditions are Spartan for the over 1.1 million Syrians currently living in informal settlements in Lebanon. Most of them are minors. Photography plays a therapeutic role by allowing kids to express themselves and explore their abilities and talents.
"Children from Syria in particular have been exposed to a lot of violence, cameras partly compensate for what they have missed," Haidar explains. The project, implemented in 80 informal camps in Lebanon, was documented in a film that included interviews with the young photographers.
Their latest creative initiative called "In Video" involved the production of movies by Syrian and Lebanese youth aged between 18 and 25 years living in West Bekaa. The videos covered aspects of the Syrian refugee communities living in Lebanon, as well as stories from the neighboring Lebanese host communities.
You can check out some of the videos here.
Do you know of any other projects helping refugees in a creative way?
Calling all HuffPost superfans!
Sign up for membership to become a founding member and help shape HuffPost's next chapter