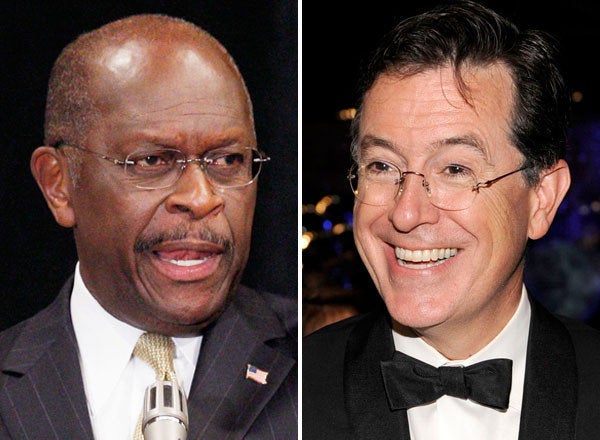 Former GOP presidential candidate Herman Cain said on Tuesday that he is getting on the "Stephen Colbert for President in South Carolina" bandwagon -- but that doesn't mean he's going to endorse a recent ad from a pro-Colbert super PAC that encourages South Carolinians to vote for Colbert by using Herman Cain's name.
"On Stephen Colbert's endorsement of himself as Herman Cain, I find it very clever and humorous, as it should be," Cain told Fox411. "Anyone who finds what Mr. Colbert is doing offensive, should simply lighten up. To be perfectly clear, I will not be assuming Stephen Colbert's identity. We are very different when it comes to the color of our -- hair."
He later tweeted the same:
Kathy Hoekstra, Cain's director of media relations, later confirmed that he was in on Colbert's attempt to shake up the Palmetto State primary.
"Colbert's people got in touch with us late last week and Mr. Cain will be taping a segment with Mr. Colbert on Friday in South Carolina," Hoekstra said, according to Fox News. "The endorsement of course comes as a pleasant surprise."
Colbert took to his show earlier this week, amid news that it would be impossible for him to get on the primary ballot this Saturday, and attempted to create a proxy candidacy for himself by using Cain's name, which will appear on the ballot.
"Because Cain and I are so similar, I think that if this Saturday Herman Cain were to get a significant number of votes, that would be a sign that voters are hungry for a Stephen Colbert campaign," he announced.
The "Definitely Not Coordinating With Stephen Colbert" super PAC forged ahead Tuesday night with a new ad vowing to destroy other GOP presidential candidates and their super PACs with "an orgy of pure distortion leaving nothing behind but the clean campaign we all deserve."
Popular in the Community