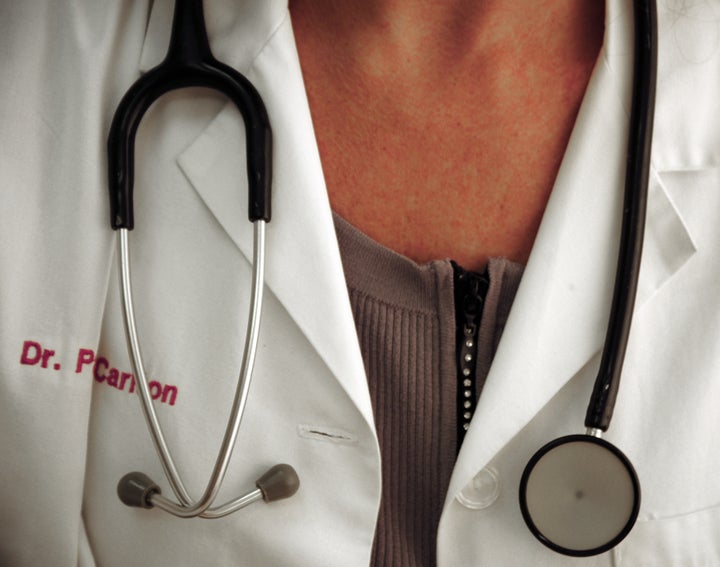 Like many Americans, Debbie Bass' health insurance policy is utterly confounding: It's more expensive than it used to be, but the coverage is worse and the rules just seem to get more arcane.
Last year, her health plan paid for surgery, chemotherapy and radiation to treat her colorectal cancer. This year, her employer switched to a new plan, which won't even pay for a $39 box of ostomy bags.
Bass, a 57-year-old school bus driver from Hazlehurst, Ga., is among a rising number of Americans with shrinking health benefits and expanding deductibles. Bass said her new plan costs $333 per month to cover her and her husband, up from $210. The plan also comes with a staggering $3,000 deductible. Though her employer put $1,000 into an account to help pay for medical bills, Bass has already spent half of it on prescription drugs and other expenses. She'll soon need to find an extra $2,000 before her insurance kicks in.
Easier said than done. Bass takes home $395 a month. Her husband's disability benefits bring in another $1,285. "We are completely broke," she said. Her oncologist ordered a PET scan to check whether the cancer has stayed away, but she doesn't know how much it costs or whether her plan will cover it. She's going in for the test anyway.
High-deductible health insurance is becoming more common, according to survey data reported by the Employee Benefit Research Institute last December. In 2011, 27.7 million working-age people were enrolled in a health plan with a deductible of at least $1,000 for individuals and $2,000 for families. The proportion of insured Americans who have this type of coverage has more than doubled since 2005, the report says.
A trip to the local drugstore to pick up ostomy supplies led to a rude awakening: The debit card for Bass' medical expense account was rejected. She was told she couldn't use those funds for the supplies, but has not been able to get a clear explanation from her insurer as to why. "They keep giving me different excuses," she said. "They make things so complicated." She has applied for financial aid from the Virginia-based Patient Advocate Foundation to help pay for the supplies.
Employers opt for high-deductible health insurance for a simple reason: cost. The average annual cost of employer-sponsored health benefits has more than doubled since 2001, reaching $15,073 for the company and employee combined last year, according to a survey by the Henry J. Kaiser Family Foundation and the American Hospital Association's Health Research and Educational Trust. By contrast, family coverage through a high-deductible plan with a health savings account costs an average of $13,704. The shift mirrors the move away from pension benefits to 401(k) plans, which also allow employers to limit costs.
The trend is likely to continue, said Paul Fronstin, the director of the Health Research and Education Program at the Employee Benefit Research Institute. Fronstin likened the current evolution of the health insurance market to the sea change that brought HMOs to dominance in the 1980s and 1990s. "There's no reason not to expect that to happen here," he said.
High-deductible health insurance plans will be eligible to be sold starting in 2014 on the insurance "exchanges" created by the health reform law that passed in 2010. With their lower monthly price tags, these plans could prove popular, especially among younger and healthier people betting they won't have to go to the doctor or the hospital or need costly prescription drugs.
The upside is that these plans provide coverage against catastrophic medical expenses for lower monthly premiums. Individuals and their employers can put money into tax-free health savings accounts that accumulate over time. It's a great deal for high-income earners who have the cash to spare and can maximize the tax benefits.
People with this type of insurance should set aside enough money, in a health savings account or otherwise, to cover their deductibles, said Jody Dietel, the chief compliance officer for WageWorks, a California company that administers employee benefits. The insurance is there to "protect you from catastrophic financial ruin," not to pay all medical bills, she said. Coverage for preventive services like flu shots and cholesterol screenings often isn't subject to the deductible.

Studies suggest that people put off care because they cannot afford it. Patients with chronic conditions who had high-deductible insurance were three to four times more likely to say they delayed or went without medical care because of cost, according to the findings of a Harvard University-Children's Hospital Boston survey published in the Journal of General Internal Medicine last month. Lower-income respondents were even more likely to go without, the study says.
Employers could do more to help workers adjust during the transition from a managed care plan with simple co-payments for doctor visits and prescription drugs to a new model requiring financial planning and comparison shopping, Fronstin said.
Health insurance companies provide a variety of tools on their websites and through call centers that are designed to help by offering up information on the prices for medical services and prescription drugs and on medical providers' quality ratings.
Bass' employer brought workers together for a meeting last year in which a representative explained how the new health benefits worked. "When she got through," Bass said, "I still didn't understand."
Popular in the Community