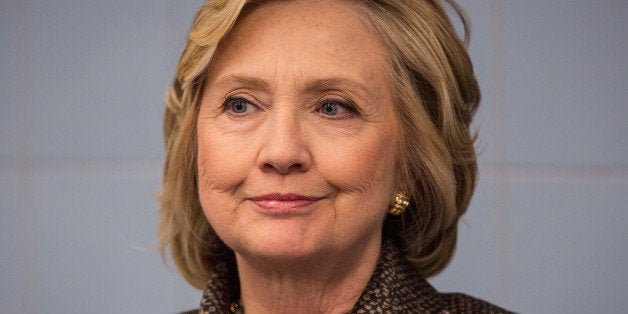 WASHINGTON -- Top officials with Hillary Clinton's presidential campaign sat down with prospective donors in a private strategy session in Washington, D.C., on Tuesday, urging them to help Clinton meet a goal of raising at least $100 million for the Democratic primary race.
Individuals can contribute up to $2,700 in a primary election season. The Clinton campaign is trying to recruit "Hillstarters," who will need to raise $2,700 each from 10 people. In return, they'll get an invite to a summit with Clinton in May.
The strategy behind the Hillstarters program is not only to raise more money but to bring in more active supporters early in the race.
"The goal here is to get as many people involved as early as possible and broaden out the fundraising network," said a Clinton aide, adding, "We'd rather broaden the donor base in April of 2015 than have it broaden in October of 2016."
Tuesday's gathering, which took place at the home of Vernon and Ann Jordan, was first reported on by CNN and confirmed to The Huffington Post by an attendee who requested anonymity to speak openly. Jordan was a close adviser to President Bill Clinton.
The campaign staffers who briefed the donors included chairman John Podesta, campaign manager Robby Mook, states director Marlon Marshall, political director Amanda Renteria and national finance director Dennis Cheng.
The Clinton campaign reinforced that it will be focusing on middle-class issues -- a theme Clinton has been stressing at every turn so far. Politically, it plans to have field staff on the ground in all 50 states and the territories in the coming days. Although Clinton is so far the only major candidate in the Democratic field, aides have been insisting that they are preparing for a competitive primary contest.
The attendee also said the campaign was trying to keep costs low, with staffers jokingly noting that they chose the Jordans' house because it was a free venue and pointing out that Mook wasn't going to be reimbursed for his cab ride to the event.
Lane Hudson, an LGBT activist and Hillstarter who was also at the meeting, said he walked away impressed with the Clinton operation so far.
"The strategy session today presented a campaign that is disciplined and focused on a central theme: making life better for everyday Americans," he said. "The senior leadership team was open, warm, friendly and very competent. It's clear that the mistakes of 2008 have been learned and won't be repeated. I'm very optimistic about this campaign and ready to roll up my sleeves and work for every vote."
Podesta and Renteria were also on the Hill Tuesday, where they met with Democratic senators at their weekly caucus luncheon.
"[Podesta talked] about making sure America knows we are focused on middle-income Americans, that we are not taking any votes for granted and that it's going to be an inclusive campaign from start to finish," Senate Minority Whip Dick Durbin (D-Ill.) told reporters afterward.
According to Politico, top campaign aides are scheduled to meet with Democratic lawmakers Tuesday night at the home of Rep. Rosa DeLauro (D-Conn.).
Want more updates from Amanda? Sign up for her newsletter, Piping Hot Truth.
REAL LIFE. REAL NEWS. REAL VOICES.
Help us tell more of the stories that matter from voices that too often remain unheard.
BEFORE YOU GO
PHOTO GALLERY
Hillary Clinton