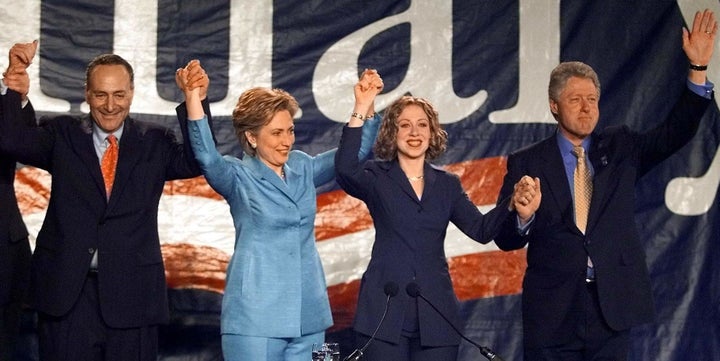 Democratic presidential candidate Hillary Clinton kicks off her campaigning in upstate New York Friday, as she attempts to hold on to the state she represented as a U.S. senator for eight years ahead of its primary elections in two weeks.
Clinton will host a roundtable discussion on manufacturing and small business jobs in Syracuse Friday morning, before attending a rally in the afternoon. Policy adviser Jake Sullivan told reporters Thursday to expect "extensive" campaigning by Clinton and her husband, former President Bill Clinton, and said specific places they'll visit will be announced in the coming days.
Upstate New York is not an area that usually gets much attention during a presidential campaign. Places like Potsdam, Canton and Little Falls all received mentions on a Clinton campaign press call Thursday evening, as aides hammer the message that Clinton likes New York, and New Yorkers liked her, too. 
"The next two weeks are going to be a pretty exciting time from her perspective ... a time when she gets to reconnect with people she's worked very closely with," Sullivan said. 
The press call felt more like something for a Senate campaign than a presidential campaign -- and that was the point. Former staffers and upstate New York supporters talked about her work on agriculture, job fairs for college students, manufacturing and local economic initiatives.
It was that sort of personal, constituent-focused outreach that won over a skeptical state when she ran for Senate in 2000 and tried to shed a carpetbagger image. 
She famously launched a "listening tour" that took her to all 62 counties in New York. (The Wall Street Journal said she "bounced around upstate New York like a FedEx delivery truck run amok.") Back then, many voters were surprised that she was putting in the work to learn about all corners of the state. 
"No candidate ever, ever comes here. Ever. Ever," Barbara Steinwachs, a resident of Penn Yan, a village of just over 5,000 people, told the New York Times at the time. "People are thrilled. And to have it to be the first lady makes it even more thrilling. I think people are impressed just that she came." 
Clinton ended up winning over many upstate New York voters, depriving her Republican opponent of the votes he needed to beat her in the part of the state that is traditionally more conservative.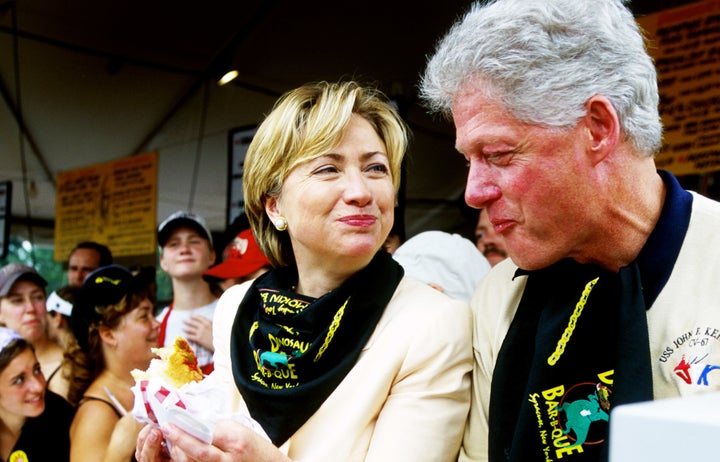 And during her tenure as senator from 2001-2009, she remained popular. Rather than coming into the Senate and making a big splash, she kept her head down and focused on issues of concern to New York -- and that's the record that she and her campaign will try to invoke in advance of the April 19 primary.
"[Sanders] is going to campaign like a Brooklynite, and she's going to campaign like a senator who represented this state for eight years and has lived here for 16," Joel Benenson, Clinton's top strategist, told reporters Monday.
"She is going to be making a larger case here," Sullivan added Thursday. "And that larger case is built on the proposition that she believes she is the only candidate in the race on either side who can actually set forth a vision for where she wants to take this country and prove to people that she can get there -- that she can actually deliver that outcome and make that difference in people's lives that is going to improve things for them."
But Sanders isn't going to give up New York without a fight. He was born in Brooklyn, and the state has a strong base of progressives who are drawn to his message. The Sanders campaign also believes that his economic message could resonate with the voters who have seen jobs disappear in the state. In recent days, Sanders has cut steadily into Clinton's lead.
Losing New York would be a major blow to Clinton symbolically, even if it doesn't significantly hurt her in her delegate lead against Sanders. 
The state, which is solidly Democratic in presidential elections, could also take on outsized importance in the general election if Donald Trump wins the GOP nomination. The New York native's first congressional endorsement came from Rep. Chris Collins (R-N.Y.), who represents a district encompassing the suburbs and rural areas outside Buffalo. Trump currently has a sizable lead in the state ahead of the GOP primary this month. 
Calling all HuffPost superfans!
Sign up for membership to become a founding member and help shape HuffPost's next chapter
BEFORE YOU GO
PHOTO GALLERY
Hillary And Bill Through The Years