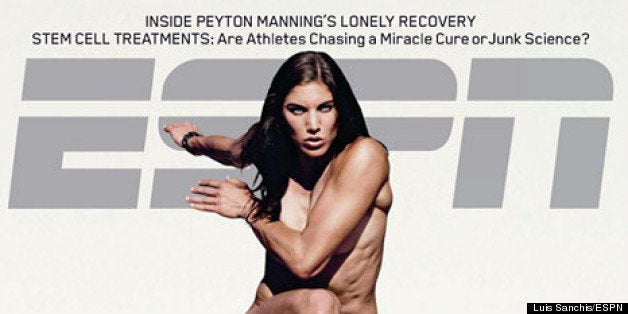 Hope Solo has posed nude and doesn't have any problem talking about it. And why would she, a 5'9," gold medal-winning Olympic soccer player who has worked hard for her career and her body?
Solo is one of many top athletes over the last few years to bare their birthday suits in ESPN The Magazine's "Body Issue." The latest edition, just out, offers no shortage of tanned, toned, rippling physiques here to get us all in the mood for summer (and the gym).
In her more clothed moments, Solo, 31, tends goal for the Seattle Reign, played in the 2008 Olympic Games in Beijing, won gold at the London Games in 2012 and competed for the U.S. in two World Cups. She's married to football player Jerramy Stevens, is recovering from wrist surgery and published a very personal memoir last year. In LA Tuesday for the ESPN Body Party presented by Hennessy the night before the ESPYs, Solo chatted with The Huffington Post about working up the courage to drop her robe, what guys used to say to her at frat parties and why Hollywood is completely "insane."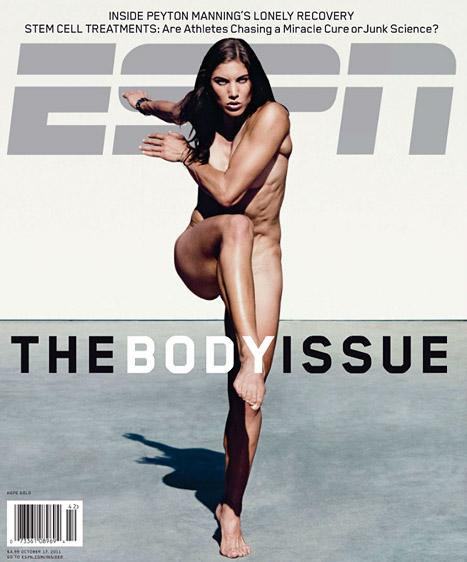 (Photo: Luis Sanchis/ESPN)
You posed nude in ESPN's "Body Issue" in 2011 and said that after some years of insecurity, you started to see your body as empowering. What brought on this change?
I think it was a number of different things. It's a little bit my age and maturity. But you know, you're in college and you want to fit in, but you're in the weight room doing cleans and dead lifts. Then you go to sorority and frat parties and you have an athletic body frame, and I'd have guys come up to me and say, "Damn! You could kick my ass," and I wanted to just cry.
I think a time came where I was, like, I am proud as hell to be an athlete. And you know what, I will kick your ass [laughs], but I know I'm still beautiful but also strong, and I think that's empowering to females. It took a long time for me to realize that what we're doing is a good thing for women.
When else have you confronted body issues in your career?
When I did "Dancing With the Stars," everyone in Hollywood was saying I had too much muscle. And I wanted to be, like, I work my ass off day in and day out to win this country gold medals, to win this country World Cups. And you're proud of that when I'm on the field, but when I'm off the field, you put me down. How is that American? You want us to win gold medals, but at the same time, you don't want me to look like I have muscles. It was really enlightening when I was in Hollywood. It is insane and a whole different world.
How do you get up the courage to pose naked? What was the ESPN shoot like?
I was so nervous. It took so long! We were outside and they were watering down the street and kept working on the lighting, and it was like the anticipation before they release you out of the tunnel to go play. I had so much adrenaline. And they were taking so long, so I finally just dropped my robe and I sprinted in the middle of the street, screaming naked!
Did they start shooting?
No! I just needed to feel what it was like. And it was very liberating. At the very beginning of the nude shoot, I was definitely covering myself up a bit. But they are so professional at ESPN, no one was staring, they always kept eye contact the whole time. By the end of it, I was totally comfortable.
You recently had wrist surgery. Aside from physically recovering, what is the mental or emotional process like coming back from an injury? How do you get back on the field and not play tentatively or with fear?
My play isn't where it needs to be yet. I have had two major injury surgeries in my career, which, knock on wood, I am fortunate for. The shoulder was excruciating and should have been career-ending. But I came back in a third of the time that it should have taken. And that is because the World Cup was right around the corner and nothing was going to stop me from playing. You take my wrist surgery, where it's pretty easy to get back from it physically, and there's pain, but nothing like the shoulder surgery. But I've been out for five months and there's not a World Cup or Olympics, and my reading the game, my position, my distribution -- everything is a little off. I thought as long as my wrist was OK, I could step back on the field and everything would be fine. It's been more difficult mentally with the wrist.
Is there anyone helping you with this specifically, or are you taking it day by day?
I think with each game it gets better. But you have to be patient with yourself, and most athletes are not patient. They want to perform day in and day out.
Do you feel that pressure?
I'm trying not to. I am trying to stay patient with myself. But at the same time, I want to be playing at the highest level and I'm just not there. I'm letting my team down and that has been difficult. But there's no time for me to get my game back -- they need me to perform right away.
You published your memoir just after the Olympics last year. How has that experience been?
It was the most stressful time. Harper Collins released sections of the book during the Olympics, which was very difficult. A lot of personal things came out then, and I wanted everything to come out afterwards. Then there was a worldwide tour, book tours and interviews. I can handle interviews, but doing them about deep, personal, dramatic family issues -- it gets exhausting. I hit an all-time low after that. I hit complete exhaustion and needed some time off. But I'm very proud of the book now.
Do you have plans to write anything else right now?
Hey, I've got plenty of stories, but I think I'm going to keep them to myself this time [laughs]!
Do you know what you're wearing to the ESPYs on Wednesday? Is dressing up and red carpet fun for you?
I'm going back and forth between a Roberto Cavalli dress and this simple black-and-white dress. It's fun when I get to go with my husband.
You married your husband, football player Jerramy Stevens, in November. Does it help that you both are professional athletes?
We went to college together. He's been retired for three years. I don't know if we could have done it while he was still playing and I was playing. But it's been incredible now that he's retired -- we can always be together no matter what.
HuffPost has recently started focusing on something called the Third Metric, which calls for a new way for us to define success in our society -- outside of money and power. How do you define success personally?
One thing I've learned through all the ups and downs is that if you're doing things right, then you have a core group of people. Not just a core group like your homies or your buddies, but a group of people that has a good influence on you, who you respect and admire, and you know that if they're on your side, you're doing something right.
I've noticed that throughout my career, through the ups and downs, I've had the right people by my side. I'm talking about the president of U.S. Soccer when it comes to my career or my teammates or my head coach. I had the right people behind me. And it made me think twice, because there might be 50 people who are really upset with you, but the right people are standing behind me for a reason. And that's when you know that the majority is not always right. That's been hard for me to learn, but I firmly believe that.
REAL LIFE. REAL NEWS. REAL VOICES.
Help us tell more of the stories that matter from voices that too often remain unheard.
BEFORE YOU GO