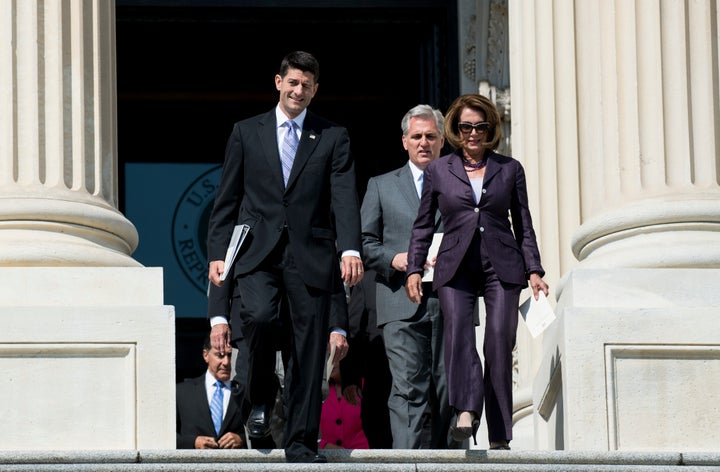 WASHINGTON ― Running out of time and options, Republican and Democratic leaders agreed late Tuesday night to allow a vote on funding for the Flint, Michigan, water crisis as part of a gambit to advance a stopgap federal spending bill and avert a government shutdown.
The agreement, worked out between Speaker Paul Ryan (R-Wis.) and House Minority Leader Nancy Pelosi (D-Calif.), will set up a vote on some Flint money in a water resources bill ― the so-called Water Resources Development Act, or WRDA ― so that House and Senate Democrats feel more comfortable advancing a continuing budget resolution without Flint.
"The amendment represents a bipartisan agreement between Speaker Ryan and Leader Pelosi to allow germane authorization language to be added to WRDA as an amendment that will, at the end of the day, provide the necessary funding Flint needs in the final WRDA conference report," a Pelosi aide told The Huffington Post.
Democrats had balked at supporting a continuing resolution shorn of Flint funding out of fear that Republicans would not approve provisions for the city in a conference between the House and Senate. Flint was the last major roadblock to a continuing resolution that will keep the government funded without a shutdown.
The agreement isn't a final deal on the continuing resolution, sources said, but it moves the process ahead.
As part of the deal, the House Rules Committee set up a vote on a compromise amendment that would offer Flint $170 million. The Senate passed its version of the bill earlier this month with $220 million for Flint.
Democrats still hope to take the Senate language. But now they have something firm when constituents ask why they advanced the continuing resolution without Flint funding.
Popular in the Community