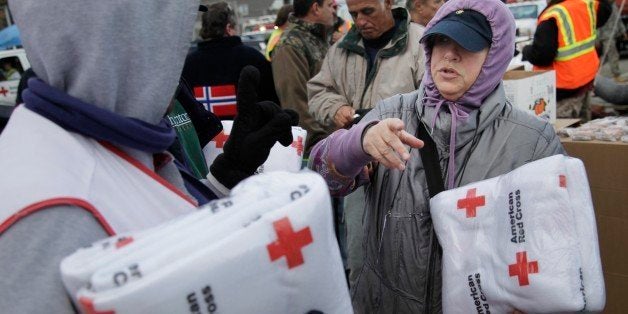 Ten years ago, the Gulf Coast was devastated by Hurricane Katrina - a natural disaster unprecedented in its size and scope. Yet what would happen if a storm of this magnitude were to occur again? Would the images of volunteers rushing to help be different? And could some of the darkest tragedies that still haunt our memories of Katrina be avoided?
Over the last ten years, the American Red Cross and other disaster response organizations have taken the lessons of Katrina and applied new thinking and new technology to better prepare for and respond to natural disasters. Today, the iconic American Red Cross symbol is not only found on vehicles and volunteers' armbands, but on websites, apps, and software tools that guide and aid our work.
With so many families separated by Katrina, it was vital for people to have a way to reconnect after a disaster. This led to the development of the "Safe and Well" website, where people can search for loved ones who have registered. After the Boston Marathon bombing, for example, more than 450 people used the site to tell friends and family they were okay.
The Red Cross has also created a series of free disaster preparedness mobile apps that put lifesaving information at user's fingertips when they need it most. The latest release - the Emergency App - gives people instant access to customizable weather alerts, safety tips and preparedness information for 14 different types of emergencies. Additionally, the Emergency App contains the "I'm Safe" feature, which helps people use their social media channels to let loved ones know they are okay after an emergency. In total, these apps have been downloaded nearly 7 million times and have been credited with saving lives in Oklahoma, Texas and a number of other states.
Over the past decade, social media has not only become an essential tool in our daily lives, it's also become a vital resource in helping response organizations anticipate needs on the ground during times of disaster. Thanks to grants from Dell, the Red Cross now operates three Digital Operations Centers where we monitor social media conversations as a disaster strikes, using real-time data to identify communities in need. When a tornado and flash flood recently hit Wise County, a small rural area northwest of Fort Worth, digital volunteers were able to gather street addresses, photographs from the ground, and up-to-the-minute information on county roads where damage had occurred. This information was given to disaster response teams before the first relief truck even rolled in. It saved hours of work for field responders, making for a more effective response operation.
We have also focused on better preparing communities and individuals in a number of ways. Using supply chain analytics, we've prepositioned and are able to refresh relief supplies in high-risk areas so that we can respond faster to communities in need. Through the generosity of donors and corporate partners, we now have a connected, nationwide network of warehouses, with relief supplies for more than 500,000 people. Through the National Shelter System, we now have the ability to open shelters within hours of a disaster impacting the community, and affected individuals are able to use the Emergency App to find out where these shelters are located.
Along with the use of new technology, we have worked harder to build strong partnerships within the communities we serve. We've worked with diverse organizations, including NAACP, National Baptist Convention USA and 100 Black Men, National Council of La Raza and the League of United Latin American Citizens, the National Congress of American Indians, Islamic Relief USA and the Buddhist Tzu Chi Foundation, among others.
We also undertook a program to help people prepare for the most frequent disaster the Red Cross responds to - home fires. Most people are familiar with our response during large disasters like hurricanes and tornados, but every year we respond to nearly 70,000 domestic disasters - with the vast majority of them being home fires. Over the next five years we will help install smoke alarms, develop family evacuation plans and teach people ways to prevent fires.
When the next disaster strikes you will see images of American Red Cross volunteers delivering services where they are needed most. We will be there to give comfort to those who suffer unimaginable loss. The Red Cross emblem will always signal that help is near. And with each passing year we will use new technology to ensure that help is closer than ever before.