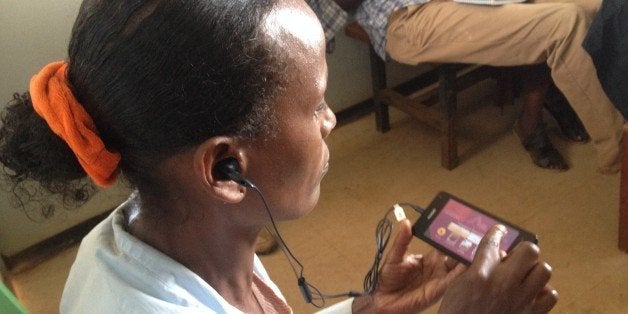 Imagine you are in rural Ethiopia. You are a health worker, stationed alone in a remote health clinic. A young man comes in carrying his wife who is in heavy labor. It's their third child and she gives birth quickly upon arrival. But as soon as the baby and the placenta are delivered, she starts bleeding dramatically. You want to do everything in your power to save the woman's life, but with limited theoretical training and little practical experience, you feel powerless.
"All of my life, I have watched friends and family die in childbirth. And I have felt entirely powerless to help them," says Zenebu, a volunteer community worker from Ethiopia.
Every day, more than 800 women die during pregnancy and labor. Almost all of them come from developing countries. However, 90 percent of these deaths are preventable with the attention and care of a skilled birth attendant.
Zenebu now trains women about the dangers and complications in pregnancy -- and about the importance of seeking care in time. "I am very happy and proud to give women the power to help themselves," she says.
But ensuring a safe delivery is not only a question about seeking care; it is also a question of delivering the right quality of care. All over sub-Saharan Africa, health workers with low levels of education are often appointed alone to health posts in hard-to-reach areas. The consequences for the women giving birth and for their newborns are often fatal.
The absolute key in fighting maternal mortality is training -- and thus, empowerment -- of birth attendants. The current tele-revolution holds a giant potential for using mobile phones to improve health and save lives among pregnant and birthing women.
Today, there are more than 600 million mobile phone users in Africa and the number of users continues to grow explosively. Many remote health clinics have no electricity or running water, but still a lot of the health workers have a mobile phone. There is huge potential to improve maternal health by tapping into this ongoing mobile phone trend.

Maternity Foundation, Copenhagen University and University of Southern Denmark are thus currently investigating how the mobile phone can be used to overcome one of the biggest barriers to preventing maternal mortality: lack of skilled birth attendance. To this end, we have developed a new mobile health tool called The Safe Delivery App.
The Safe Delivery App is designed to teach and instruct birth attendants how to manage normal and complicated deliveries. It does so through animated clinical instruction films. When the app has been fully developed and tested in 2015, it will be available as an open-source tool to all key actors in sub-Saharan Africa.
Many of the health care workers using the app have become more confident about handling complicated childbirths. They are pleased with the graphic, explanatory nature of the videos, which are useful despite language barriers and reading difficulties.
In a few years, there will be more phones than people in the world. mobile health interventions are rapidly becoming an important tool with which to impact the health of Africans -- whether it entails tracking the spread of diseases, texting patients with reminders to take their medicine or helping community workers to collect patient data digitally. Hopefully, NGOs and policy makers across sub-Saharan Africa will increasingly consider mobile health solutions as a tool of empowerment that can save and improve lives.