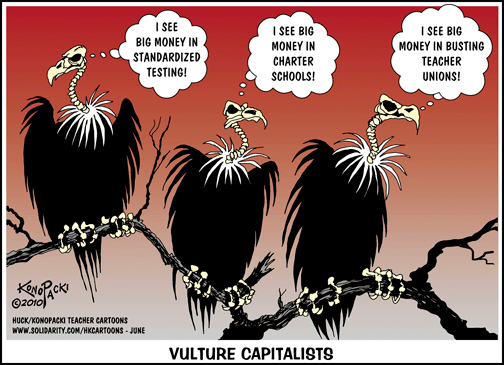 In Florida, the Miami Herald calls state ethics laws a "joke" for "failing to protect Floridians from legislators who profit from the charter-school industry in private life and have been actively involved in pushing — and successfully passing — legislation to fund for-profit private schools at the expense of public education." The Herald names names. Representative Manny Diaz (Republican-Hialeah) serves on the Education Committee and the K-12 Appropriations Subcommittee and lobbies to loosen restrictions on charter schools. He is also the chief operating officer of the Doral College charter, part of the for-profit Academica charter school network, that pays him a salary of over $100,000 a year. Richard Corcoran (Republican-Land O'Lakes) is Speaker of the Florida House of Representatives. His wife is the founder of a charter school in Pasco County. Representative Michael Bileca (Republican-Miami) chairs the Florida House Education Committee. Bileca is executive director of a foundation that funds charter schools and a founder of one of its recipients. Diaz, Corcoran, and Bileca were leaders in a legislative effort to take millions of tax dollars away from public schools and reallocating money to fund the expansion of the charter-school industry.
Stephen Dyer, a former Ohio state legislator, describes Ohio's charter schools as a "national embarrassment." Ohio's $1 billion-a-year publicly financed charter industry has been plagued by years of financial scandal and poor performance. But in 2015 when an oversight bill was about to be passed the state's legislative branch, it was withdrawn from consideration by House speaker Cliff Rosenberger (Republican-Clarksville). Rosenberger is a major recipient of charter school campaign donations.
In Arizona charter schools routinely receive exemptions from state oversight requirements, despite a history of misusing tax dollars. They also receive over 25% of state education funds, although they only enroll 15% of Arizona's school age students. The right-wing Republican governor of Arizona was accused by the even further right-wing elected Superintendent of Arizona schools of establishing a "shadow faction of charter school operators" committed to "moving funds from traditional public schools to charter schools."
The reasons for the lack of accountability and the disproportionate state funding are examined in a report by Arizonians for Charter School Accountability. Among other things, they found that Benjamin Franklin, a for-profit charter school, is owned by Arizona State Representative Eddie Farnsworth (R). In 2016, the charter school spent $155,106 more on facilities than on classroom instruction. It leases its schools from LBE Investments, a for-profit real estate company also owned by Farnsworth.
Arizona has a state board that grants charter status to "qualifying applicants" and is supposed to "oversee charter schools." The President of the board is a political lobbyist who defines her role as promoting school "choice" and "sponsoring charter schools," not regulating them. The Board Vice-President is founder of a charter high school. Other members include the operator of a charter school, a charter school teacher, a lawyer for charter schools, a building company CEO who also serves on the Board of Directors for the local Teach for America chapter, and the CEO of a charter school network.
The latest charter school battleground state is New York where Governor Andrew Cuomo, a nominal Democrat, his Republican allies in the State Senate, and his appointees on a charter governing body, are pushing to allow charter schools to replace teachers with untrained, uncertified, unqualified people. Cuomo's political appointees who serve as trustees of the State University of New York (SUNY) are considering a proposal to exempt charter schools from the public school teacher certification requirements they approved less than two months ago. Fifteen of the eighteen SUNY members were appointed by Cuomo with the consent of the Republican controlled State Senate.
Deans of Schools of Education at 18 SUNY colleges condemn the certification waivers because they would put unqualified teachers in New York classrooms. In a letter of protest to the SUNY trustees, the University educators argued that the waiver would permit "anyone with a bachelor's degree to earn state teacher certification without broad and rich intellectual stimulation from education faculty, without taking appropriate coursework or completing an adequate number of field experience hours, without demonstrating adequate content knowledge, without student teaching, and without demonstrating the ability to teach effectively according to any standardized measure." They called on the SUNY trustees and the SUNY Charter Schools Institute to reject the proposal.
Michael Mulgrew, President of the New York City teachers' union chapter, mocked the plan in a letter to the chair of the SUNY Charter School Committee. According to Mulgrew, "the state requires prospective cosmetologists to receive 1,000 hours of specialized instruction and real estate brokers to get 120 hours of instruction and two years of field experience." But these regulations, if approved, would permit charter schools to put people in classrooms with a week of instruction and 100 hours of supervision by someone also may not be certified to teach.
In a scalding indictment of Cuomo published by the Washington Post, Carol Burris, Executive Director of the Network for Public Education, documented how charter money buys political support in New York State. Four of the SUNY board's eighteen members make up its Charter Schools Committee. One is a CEO and the other three are lawyers; none is an educator. All four were appointed as trustees by Cuomo. The chair of the committee is a trial lawyer and major contributor to Cuomo's political campaigns.
Burris carefully detailed the money that ties Cuomo, who has presidential ambitions, to charters.
The Success Academy charter chain run is the largest network authorized by the SUNY Trustees. Its CEO, Eva Moskowitz has her own political action committee, the Great Public Schools PAC, which contributed $65,000 to Cuomo in 2011-2012 and $50,000 so far in 2017. Success Academy Board Chairman and hedge fund mogul Daniel Loeb and his wife contribute directly to Cuomo's campaigns and to the Moskowitz PAC. Burris estimates that people associated with Success have contributed close to $2 million to Cuomo already.
The charter-Cuomo connection includes Paul Tudor Jones, founder of Excellence Boys Charter School, who, along with his wife has contributed almost half a million dollars to Cuomo and Cuomo-supporting PACs. Burris even uncovered connections between Cuomo and the Walmart Waltons. They made "nearly $100,000 in direct contributions to Cuomo and over $100,000 into PACs."
Just to make the money path easier to visualize:
(1) Charter School "Leaders" / Hedge Fund Operators Donate to Andrew Cuomo campaigns
(2) Andrew Cuomo Appoints Charter friendly SUNY Trustees
(3) SUNY Trustees grant waivers and other special favors to the charters
The Network for Public Education and New York State United Teachers (NYSUT) are organizing parents, teachers, and the public to flood the SUNY Trustees and the SUNY Charter Schools Institute with protests against the certification waiver proposal. Comments can be submitted online or mailed to Charter Schools Institute, State University of New York, 41 State Street, Suite 700, Albany, NY 12207 by September 10.
Calling all HuffPost superfans!
Sign up for membership to become a founding member and help shape HuffPost's next chapter