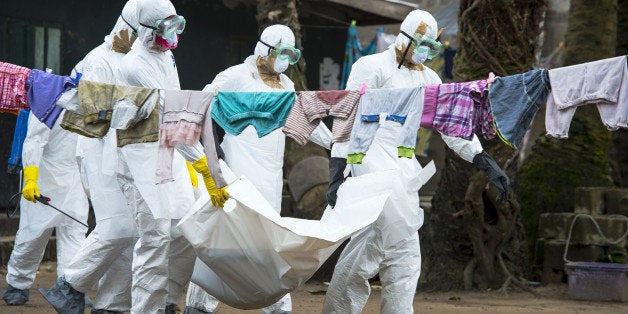 As the Ebola Zaire virus -- one of the deadliest pathogens on earth -- continues to ravage parts of west Africa, political leaders around the world are finally beginning to understand an argument I have been making since my first day in office. Better health is a nation-building strategy. Without fundamental public health infrastructures in place, no country is stable, no society is secure, no resilience exists to withstand the shocks that our 21st-century world is delivering with ever-greater frequency and force.
An outbreak of horrific disease caused by a deadly and dreaded virus is one such shock. The extreme weather events caused by climate change are another. Climate change poses a very different kind of threat to health. It has no epidemiologically circumscribed geographical focus, roped in by human chains of transmission. Its impact is universal, unpredictable, sometimes contested, and most appealingly photogenic when a stranded polar bear is the poster star. It cannot be contained by doctors in hazmat suits, patients in isolation wards, or hopes that a vaccine or cure is somewhere on the horizon.
For public health, climate change is the defining issue for the 21st century. Climate and weather variables affect the air people breathe, the food they eat, the water they drink, and the chances that they will get infected with a life-threatening infectious disease.
Signals about what human activities have done to the environment are becoming increasingly shrill. Records for extreme weather events are being broken a record number of times.
Our planet is losing its capacity to sustain human life in good health. Earlier this year, the Intergovernmental Panel on Climate Change issued its most disturbing report to date, with a strong focus on the consequences for health.
That report also underscored specific health interventions that strengthen resilience to climate change and contribute to sustainable development. As it noted, the most effective adaptation strategies for health involve measures, like immunization, maternal and child health services, and the provisoin of clean water and adequate sanitation, that depend on well-functioning basic public health infrastructures.
This past March, WHO revised its estimates of the health effects of air pollution upwards. In 2012, exposure to air pollution killed around 7 million people worldwide, making it the world's largest single environmental health risk.
Despite all this, debates about climate change are still not giving sufficient attention to the profound consequences for health. In my view, the health effects of climate change are what matters most. They are right before our eyes, well-known and scientifically well-documented.
Climate variables contribute to natural disasters, with their related population displacements, lost livelihoods, destroyed infrastructures, and conditions of crowding and filth that favour explosive outbreaks of disease. Diarrhoeal diseases, the second biggest killer of young children, flourish under such conditions.
Many of the world's most worrisome diseases have transmission cycles that are profoundly shaped by conditions of heat and humidity and patterns of rainfall. As one important example, malaria parasites and the mosquitoes that transmit them are highly sensitive to climate variability, which has been repeatedly linked to epidemics.
Other epidemic-prone diseases, like cholera, dengue, and bacterial meningitis, are likewise highly sensitive to climate variability. All of these diseases have a huge potential for social disruption and make huge logistical demands on response teams.
In the 21 countries of Africa's notorious meningitis belt, what populations fear most is the hot, dusty Harmattan winds that bring epidemics of meningitis nearly every year. Then come the empty streets, the deaths, the weeks when parents watch over children in hospital, and the children who survive but are permanently impaired by mental disabilities or hearing loss.
Here is the question we need to ask as we watch with horror the toll being taken by Ebola virus disease. Will the international humanitarian community be able to cope with a growing number of emergency events and crises, cropping up here and there, all around the world -- not just in west Africa?
Climate also influences the emergence of new diseases. About 75 percent of all new human diseases originate in wild or domestic animals. Climate variables, including those that influence the availability of food and water, have a direct impact on wild animal populations, their concentrations, and their incursion into areas inhabited by humans.
Climate-related shifts in animal populations can allow an animal pathogen to jump the species barrier and infect humans, as in the case of Nipah virus in Malaysia, and Hanta virus in the United States. In this case, emergence of a severe new respiratory disease was linked to a long period of drought, followed by heavy rainfall that displaced populations of deer mice, bringing them closer to human homes. The Ebola virus likewise enters human populations from some still-mysterious wild animal reservoir that hides in Africa's dense jungles and forests.
The evidence is there, and it is compelling. Here is my strong view: climate change, and all of its dire consequences for health, should be at centre-stage, right now, whenever talk turns to the future of human civilizations. After all, that's what's at stake.
This post is part of a month-long series produced by The Huffington Post in conjunction with a variety of events being held in September recognizing the threats posed by climate change. Those events include the UN's Climate Summit 2014 (to be held Sept. 23, 2014, at UN headquarters in New York) and Climate Week NYC (Sept. 22-28, 2014, throughout New York City). To see all the posts in the series, read here.
Related