Congress and the White House spent much of this week trying to fix the problem President Donald Trump created in September when he abruptly canceled Deferred Action for Childhood Arrivals, an Obama-era program that provides renewable two-year deportation protections and work permits to undocumented immigrants who entered the U.S. as youths.
But even if Congress and the White House fail to hash out a deal to protect Dreamers, as the young immigrants are known, DACA could remain in effect through 2020, and possibly into a new administration.
DACA could outlast Trump because Dreamers and their advocates aren't solely relying on Congress to help them. They're also fighting Trump's move in the courts, where they won a key victory Tuesday night: a national injunction blocking Trump from phasing out DACA.
The injunction could make it much harder than the White House thought to make DACA go away. And although U.S. District Judge William Alsup's ruling doesn't allow new DACA applications, it lets people who hold the protections keep renewing them past the March 5 deadline set by the Trump administration. If litigation drags on for several months, as it likely will, DACA might remain in effect through 2020, and possibly into a new administration.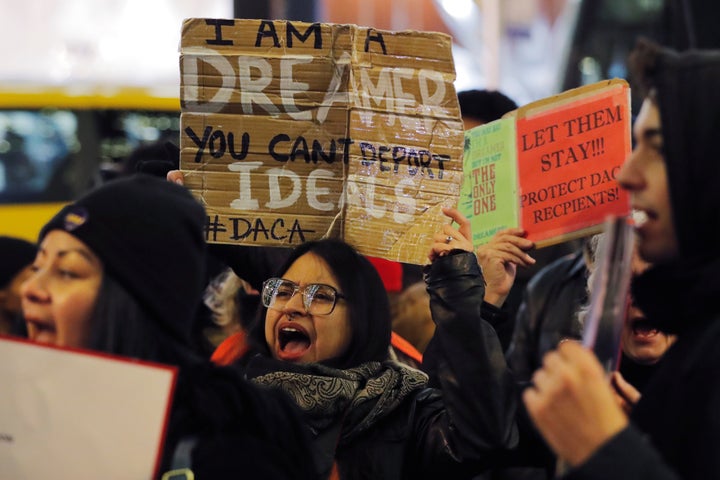 "It's entirely possible to see that some people will still have DACA permits on Election Day in 2020," Michael Kagan, a law professor at the University of Nevada Las Vegas, told HuffPost. "I'm not predicting that. But it is now possible that people will be able to renew DACA permits later this year and some of those permits may still be valid in November 2020."
The 9th U.S. Circuit Court of Appeals or the Supreme Court could invalidate the injunction. But Attorney General Jeff Sessions, who plans to appeal the district court's decision, will face an uphill battle trying to convince the appeals court that the U.S. government needs to start canceling DACA work authorizations before the courts decide the lawsuits, according to Stephen Legomsky, the former chief counsel for U.S. Citizenship and Immigration Services. The program has hummed along for five years without any legal challenge. 
"There's no irreparable harm and there's no urgency," Legomsky told HuffPost. "The administration is going to be hard-pressed to come up with a reason to stay the injunction during the long period of time this case will be pending … If Congress does not enact a Dream Act, I think it's possible that people could renew DACA into the next administration."
Litigation wouldn't have to drag on long for that to happen, provided the injunction remains standing. If the Supreme Court hasn't decided the case by next January and Congress hasn't passed some version of the Dream Act, the two-year DACA renewals will start extending into the next presidential term. If Trump were to lose his re-election bid, DACA could wind up outlasting him ― even if those challenging the cancellation of DACA ultimately lose in court. 
Up until now, the case before Alsup has plodded along slowly, partly because of a dispute over what documents to include for evidence in the case. Alsup has ruled the Trump administration must turn over all memos and emails that informed the decision to kill the program ― a prospect that would offer a unique window into communications between the White House and the departments of Justice and Homeland Security.
Lawyers for the administration appealed the ruling all the way to the Supreme Court, arguing that the records amount to executive deliberations that don't have to be disclosed to the court. They won temporary protection from having to give up the documents, but the issue remains unresolved. That question must be answered before the discovery period ― when parties in a lawsuit disclose evidence to one another ― can end, so the case can move to trial.
And Alsup's injunction ruling says those challenging the Trump administration are likely to win on their claim that canceling DACA "was arbitrary, capricious, an abuse of discretion, or not otherwise in accordance with the law."
If Alsup rules against the White House at trial, the government will almost surely appeal to the 9th U.S. Circuit Court of Appeals, and appeal again if that court decides against them. The case is likely to wind up before the Supreme Court. Each of those steps takes time. All the while, provided the injunction is left standing, DACA recipients will be able to keep renewing their status for another two-year period.
It's also possible that a different set of consolidated lawsuits filed in New York to challenge the end of DACA could result in a separate injunction. 
Those cases ― brought by a DACA recipient, and a coalition of 15 Democratic-led states and the District of Columbia ― make many of the same allegations found in the California lawsuit. The Trump administration violated the Administrative Procedure Act by failing to seek public comment or provide enough notice when it canceled DACA, the lawsuits say. And they accuse Trump of acting with the goal of discriminating against Mexicans ― "racial animus," in legalese ― which would violate DACA recipients' constitutional right to equal protection before the law.
It remains to be seen how Alsup's injunction will affect the tense negotiations in Washington. With DACA left hanging by a thread in the courts, some analysts suspect the injunction could make some Congress members cool on Dream Act legislation.
"Lawmakers who were not keen to do anything for the Dreamers now have an additional excuse not to do it," Muzaffar Chischti, who directs the nonpartisan Migration Policy Institute's office at New York University, told HuffPost. "They could say, 'Let's see how it now takes its course in the courts.'"

Others say the injunction wrests away, if only tenuously, the leverage Trump took when he canceled the program back in September.
"I believe it's good as well for proponents of a permanent fix," California Attorney General Xavier Becerra (D) said in an interview about the injunction in his case to preserve DACA. "It gives them the leverage to fight back against those who are trying to load up a measure to fix DACA with things that have nothing to do with DACA and have very little sense or value ... This is a chance for everyone to say, 'DACA is demonstrating its staying power. Let's get this resolved.'"
Calling all HuffPost superfans!
Sign up for membership to become a founding member and help shape HuffPost's next chapter
BEFORE YOU GO
PHOTO GALLERY
How Donald Trump Talks About Undocumented Immigrants