Several years ago, at a conference, I was sitting next to a nonprofit colleague on a bus back to the hotel and we were rehashing the keynote we just heard of a very famous athlete. This then-acclaimed figure was espousing how all of us in the audience (dedicated nonprofit professionals working for the social good) needed to step up and find something that matters to us, and make a difference. This figure had done this with their cancer foundation.
My colleague said something that stuck with me: "He stepped up because he had cancer. We do it because we think it's the right thing to do."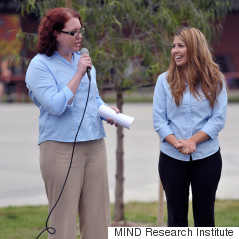 Abby Daniels (left) speaks to elementary students who use MIND's ST Math® program at a school assembly.
I'll never forget that. There are millions of people who get involved in charities and nonprofits because the issues the organizations are addressing affect their lives personally. "My child has autism." "My father has Alzheimer's." "I had breast cancer."
These are all worthy and powerful reasons to support a cause or "step up" and do something to help find a cure, stop hunger. And I'm not knocking them. I think these reasons, or impetuses, are crucial in spurring change in our society, helping us to lead healthier and more fulfilled lives.
But my story is different. By the time my grandmother got Alzheimer's, I had already decided in college that I was going to pursue a career centered on social justice and equality. By the time my mom got breast cancer I was well into my nonprofit career.
I knew -- much like people know they want to be a doctor, teacher or engineer -- I was going to make a career out of working for a cause. I volunteered for various nonprofits growing up, from childcare centers to mental disability programs to arts groups to delivering food to the elderly. I was always cognizant of how privileged I was with my family, resources and education. I saw the disparity between what I had and what others didn't, and that didn't feel right. I had to do something.
As I near 17 years in my chosen career, and celebrate 10 years at the education nonprofit MIND Research Institute, I do what everyone does -- reflect on what it was like back then and what it's like now.
I no longer say, "I work in nonprofit," which was perceived as "I work for a charity, so I don't make much money, and I might ask you for some money." Instead, I say, "I work to expand education access for kids," and my hope is that I convey "all kids are deserving of a great education, and a great education can shore up some of the inequality our society still suffers."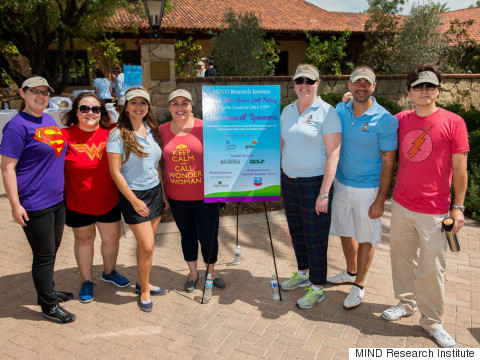 Abby Daniels (third from right) with MIND Research Institute colleagues at the Women with Drive Golf Tournament, a friend and fund-raiser to support women in science, technology, engineering and math (STEM).
The difference now is that "doing what I think is the right thing to do" as a job is now viewed credibly as a career. There's a greater level of awareness that things are not going to right themselves by themselves -- world hunger is not going to feed itself, cancer is not going to cure itself, education inequality is not going to even itself out. We need serious people to do serious jobs. You have a degree in biology? UNICEF is hiring. You an engineer? Why not help build some schools for girls in Pakistan?
"Do-gooders" may still be "do-gooders" but they're also professionals. We're writers, software developers, systems analysts, scientists, marketers, educators and yes, engineers.
My organization's ground-breaking visual math programs are based on research that shows that "spatial-temporal reasoning," or the ability to think ahead and problem solve, is innate. Well, and perhaps it's the 12 years of Catholic school talking, or because my parents are naturally charitable and encouraged my siblings and me to be as well, but I would like to think the feeling that we should help others is innate. I just happened to make a career out of it.
What do you think is the right thing, and how will you make it happen?
Calling all HuffPost superfans!
Sign up for membership to become a founding member and help shape HuffPost's next chapter