I never had the luxury of living a stable life. I moved from Jamaica to the United States, from shelter to shelter and from school to school. From family member to family member and from love to abuse. I've lived in extreme poverty and I've tasted success. But adaptation, particularly as a child, was very difficult. It took a long time before I could channel my experiences into a force for positive change.
Growing up in Jamaica with a detached father and a verbally and physically abusive stepmother, I felt like I missed out on being a child. We were very poor and lived in a house without electricity or water. We lit oil lamps for light and stole water from neighbors for our daily use. Half of the house's roof was gone so, when it rained, we set out pots for the leaks. In my helplessness, I cried for the day when my mother would come and take me away, but all I had were her letters from prison.
At age eight, I met my mother for the first time and went to live with her. Life was much better living with my mother because we had adequate food and clothing. However, she too was verbally and physically abusive. We moved around a lot—living in six different homes in Jamaica. Our last neighborhood was riddled with gun violence and my mother worried about my exposure and safety. She obtained a United States visa for me and hoped to join me in the U.S. but her visa opportunities did not work out. At age 14, she sent me to live with my aunt in Florida.
But my aunt was also verbally and emotionally abusive. When I described the situation to my father's mother, she offered to let me come stay with her in Brooklyn and so I moved again. My grandmother tried her best to provide for me, but she had no income, and I could not work.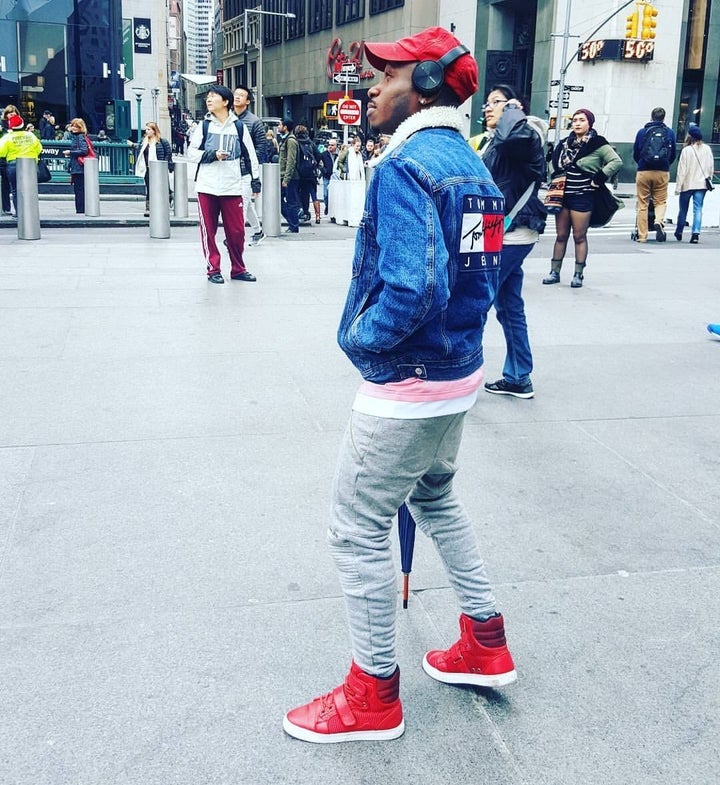 When my mother finally came to New York two years later, I left my grandmother's and moved in with my mom who had recently given birth to my baby sister. Things were good and it felt like I had a family. But one day I came home from school to find the street blocked off and the police raiding our home with tear gas and dogs. We discovered that the other residents in the building were drug dealers. The police told us that we had to move out, but we had nowhere to go. We were forced to move into a family shelter.
We stayed together at the shelter for a little while. But when my mother found out that I am gay, she immediately kicked me out. I remember the other residents of the shelter gathered in the hallway, watching me struggle to drag my belongings down the five flights of stairs. All the while, my mother screamed: "I am sick of you! If you die tomorrow, I wouldn't even care." Filled with shame and hurt, I walked out the shelter's door and down the slushy New York City street to the subway station. I did not once look back.
I had no choice but to venture out on my own. I bounced around from shelter-to-shelter. But, despite my circumstances, I always made school my priority. And I had help from a program called SIMBA Academy, which stands for Safe In My Brothers' Arms. SIMBA works with high school males who live in New York City shelters and provides college readiness, advocacy, and scholarships. Because of help from SIMBA and assistance from my teachers, college became a possibility for me. But when the New York Daily News wrote an article about my road to high school graduation, describing my college aspirations, an outpouring of support from the community helped turn by college dreams into reality. In the Fall of 2010, I enrolled at Manhattanville College with donations from the community and a full-scholarship.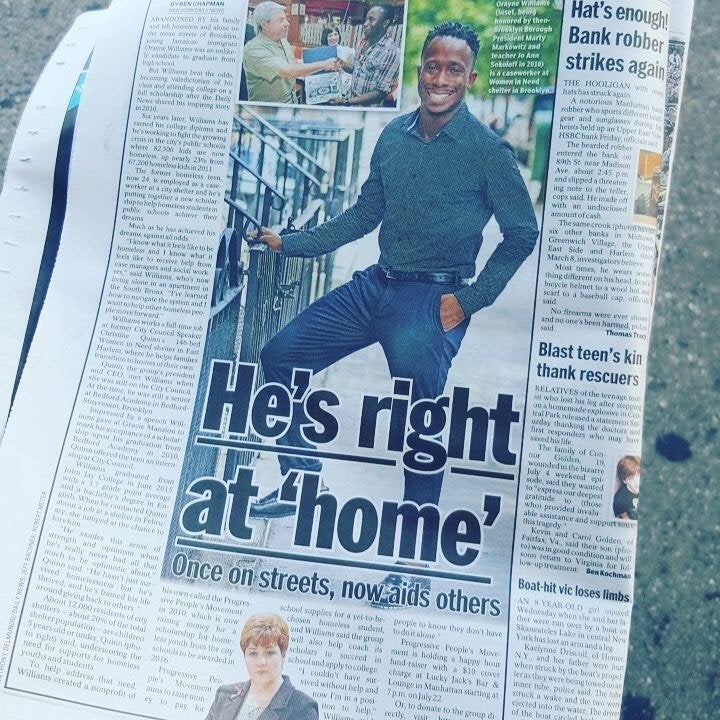 I was incredibly moved by the support that I had received and I understood first-hand the impact that all forms of charitable giving can have on an individual. Wanting to help other youth who are in crisis, I founded Progressive People Movement, Inc. ("PPM"), a non-profit organization that provides resources to homeless and at-risk youth. PPM helps youth navigate social service bureaucracies, offers peer mentoring programs and college readiness training. In my freshman year at Manhattanville, I developed the mission statement, the unique service offering, and the beginnings of a business plan for PPM. I shared it with my peers and from there we created an executive board. I also reached out to my high school mentors and teachers for help, assembling what would become a board of advisors. The core entity of PPM had formed.
I dream of expanding PPM into an organization that can effectively advocate for disenfranchised young people in the family and criminal court system. I dream of using PPM to empower overlooked, underserved and underrepresented at-risk youth throughout the nation, equipping them with the skills they need to overcome their daily obstacles.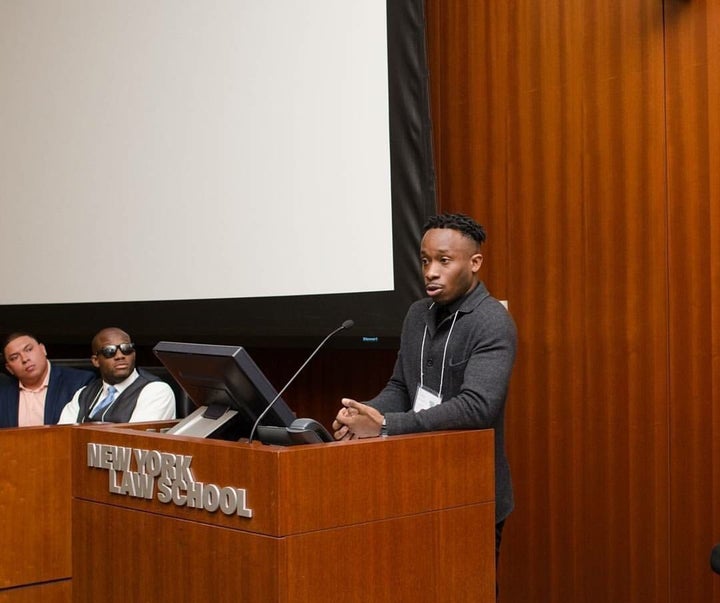 Many people want to get involved to help the disenfranchised, but often don't know where to begin. I agree that finding a positive way to get involved or creating a positive movement is challenging. However, I suggest the following:
Start where you are most comfortable.
Talk to someone close to you who understands your passion and cause.
Educate yourself on the area of interest.
Join a likeminded group – we don't always need to reinvent the wheel.
Just begin. The hardest part is starting – it doesn't need to be perfect. A small step is the beginning of a journey.
In order to truly transform a community, I believe that we need more than passion: we need to make systemic change through policy and legislation. For that reason, I am pursuing my graduate studies in social work at Fordham. I am empowering myself through education, equipping myself with skills that will one day help me to manifest my dream of fully developing PPM.
But, if life has taught me anything, it's that I can't do it alone. We all have our work cut out for us. I hope that you will join me on this path because, together, we can create real change.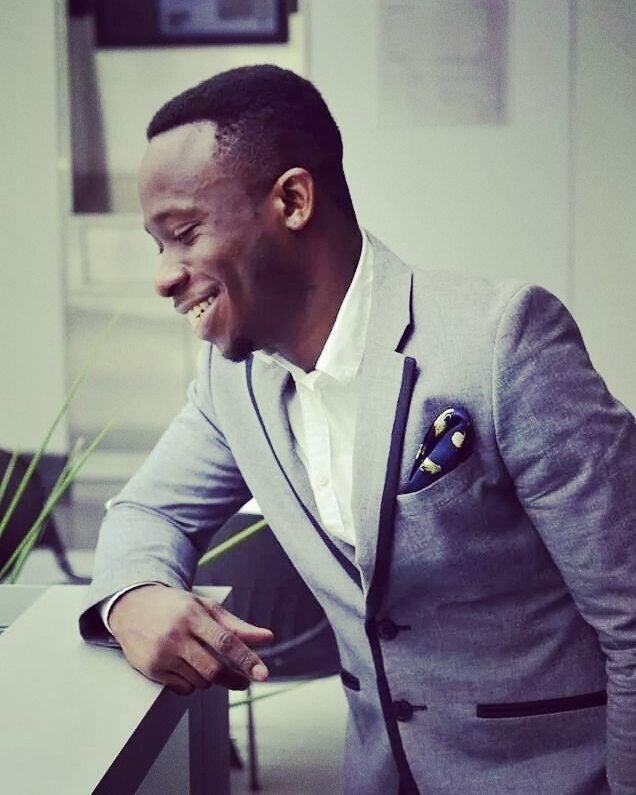 Positive change comes through persistence, strength and resilience and Brawny paper towels is proud to highlight Orayne Williams' inspirational story. We salute the strength of character that motivates each and every one of us. In those difficult moments, may we all remember that challenge can transform into resilience.
Calling all HuffPost superfans!
Sign up for membership to become a founding member and help shape HuffPost's next chapter