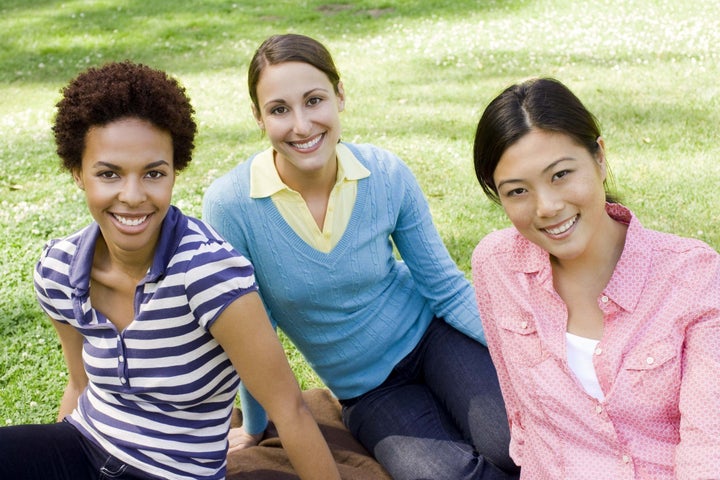 It's not easy for twentysomething women these days.
Every day there are stories in the media about Generation Y: They have helicopter parents who run their lives! They are a "lost generation" who will never find jobs! They are coddled and entitled and can't pay attention for more than 140 characters at a time!
While there are certainly truths underneath these headlines -- many Gen Ys look for parental support, they are facing a very tough job market and they love texting -- I've often wondered why, particularly in today's challenging times, we aren't eager to seek out more positive stories about our future leaders. In my experience working with and studying Millennials for the past eight years, I've found a large majority of them to be amazingly optimistic, innovative and courageous -- particularly the women, many of whom have grown up with access to more life options than any generation of women in history.
When I was approached by Levi Strauss & Company to collaborate on a research report seeking to dig deeper into the attitudes, experiences and goals of Millennial women, I jumped at the opportunity for quantitative data to back up my personal experiences. Through this research, "Shaping a New Future," I've had the privilege of digging deeper into what Millennial women are thinking, where they turn for advice and how they see our shared future. And -- spoiler alert -- I've found even more reasons to be optimistic about Generation Y.
(Note: While this research focused exclusively on Millennial women in five countries -- the U.S., U.K., Japan, France and Brazil -- it is my hope that other researchers will expand our knowledge to male Millennials as well as twentysomethings in additional countries.)
What Millennial Women Want
Before I share various data points from this global research, here's the headline: today's twentysomething women value life's journeys more than its destinations. Rather than wanting to "have it all," Millennial women want to try it all.
Rather than feeling compelled to follow a predetermined life path (education, career, marriage, motherhood), as many of their mothers and grandmothers did, Millennial women are taking advantage of today's more flexible, global and technological society to forge nonlinear life paths. They want to sample from the web of life, not climb a straight and narrow ladder to reach their goals.
According to our research, 96 percent of Millennial women worldwide list being independent as their most important life goal and define success as being able to shape their own futures (87 percent). While being a mother (82 percent) and getting married (67 percent) are still important, they are not as high priorities in one's twenties as being independent and living life on one's own terms.
For some women, such as my friend and Shape What's to Come Ambassador Tammy Tibbetts, this may mean leaving a more traditional career path to start a nonprofit that supports the fight for girls' education in Africa; for others like Ambassador Elsie Flannigan, it may mean turning a passion for fashion into a business; while for still others it may mean using their unique life experiences as the basis for creative expression in the arts.
Interestingly, more than half (58 percent) of women we surveyed do not have a definite plan to achieve their long-term goals. But this doesn't seem to be a problem. You might say that the lack of a plan is the plan.
Along with this freedom, however, come high expectations; the pressure to succeed is intense. Eighty-three percent of Millennial women say they believe they are expected to be more successful than women in previous generations.
And, of course, the current economic climate is a potential barrier. Sixty percent of women worldwide cite "ups and downs in the economy" as the biggest obstacle to achieving work-related goals. Fifty-four percent cite "lack of finances/debt," an issue that is sure to remain prominent as debates about university tuition continue.
So where do Millennial women look for support and guidance to achieve their goals and to navigate various challenges? Our research found that young women are revising the traditional mentorship model to better fit their needs and lives -- and to reflect the current realities of technology.
For guidance, Millennial women -- like previous generations of women -- are turning to mentors. Unlike previous generations, however, Millennials have redefined the mentor/mentee relationship to suit their needs, creating a web of relationships with a wide variety of women who can offer a diversity of life experiences and perspectives.
To navigate a changed world, Millennial women are transforming mentorship from a one-way, top-down relationship into a peer-to-peer, communal exchange of information, guidance and support.
Ninety-four percent of women worldwide said that the best mentors are people with whom they can trade advice. Furthermore, 77 percent of Millennial women say that mentors can be people your own age, and 89 percent agree that they can have more than one mentor. Call it the new streaming perspective -- like Millennials themselves, this mentorship is always on, never static and continually evolving.
A New Community for Millennial Women
As a result of our research findings that Millennial women want to exchange information, inspiration and guidance with one another, Levi's launched ShapeWhatstoCome.com, where women can connect with peers and mentors alike, encouraging them to discover and pursue their passions and potential.
I hope that you will check out this new community and engage with the extraordinary Millennial women gathered there.
As the "Shaping a New Future" research illustrates, young women around the globe are no doubt leading us in directions we never knew possible. They're doing things differently and have the confidence, independence and savvy to forge their own paths in their personal and professional endeavors.
I, for one, can't wait to see where their paths lead.
Support HuffPost
A No-B.S. Guide To Life
Related
Popular in the Community