"In a nutshell, we do it all! I employ 60 fetish masters so it isn't hard to find someone for a session. Just like that" says Leona snapping her finger, "The session is paid for and scheduled!" This is Leona, whose name has been changed to protect her identity, and she runs an adult fetish service in which very few things are not on the menu.
Leona says that her online fetish menu was specifically designed to expand the sex lives of people in stale relationships, something she knows little about as there wasn't anything neither she nor her husband wanted to try, that they DIDN'T try. "When we first met it was seriously the hottest sex I had ever had! The bathroom, the car, in a reception hall BEFORE guests were seated. YES I said a reception hall! We were running late to my cousins wedding and we thought, why sit in the church during the ceremony when we could be the first to the reception! We crept into the venue WHILE the ceremony was going on around the corner one street over and christened it as only the 2 of us could!" Leona describes her married sex life as something they both looked forward to at least 7 times a week.
"He was the love of my life and when he passed, I was devastated. It took some time for me to come around because although our life together wasn't built around sex, sex was a huge part of it!"
Leona says that a year into mourning was when she came up with the idea to help people in relationships in which the one thing that was missing was an uninhibited sex life. "That's where I come in OR I send one of my associates in for a session. We specialize, across the board, in pretty much everything. BUT" says Leona, "I draw the line at ANYTHING having to do with children or animals! Anyone comes to me with THAT type of a fantasy or fetish and I REPORT THEM! But let's say your partner wants to try anal, double penetration maybe bringing in a third party into bed with the two of you, all these things can be scary to someone if the wrong people are brought in. We on the other hand are the right people to incorporate into your sex lives because we teach you how to do it right!" She emphasizes that she isn't running a brothel and that "you can't hire us to come out and have sex with you, we're hired to teach you how to try new things safely."
Leona says that nine times out of ten, when your partner comes home and wants to try something new, the other person in the relationship automatically wonders WHERE they got this new idea, "Aren't you turned on anymore?" seems to be THE most common question. "You know, men talk with their friends and we women talk with ours. It's not that either isn't happy in the relationship, but it's like if every week you have spaghetti on Wednesday and grilled fish on Thursday...you know what you're getting and how it's going to taste right? But what if you didn't have that every week, you'd look forward to it that much more when you did have it!"
She goes on to say that so long as 2 consenting adults agree on trying something new, that's the first step to spicing up their sex life. And, she's one click away. Literally scheduled for sessions online, one can click on Leona to service your fetish privately in the locale of your choice.
"First of all, you have to be 18 years old or older to navigate my site. Once you're in, you're invited to peruse the menu and make your selections. Let's say you and your significant other want to try anal, you click on that fetish, then click on the instructor of your choice, male or female then you schedule your session on our calendar and finally pay our fee and wala! You're done!"
Leona says that believe it or not, not everyone knows what they're doing when trying a new fetish and that's the reason why they shy away from trying something new. "It should never be about your partner wanting to beat you up in order to get off! It has to be enjoyable for everyone involved!" Leona says that one of the most popular requests is for women to turn the tables on their partners who enjoy marital rape. "Listen, rape is rape! Just because you're married doesn't make it your own personal sex buffet. Unless, that's something you two agree upon. But you should NEVER agree to something because you're afraid of losing your partner. Sex should be something you look forward to, you shouldn't be afraid of it!"
Leona says that she only employs sexually open minded people who work with her service on a full time basis. "My fetish masters are just that, masterfully skilled sex operatives who know EXACTLY how a fetish should be enjoyed. There are some fetishes that sincerely need to be spaced out before enjoying too often. Every orifice we have isn't meant for penetration and once it's been enjoyed, it may need at least 21 days or so before it can be penetrated again."
I wonder if Leona is in a relationship and her answer is no. She says that her husband was the love of her life and she doubts she'll ever meet anyone like him again and she's ok with that. She also says that she enjoys the sessions she's incorporated into because it gives her the opportunity to impart a little wisdom upon her employers. "Never take each other for granted and be open to new things. So long as no one is in danger and the main objective is to have a great time sexually? Do it, enjoy it! You only have one life to live!"
I couldn't have said it better myself Leona! Bravo!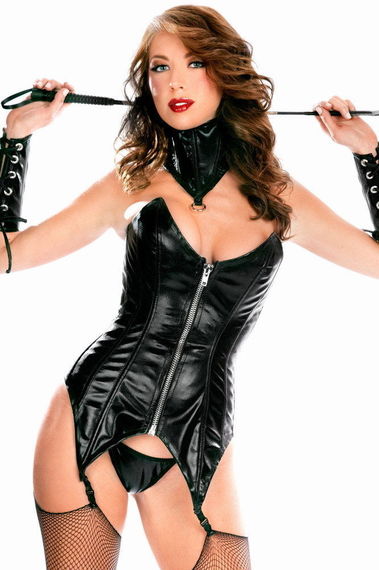 Popular in the Community