Zachary Taylor Tures, now age 7, was named for a fighter who became president of the United States of America. He doesn't get in trouble at school for brawling, but he appreciates a good sports rivalry, especially with any team that locks horns with his favorite sports franchise: the Atlanta Braves.
First he despised the New York Mets. Then it was the Philadelphia Phillies. The St. Louis Cardinals took their turn when they won a one-game playoff with the Braves. Last year, it was the Los Angeles Dodgers, who prevailed over the Braves in the NLDS playoffs last year.
It becomes an obsession, of course. He enjoyed watching Atlanta relief pitcher Craig Kimbrel mow down the visiting Nationals. In addition to checking on the Braves performance, he wanted to hear if the Nationals lost. Every time they did, he got a wicked grin on his face.
But it was not the Braves' year. Too few runs cost the team a chance at the playoffs. The Nationals eventually clinched the division in Atlanta, just as I had lined up tickets for the next night. It was a Wednesday, but it was also Tom Glavine bobblehead doll night, the first Braves pitcher dad ever watched in an Atlanta game back in 1991 in Houston.
Curiosity got the better of Zach. Used to watching Braves Bullpen Coach Eddie Perez, who chatted it up with him last year, the seven-year-old crept over to see what those enemy Washington players were up to.
The Washington coach waved off Zach, then stopped, as if thinking the better of it. He called back Zach and tossed him a ball, which Zach caught. The little guy was positively bug-eyed at the kind gesture by the hated rivals.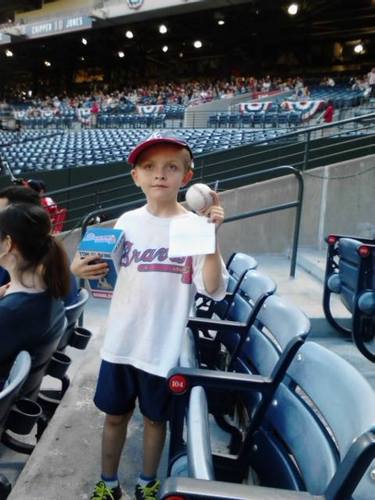 Toward the end of the game, I saw Nationals pitcher Tyler Clippard, an All-Star reliever, look our way. "Hey Tyler!" I called out. "Would you autograph the baseball?" He gave a furtive glance around, then nodded. A moment after Kimbrel finished off the last Washington batter to preserve a 3-1 win for Atlanta, Clippard signed the ball for Zach, who looked just as amazed as he was to get the ball from "those evil Nationals" in the first place. It was a moment to treasure.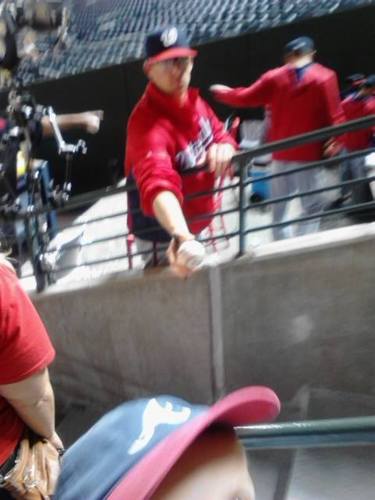 On the way back, Zach, who plays a decent game of coach pitch baseball, announced "You know dad, I don't hate the Nationals anymore. In fact, if I got drafted by Washington, I think I actually would play for them."
If Major League Baseball wants to keep winning fans back, and promote good sportsmanship, they'll do the little things like this. And this playoff season, they got at least one additional fan, hoping they'd make their first World Series ever, since the Braves were out of it, of course.

John A. Tures is a professor of political science at LaGrange College in LaGrange, Ga. He can be reached at jtures@lagrange.edu.
Related
Popular in the Community