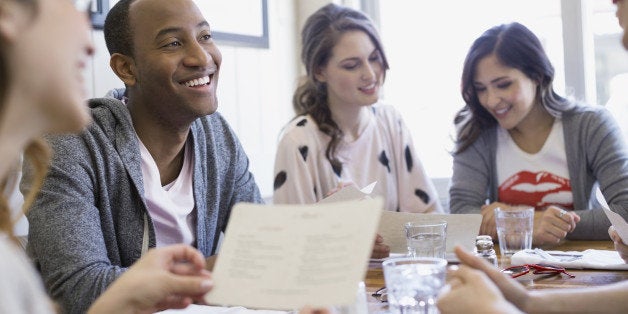 When dining out, people who eat special diets are the butt of seemingly every joke at the table. "How do you know if someone's a vegan? Don't worry, they'll tell you," is a barb I am all too familiar with. But when it comes to dining out, telling your server exactly what your dietary restrictions are is actually the best way to ensure a positive dining experience for yourself, your companions, the waitstaff, and the kitchen. After all, no one wants a dining partner to go into anaphylactic shock - nor does anyone want to witness a companion eating something she dislikes or is intolerant of because she was too uncomfortable or embarrassed to ask for a change to a meal.
These tips will help you confidently request the menu omissions and modifications you need when dining out without coming off like a jerk. And if you do your best to work with the restaurant and someone still has a problem with your dietary needs, I think we can agree that there's room for at least one more substitution at the table.
1. Don't Lie
Whether you've eliminated an item from your diet on moral grounds or you just really, really don't like it, it's important not to stretch the truth. Lying about being allergic to a food only makes things harder for the 15 million Americans honestly suffering from food allergies in the long run.
You're better off just being upfront with your server about your dietary needs from the get-go. Most restaurants are happy to let you know about their vegan, vegetarian, or gluten-free options, and some even have special menus. Either way, just realize that the kitchen and waitstaff of a restaurant want you to leave feeling full, happy, and ready to recommend their establishment. The horror stories you see online of deceitful eateries are usually just sensationalized accounts used to drum up hysteria and get more page views. That being said, food allergies can be fatal and it's important not to diminish their gravity by saying you have one when you don't.
2. Do your research
Before dining out, it's a good idea to do your research. Allergic to peanuts? Do some Googling and find out which restaurants in your area are friendly to people with nut allergies. Checking the menu posted on a restaurant's website is always helpful, and if you call (outside of peak hours, please!) someone is usually happy to let you know what menu options are available for those on special diets.
"It's totally possible to go to a high-end restaurant with dietary restrictions. Most restaurants will generally be able to put something together for you with advanced notice. The best thing to do if you have these restrictions is to just call ahead and find out what the menu is, and tell them what your situation is before you come in," chef Bill Telepan of Telepan told Serious Eats.
And don't worry about being pigeon-holed into dining at just a few niche restaurants. It's a happy sign that more chefs are becoming aware of menu accommodations when Del Posto in New York can serve gluten-free pasta and Jose Andres proudly offers separate menus for allergy sufferers and vegetarians at many of his restaurants.
3. Be flexible
Sure, it might not be possible to get the short rib ravioli with gluten-free pasta, no dairy, and a vegetarian "meat" substitute. But the prosciutto and arugula pizza sans cheese? Most likely not a problem.
When asking for menu modifications, it makes more sense to go for a simple switch. Sure, you might wind up with a salad of some kind, but you have to be realistic about what a restaurant can serve you at a moment's notice. Most establishments have tested their menu options over and over to make sure everything is just right, and asking the kitchen to swap out several ingredients in one go is frustrating, especially if you're dining at peak hours and didn't give the establishment any advance notice.
You may have to give up your dream of magically enjoying a gluten-free and vegan version of a lobster roll, but most restaurants will be happy to suggest an alternative item on the menu. And again, calling ahead can be the perfect way to ensure that a chef has a special dish for you to enjoy when you get to dinner.
4. Be specific
Waiting on dozens of tables a night and juggling multiple special requests can be challenging for even the most seasoned waitstaff. When asking your server about menu substitutes or alerting them to your special dietary needs, let them know exactly what you're thinking. For instance, if you're watching your saturated fat, say something specific, like, "I'm looking for an entree that can be cooked with oil instead of butter, because I need to watch my saturated fat." Or, if you want something vegan, specify that you're looking for a meal prepared without meat, fish, or dairy. Some people just honestly aren't sure what falls under the umbrella of a certain special diet, so letting your server know the details up front can save you both a lot of time as they help you navigate the menu.
5. Don't be embarrassed
You shouldn't be embarrassed about asking for a menu modification. You are paying an establishment to eat its food, and you shouldn't get stuck paying for a meal you just can't eat. Food allergies and intolerances are serious medical issues, and you are doing yourself and everyone involved a favor by being politely honest about your needs.
"Don't ever be embarrassed if you have a food allergy. That's stupid. It could kill you. You can't be embarrassed if you can die," Chef Ming Tsai, owner of Blue Ginger, told Eater in an interview.
Other health considerations, like low-fat or low-calorie options are also legitimate, and food choices based on moral grounds deserve to be respected too. What and how we eat is deeply personal, and standing up for your needs in a group setting can be nerve-wracking. But even if your dining companions are wink-wink nudge-nudging each over your special requests, you should feel confident that you are doing what you need to make the right decision for your body and mind.
Still nervous? I'll repeat it one more time - call ahead and explain your situation to someone at the restaurant, and he or she usually will be more than happy to work with you to create a wonderful dining experience. And if the restaurant seems less than willing to accommodate you? You can feel good about bringing your business elsewhere.
Justina Huddleston is a food writer living in Los Angeles. When she's not writing for Menuism or SheKnows, she spends her time in the kitchen creating both virtuous and decidedly junky vegan food. Buffalo chickpea pizza, anyone? She's also been known to eat a plain block of tofu or beans straight out of the can for lunch, but somehow those culinary adventures don't make it to her Instagram. You can follow Justina on Twitter or see what's cooking in her kitchen on her blog A Life of Little Pleasures.
Popular in the Community