Do "work" and "play" always have to be mutually exclusive? Not in my book. As CEO of a nonprofit dedicated to saving play for our nation's children and communities, I can't lose sight of the fact that adults need to play, too!
For us, instilling a sense of play into the organization helps fuel the passions of our employees and keeps us focused on our mission. If we don't play ourselves, how can we expect to motivate others to do the same?
That said, I think every organization would benefit by setting aside time for its employees to play (recess, so to speak), regardless of its focus or mission. Nancy Baptiste, an editor for Early Childhood Education Journal, points out:
"... as adults we may not play enough. Just as children's opportunities for play have eroded in our society (Elkind, 1988; Postman, 1982), so have opportunities for adult play (Elkind, 1988). Personal, family, employment, community, and societal stressors influence our lives in such a way that our disposition for pure, unadulterated play has diminished. Work and more work have replaced adult play."
But, you say, time is money! Play is for children! Why would we sacrifice valuable work hours for silly games? After all, we have stuff to do!
Actually, KaBOOM! employees report returning from "play time" feeling refreshed, invigorated and more productive -- just as kids feel after recess, research suggests. They also say that play helps to deepen their sense of connection to their coworkers and increases workplace cohesion by temporarily flattening hierarchies.
A culture of play won't manifest itself overnight. It takes conscious effort and continuous nurturing -- even here, in an organization that's all about play! Top-level management must condone, and participate in, play activities, and employees at all levels must be able to help direct what these activities are. See some examples here.
Don't just take it from me -- largely because of our deliberately playful culture, The NonProfit Times recently named KaBOOM! one of the top 50 nonprofits to work for in the United States. The senior management team and I celebrated the honor by donning chef's hats and cooking up some eggs, pancakes and bacon for the staff: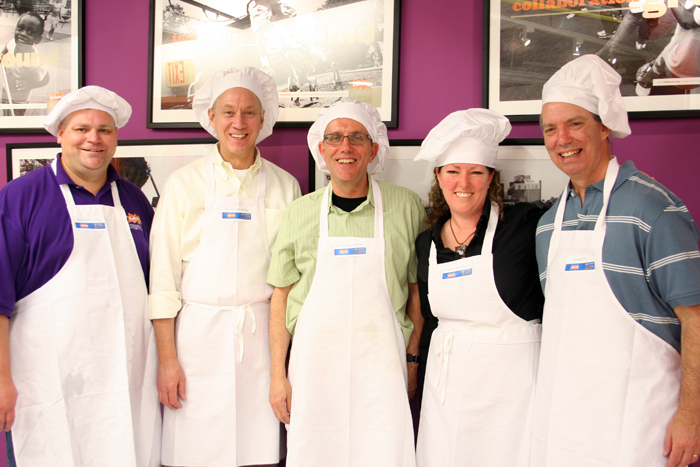 The collective wisdom out there is that play takes away from work. But if we instead abide by the philosophy that play contributes to work, we end up with employees who are happier, healthier and better able to rise to the high standards we set for ourselves.
Calling all HuffPost superfans!
Sign up for membership to become a founding member and help shape HuffPost's next chapter