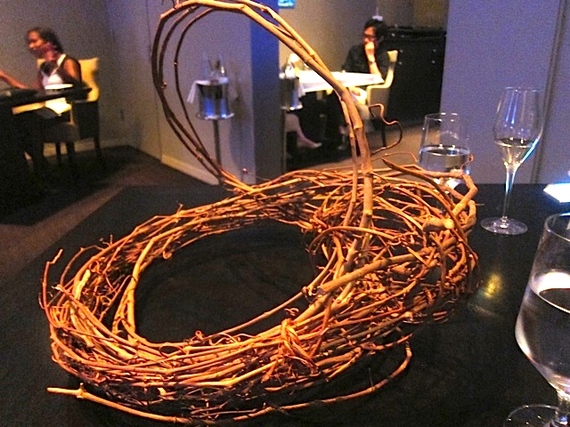 The incredibly clever foraging basket at Chicago's Alinea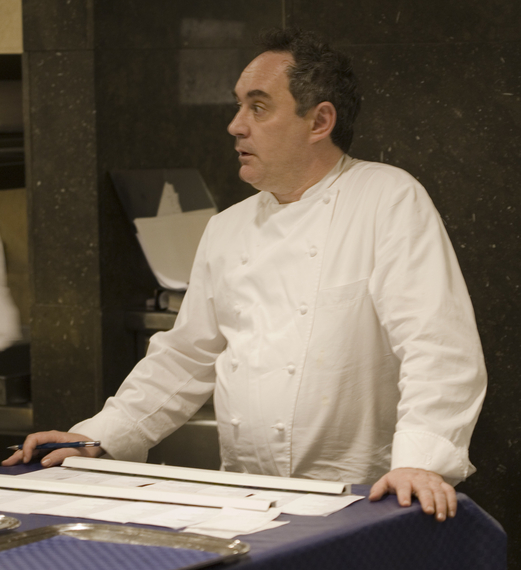 The immortal Ferran Adrià, of El Bulli in Rosas, Spain
Whenever foodies start waxing ultimato about famous, trend-setting restaurants, I feel confused, principally because I know that said foodies, in some cases at least, haven't been to those restaurants. Sure, they're up on the ridiculous "World's Top Fifty" San Pellegrino ranking (to which I used to contribute, even though I'd been to maybe 15 restaurants on the list). They've been checking out Michelin, of course -- a publication that has shown more cojones in recent years -- but not more than a capon's worth. And they have skinny-dipped in the Pierian spring of food knowledge, about which Alexander Pope would have warned "a little learning is a dangerous thing. Don't fail to slurp up and chow down," iambic pentameter be damned.
I'm afraid that many of our correspondents have failed to slurp it up. Hell, most of 'em haven't even gone down by the riverside.
My other confusion arises when it is I who gets asked questions about these earth-shaking restaurants. People from all over want my opinion on Alinea in Chicago, for example, about once a week but I'm not sure whether I should start opining or not?
I've actually read Grant Achatz's wonderful autobiography and I've heard so much about Alinea from people I respect that I feel I've almost earned a vicarious opinion.
But that's when the Pope pops back into my mind (Alexander, that is).
And that's why I've never commented on Alinea in print.
And that's why I went to Chicago, and Alinea, two weeks ago, to pull myself out of this critical miasma.
I should point out that another element of my confusion has to do with my underlying feelings about restaurants of this blockbuster conceptual status:
1) I like me a great-and-golden roast chicken, perfectly cooked, sputtering, which seems practically impossible to find these days.
2) Maybe 90 percent of the big "wannabe" restaurants disappoint me -- usually because the chef seems so focused on "foam," or "air," or the tricks popularized by others, that insufficient attention has been paid to cooking fundamentals
3) If, in an age desperate for creativity, you're building your menu on the back of the creative breakthroughs of others -- where is your own creativity?
Finally, once I was at Alinea a few weeks back I was still confused. The restaurant is sui generis, idiosyncratic to the max which led me to a strange and paradoxical conclusion. In order to make judgments about restaurants such as these, it is helpful to have been to other unique restaurants. Not because you want to start ranking, as in "what's better, Alinea or El Bulli?", along the lines of "who has the best pizza in downtown Manhattan?" That manifestly does not work. But when you're in the rarefied air of having experienced a number of great chefs pole-vaulting over the usual borders -- you can comment better on the quality of the pole-vault.
And since El Bulli was the most surprising restaurant of my life, with two visits that will always remain brand-new in my memory -- I thought it would be fun to compare it in a few basic ways with Alinea. Remember this is not like "who gets a higher grade for pass defense, New England Patriots or New York Giants?" This is only a way of shaping discussion, and firing the imagination.
When it comes to restaurants like these, the usual measurements -- Michelin stars, Gayot points, etc -- don't really apply.
In my febrile, post-Alinea mental deliberation, I came up with six very basic things that I will never forget about the two restaurants and which go far in helping me understand, and communicate, the specialness of each experience:
ONE'S PHYSICAL APPROACH TO THE RESTAURANT
THE ENTRY INTO THE RESTAURANT
THE SETTING OF THE RESTAURANT
AT TABLE: THE DELICIOUS FACTOR
NOTE: Because my Alinea experience was two weeks ago, I have multiple photos from the Chicago restaurant. There are no photos from El Bulli; my two experiences there were five and six years ago, and I was too overwhelmed by the 35 courses to slow it all down with photos!
ONE'S PHYSICAL APPROACH TO THE RESTAURANT
El Bulli: Ferran Adrià's hideaway lay at the end of a long, winding road, up into a forest from the resort town of Rosas in the Costa Brava, down into a wooded area by the sea. When you arrive, you are surprised to discover that El Bulli is lapped by waves, next to a small beach, with no other buildings around.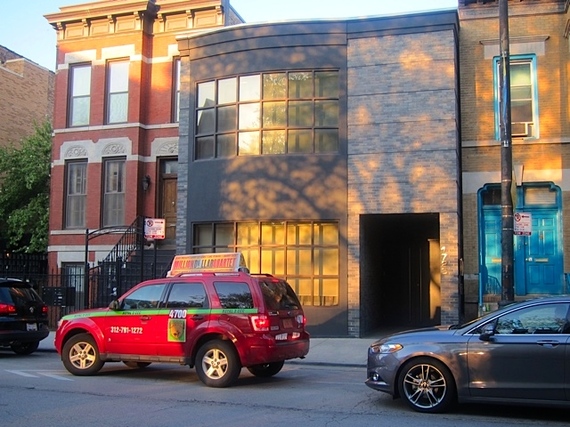 Alinea's entrance, in the middle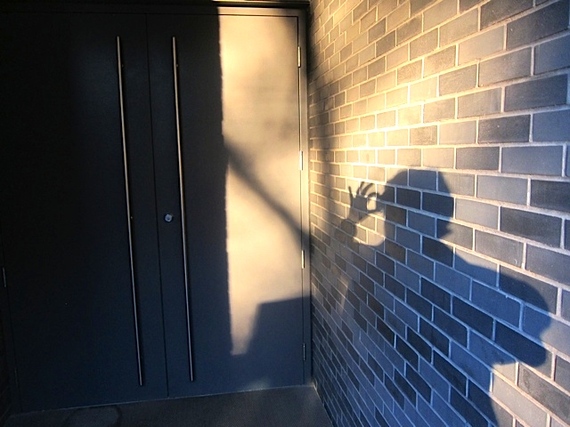 The grim doors of Alinea, photographed by yours truly at sunset
Alinea sits on a fashionable Chicago street, North Halstead, with some exciting neighbors. Charlie Trotter used to be nearby, and diagonally across the street is the great Steppenwolf Theater. Nevertheless, the gloominess of the building, with its grey brick, invariably makes first-time visitors say "that's Alinea?" You could speculate that with this entrance Grant Achatz begins his theme of "this whole place is just a backdrop for my conceptual fireworks, the visual details are not the point."
THE ENTRY INTO THE RESTAURANT
El Bulli: One's heart is pumping fast as one ascends the small hill, with its trim garden, en route to the front door. If you choose, you may look down through a large outdoor window into the kitchen below, where the brigade is feverishly working, under the command of one man. Sensing your presence at the plate glass, that man may even turn around and look up at you suspiciously. Everything changes as you walk in and find the super-graceful wait staff, in a setting slightly bumped up from the feel of a family restaurant on Long Island. El Bulli originally opened as "The Bulldog," a rather casual local restaurant with simple food. Not much about the entrance (other than the heart-stopping array of chefs that you may observe, if you like) says "three-star restaurant."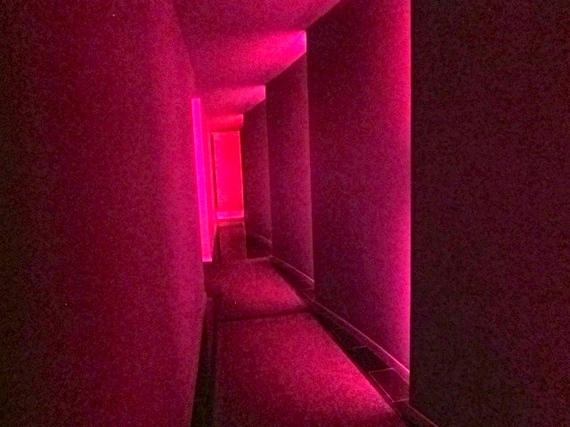 Your first impression upon entering Alinea
When you go through the grey, heavy doors, with their industrial handrails, and hardware-store lock, everything changes immediately. It's almost erotic: now you've entered a plush, vividly lit hallway, in deeply seductive purple-red tones, wildly theatrical, disorienting like the entrance to a funhouse. Can this, once again, be another powerful communication? "Don't expect anything to be what you expect," Grant may be playfully saying.
THE SETTING OF THE RESTAURANT
El Bulli: Two different rooms made up El Bulli, each with a slightly different feel, each one with windows overlooking the sea. The furthest one had a fireplace, and felt a little more squeezed in. The front one was for the "A" customers I think, with slightly more space. But neither had the walls, art, or accoutrements of a top-level three-star restaurant in France. Intriguingly, however, the rooms at El Bulli did not add up to an Achatz-like conceptual statement. It seemed only that Ferran Adrià, and his partner Juli Soler, had done what they could with the world's most famous restaurant.
Alinea: This is one of Alinea's most surprising aspects. There are multiple rooms on two levels--but all with a great similarity in design. Grey walls bestride dark grey carpets. It doesn't get much more complicated than that; the note you're supposed to catch, clearly, is minimalism as a backdrop for the circus acts to come. You could say the vibe is ultra-urban-cool, but only if you want to say it. For me, actually, the coolest part is how spread out the tables are -- probably the least crowded three-star restaurant I know outside of the gorgeous, classic-French L'Ambroisie in Paris. But so different! Alinea's large tables are shiny black; they may get covered by newspapers later in the meal but never by white tablecloths!
El Bulli: When Ferran Adrià stares down at you as you gaze up through the plate-glass window outside, he reminds me of nothing so much as Humphrey Bogart looking for his strawberries. Adrià, at the time of my visits, did not look especially happy to see me. That presence, in such contra-distinction to the merry presence of his staff, rolled through the restaurant, adding the touch of "serious! serious!" that El Bulli had. Later, after talking to Adrian on numerous occasions, I discovered that he wasn't mad -- just intense! He is food's Bertolt Brecht, one of the most serious "thinkers" of his craft in modern time. I guess we can cut him a little slack!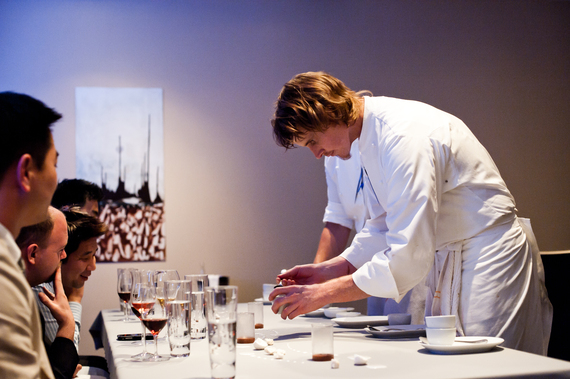 Lord knows that Grant Achatz is serious, as well. But he fills "serious" in a completely different way. Adrià's hair is buzz-cut, short, greying. Your first glance at Achatz reveals a kind of hippie, with stringy blond hair, with messiah/guru written all over him. The cool thing is it looks like somebody else did the writing. Achatz easily breaks into spacey, wonderful talk about his projects and dreams. At El Bulli, I got the sense that the waiters, telling you how many seconds to puff on this before you squeezed that out of a eye-dropper, were lightly making fun of the ridiculousness of it all; they were the cool young teachers at a high school mocking the principal in code. At Alinea, the staff interacts with you just as much, even more but they seem a bit like fellow commune members who are out-and-out inspired by their Maharishi.
El Bulli: You cannot take away from Adrià the supreme theatrics of El Bulli, which changed restaurants forever. It started with the technical experiments that were at the heart of Adrià's ground breaking "molecular cuisine" such as the calcium chloride balls he invented. When you were served "olives," for example, you were told they were not actually olives but ovals of olive juice dropped into calcium chloride, which ended up tasting more like olives than olives! Just knowing you were participating in this experiment that changed culinary history forever made you giddy. But there was usually something else going on as well: an extreme sense of play. Adrià perfected "foam" of Parmigiano-Reggiano, for example. He simmered the Italian cheese, scooped the bubbly scum/foam off the top of the pot, then captured it in the freezer at exactly the right temperature to, once again, create a "transformed" product that tasted even more intense than the original. But it went further. On my first visit to El Bulli, Adrian had recently declared to the press that he'd be making "no more foam." He only cares about "air" now, he said. So I was highly amused when a Styrofoam box showed up at my table wrapped with a band fashioned out of a paper bathroom towel that said on it "Air El Bulli." What a joke! When you opened the box, which indeed looked like a "lunch box" that might be handed out on a cheap airline -- it was filled with "air" of Parmigiano-Reggiano which looked like clouds floating by your airplane window. The joke was complete...and the "clouds" of Parmigiano-Reggiano carried the most intense Parmigiano-Reggiano taste I've ever experienced!
Alinea: The single most impressive thing, to me, at Alinea is the group of ideas that I'm calling "the theatrics." Grant Achatz has exceeded Ferran Adrià in this dramatic category. Adrià may have made more fundamental breakthroughs that generated greater buzz a dozen years ago... but NO ONE has exceeded the amount of creativity, and brilliant creativity, on display at Alinea. My toque is really off to Achatz: I would argue that Alinea is the most "creative" restaurant at which I've ever been lucky enough to dine. I was expecting something like this -- and this is not necessarily my favorite type of thing -- but the extremity of it all delighted me, and took me by surprise! I'm going to give you two great examples... but you'll see more below, in the discussion of THE DELICIOUS FACTOR. First, when I was in my wide-eyed "entry to the room" phase, my eye was caught by the most striking thing in the dining rooms that evening: branches of rhubarb hanging -- high! -- over every table, like multiple swords of Damocles. This was an ingredient that played a major role in the drama -- for later, the waiter cut 'em down at each table when it came time to serve rhubarb with celery root, celery branch and licorice.
Later, I was tickled when the waiter waylaid us with the comment that "it is now foraging season"--which, in spring, it was. So he brought to the table a basket of woven branches, the kind of thing with a tall, rounded handle above all. Inside... was... nothing. "So," he said, "Forage away! Bon appétit!" And he walked away.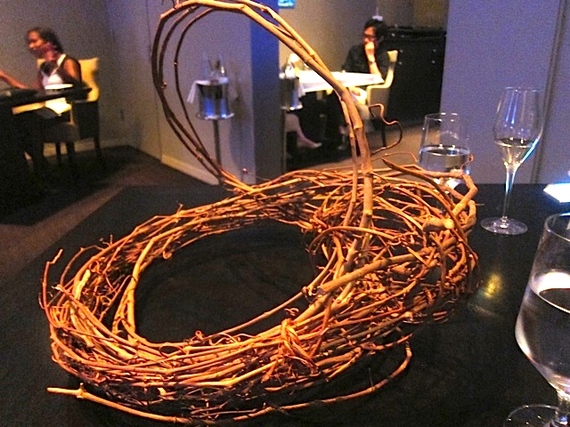 The "Branch Camouflage" at Alinea
With bemused looks, we picked it up, looked around it, under it, and could only forage in frustration, noting that it looked like a bunch of twisted sticks. The smiling waiter came by ten minutes later. "Give up?" he asked. We had to say yes. He spilled the beans, or, in this case, the salsify. "There are two pieces of salsify confit woven into the basket." He used his more knowledgeable fingers and picked one out.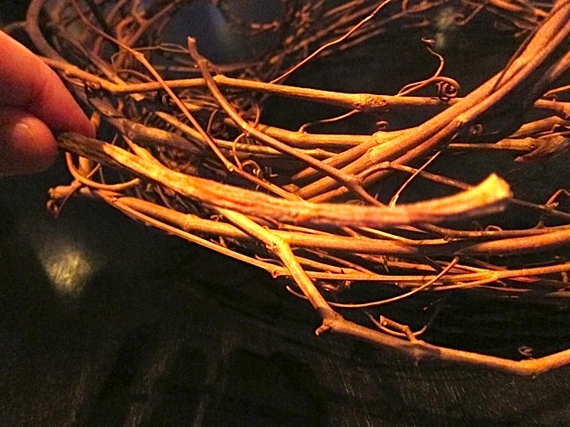 The preserved salsify that was being camouflaged
After that, the second one was easier to find. Each of the two salsify pieces was a little softer than the other twigs, though of the same color and each had a salty-umami kind of flavor, mixed with a sweet vegetable note. They were lovely to eat, even lovelier to giggle at and be "in" on the joke with.
Many of the standard "Grantisms" are now famous. A green-apple-flavored helium balloon is brought to you at the table, with admonitions to "bite it and eat it." The green apple flavor is interesting... but not as interesting as the high-pitched, helium-drenched voice that you're all using to describe it! The layer of Silpat placed on the table, and the accompanying chef who throws and swirls 15 flavors around the Silpat, flavors which ultimately become a Jackson-Pollack style creation, featuring something slightly solid at the center -- as in the case of this YouTube depiction, a frozen, crispy-crackly milk chocolate mousse, served with all the swirls and creams you could ever hope for! By now, you're not sure if you've come to dinner, or a wild piece of performance art!
Take a look at the Alinea dessert experience here:
Phew. Deep breath. But then comes the inevitable question: Do the elements at Alinea carry the intrinsic "delicious" that was carried at El Bulli?
AT TABLE: THE DELICIOUS FACTOR
El Bulli: Ferran Adrià's food was delicious, sublimely delicious. I've often said that even if Ferran had not invented molecular gastronomy -- he'd still be among the most famous chefs in the world. Why? His juxtapositions of flavors were thrilling. His sheer cooking -- textures, degrees of doneness -- was otherworldly. Obviously, his control was uncannily precise. And, for the most part, his ingredients were spot-on. On my second visit, he decided "I'm into seaweed this week." And what showed up in front of me was a seaweed sampler, about 10 discrete items gathered from all over the world, which were presented to change your mind forever about seaweed and its diversity. They did, to be sure. Everything was always "top of game" at El Bulli.
Alinea: This is a more difficult question. I'm not saying that there isn't a major-league ton of mouth-startling deliciousness to go around at Alinea. There is! Two of my favorites on "my" night were two of the least conceptual dishes: a crazy lobster-focused palette...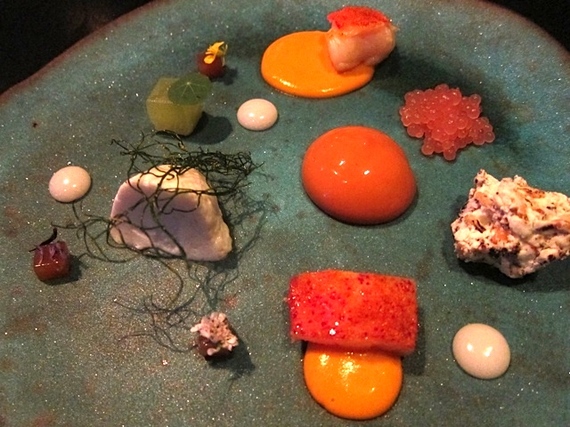 ... which riffed on the flavors of lobster, curry, Earl Grey tea and grapefruit.
Another was a salad of lily bulbs, with rambutan and a distillation of "caviar lime"...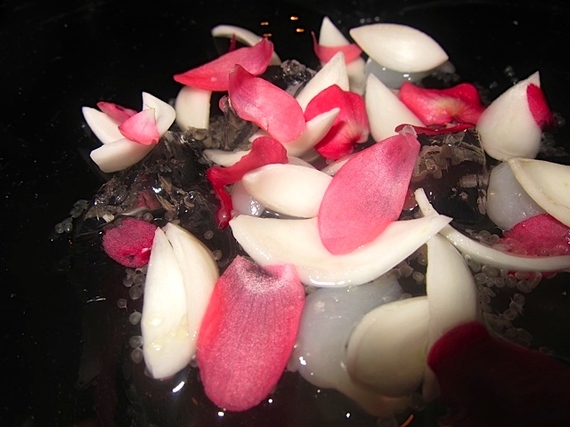 Both were as unusual as they were delicious.
But, unlike Chez Adrià, as the conceptuals get ratcheted up, the degree of "yum" seems to decline.
One of the game defining "conceptuals" at Alinea is Grant's presentation of soft-shell crab, with accompaniments and "three condiments."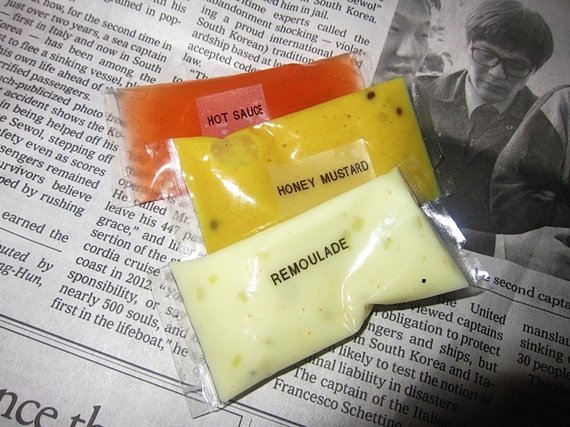 Newspapers, not unfolded, suddenly appear on your table. Your waiter asks you to get to work, and roll out some of the newspaper. Aha! Suddenly you're at a crab-pickin' feast! Excellent corn bread does appear, along with delicious okra. A can of Pabst Blue Ribbon is ceremoniously cracked open for each diner, with the sound of great whooshes!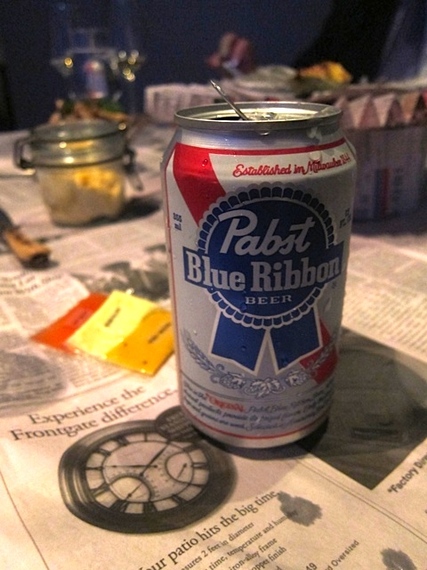 And, lastly, the crabs -- a couple of pretty good soft-shell crabs, fried. Did the razz-ma-tazz live up to the beauty in the bite? Not completely.
Another Achatz mind-blower is the pile of top-quality charcoal imported from Japan that contains a chunk of "A5" Wagyu beef, along with thick rectangles of preserved parsnip, now charred to the max on the outside. The fire is stoked a few times, then the meats and vegetables are removed, trimmed, stacked. The parsnip is one of the most delicious things I have ever tasted, all smoky and black. The Wagyu is a letdown. It is a fine piece of beef, but it distinctly lacks the crazy butter-like meltdown that you get in Wagyu at its finest.
Increasingly, I think, "great" is coming down to provenance. Can the world's top chefs dazzle us with all their tricks -- while, at the same time, dazzling us with the quality of their ingredients? A number of "provenance" moments let me down at Alinea, such as the sashimi variants that arrive at the beginning of the meal. One set of them was placed in a crazy, dipsy-doodle block of ice, visually mind-blowing...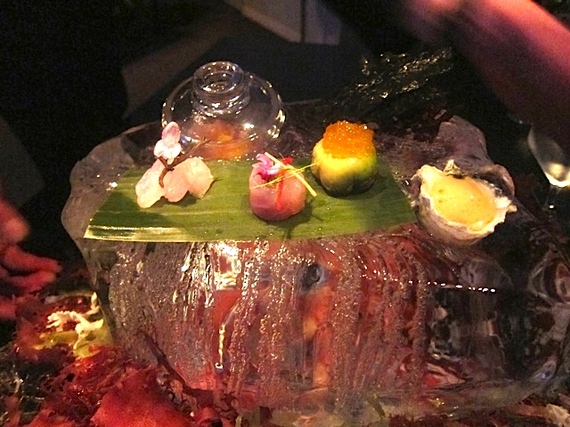 ...but the seafood items themselves, though in keeping with top-sushi-bar quality, didn't show the exotic textural distinction you want from the very best sashimi.
This all flooded into my mind a few weeks later, while dining at another three-star restaurant: Brooklyn Fare, in guess-which borough, under the control -- and I do mean control! -- of Cesar Ramirez, who grew up in Chicago.
OMG. He feeds only 18 diners, twice a night, and in full view of "the audience." He slices, touches and arranges every piece of fish (the first ten courses or so are all based on single slices of what has to be the most recondite sashimi in the U.S., most of it arriving that day from Japan) Sauces not off by a molecule of shoyu or yuzu; textures quivering (or NOT quivering, if they're supposed to be resilient); temperatures wildly varied, but always just right for the fish.
Later, the magic extends into vegetables, meat, cheese, dessert. My Wagyu A-5, for example, at Brooklyn Fare... much more simply cooked... was among the most tender-melting-buttery pieces of Wagyu I have ever put in my mouth (and I've eaten the stuff all over Japan).
One is not allowed to take notes at Brooklyn Fare, or photos -- a kind of blessed opportunity for the diner to focus as hard on the food as the chef has focused on it.
So, suffice it to say... at my dinner, it came down to two things: chef control, and chef selection of ingredients. Of course, said chef also needs an incredible aesthetic to rise to the top.
I will never forget my madcap meals at El Bulli, or my shock-value revel at Alinea. There is no doubt: these are among the richest and best restaurant experiences that the world has to offer.
But I can't help feeling that if changes are coming in what the biggest-deal chefs do...please let the changes be in how insane chefs become about ingredient selection, and how much perfecting attention they give in their kitchens to food destined for ever-smaller numbers of diners.
Now soon, we'll talk about roast chicken...
Popular in the Community