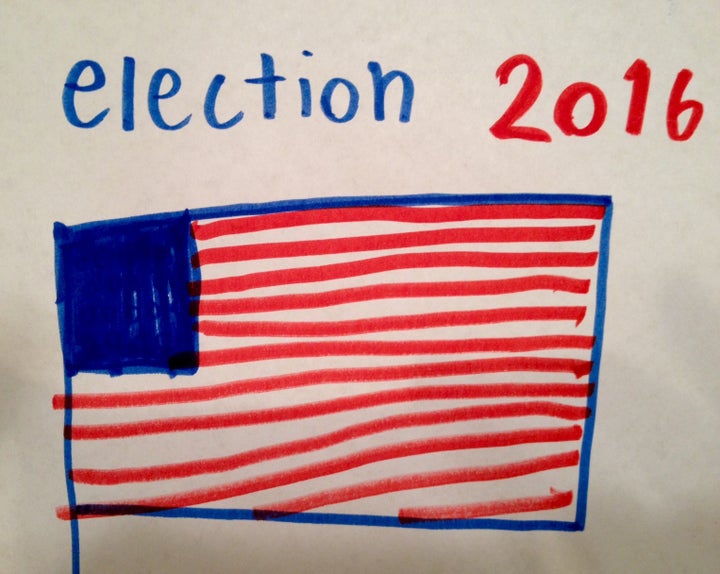 It's been one week since Donald Trump was elected our country's 45th president, and like many of you, I am having an extremely hard time wrapping my head around all of it; how it happened, what's going to happen and what the hell went wrong.
Also asking these questions are my 8- and 11-year-old boys.
I feel as if I led them with false hope, with promises of celebrating last week ― celebrating our first woman president. I told them there was no way Donald Trump could win. No way! There was no way Donald Trump would become the next President of the United States of America. No. Way.
Now they're as confused as my husband and I are. I feel badly that they got sideswiped along with the rest of us. They watched the debates (my younger son popped in and out but my older son watched all three along with me) and they know a lot of the horrible things the president-elect has said. About women. About people with disabilities. About immigration. About undoing much of the good that the only president they've ever known has worked tirelessly for.
Last week we had school conferences where teachers used the words "kind" "honest" and "a friend to everyone" when describing them. I was already emotional post-election and smiled through tears at the nice words of their instructors that they spend their days with used, it meant more now than ever.
And now, we've just elected a president who doesn't seem to possess any of these traits. Someone who is a known bully, who has lied, and who according to them, doesn't seem like he'd make a very good friend.
I feel as if our country has failed our children. Not just my own, like ALL OF THEM.
So now I'm learning right along with them. I'm having good days followed by sleepless nights. I asked my younger son if when we got home today he'd like to snuggle on the couch because I could really use that kind of medicine right now.
We're leaning on each other and talking about what changes may happen and what changes will hopefully not happen. They bring up questions sporadically... they ask about our married friends who are gay, are they going to be okay? Or kids who aren't from here, will they have to leave? Will their parents have to leave? Will this president try and start lots of fights with other countries like he does with the people on television? How come if she got more votes and won, how come she didn't win?
As election night went on I started feeling like I was drifting away, quietly freaking out, shrinking into my over-sized chair as I watched state after state turn red, my husband took over and spoke when I had no words. He told them, "Guys. This isn't going to change who we are. We're still a family. We still have our thoughts and our beliefs. And we love each other."
I'm learning from them. A lot of the time I'm learning that usually I have some kind of answer for them, and with this… this most major of things… I just don't. But I can comfort them, assure them, and have honest conversations with them; I like that they feel comfortable bringing it up and want to talk about their feelings.
My older son asked me to remind him to wear all black on Thursday, he said it was the 6th graders way of showing that they are against Donald Trump. He knows what he feels and in this small way he can express it in his environment to those around him.
I'm learning from them. And I'm going in for those hugs now more than ever. It helps.
Lori's website, Drawn to the '80s, is where her 5-year-old drew the hit music of the 1980's. Her blog, Once Upon a Product, is where she writes about important things like music, beauty products and her Mick Jagger obsession.