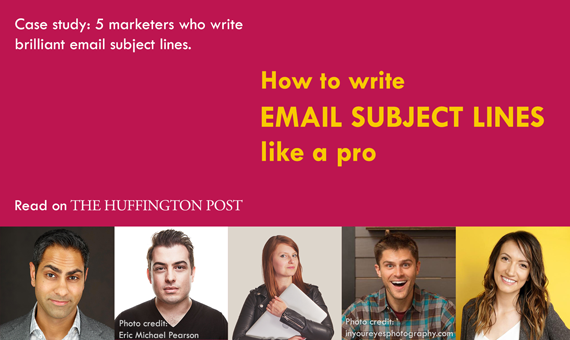 When your email subscribers open their inbox, it's like they enter a candy store. Dozens, even hundreds of treats are staring at them from the shelves. Your subject line is the candy wrap for your bon-bon; you've got to make sure it stands out, because the competition in this inbox candy store is fierce. How can you make sure your subscribers open your emails?
There are a few people whose emails I always open, even if I know they're trying to sell me something and I don't want to buy. They've refined the skill of subject line writing to a level that each of their emails is a shiny, tempting candy that I can't help but unwrap.
Subject line mastery is a desired for any marketer, so I x-rayed my inbox for the best examples that I can learn from. My findings are below. I believe the following 5 marketers are pros when it comes to writing email subject lines.
Ramit Sethi, I Will Teach You To Be Rich
Ramit is THE master of email marketing. His subject lines are intriguing, funny and real. His emails are always either amusing or educative or inspiring, so you know you're going to get something valuable when you open his emails. Ramit is first and foremost a brilliant psychologist; he speaks the language of his subscribers and uses the exact phrases we'd use when talking about his topics. After a certain time on Ramit's email list, you start feeling like you personally know him, and why not open an email from a friend? Here are a few of Ramit's subject lines:
I'm so good with Asian Moms
When friends say, "Tell me if I ever get in a bad relationship..."
I got schooled
I LOL'd at this $300,000 comment
I recorded these for you
She said I sucked at love. I LOL'd.
Courage comes in surprising forms (like Chipotle)
"Why don't babies in Asia cry?"
How to give advice so that people will listen
I ate too much
This woman spends $20,000/year on beauty
Derek Halpern, Social Triggers
Derek Halpern's got his own style. You can almost recognize him in your inbox just by looking at the subject line. He is uncompromisingly forthright; in his own words, he is "the loud New Yorker who will give it to you straight." You know you're going to learn something useful in every email, so you go along with it. Here are a few of Derek's subject lines:
You'll think I'm crazy...
17 unedited reasons why they joined Seven Figure Courses
Answer this real quick...
I hate these gimmicks
How to Email Important People (The Ebook)
the ONLY 3 "real" secrets to greatness
GREAT news (here's why)
This is a little embarrassing...
Writing used to be hard. Then I tried this...
2015: Be The Exception
Mariah Coz, Femtrepreneur
Mariah's signature is focusing on you, the reader. You want to open her emails because they promise something specific to you personally, something that will help in your particular situation. She is also super honest about her business, her process and thoughts, and has an unapologetic no-BS tone, all of which builds trust. Here are a few of her subject lines:
Our time together tomorrow
Replay coming down and other sad news
You. Coffee. This replay + bundle...[time sensitive!]
Make them do a double take
Can you build your business without spending a penny on ads?
The one thing I've always struggled with...
The truth about my first $1000 month (it almost killed me)
Charlie Hoehn is another example of an online marketer who knows what ticks, and he scratches exactly where it itches. He has learned from the best, having worked with Tim Ferriss, Ramit Sethi & Tucker Max. He looks deeper than most web marketers and understands his subscribers' anxieties and fears, and his subject lines reflect that:
This email might change your life 🙌
are you kidding?
The bravest people I know
How to stop torturing yourself
How my friends earned $250,000 in one hour 😮 (no exaggeration)
Why I quit my dream job working for Tim Ferriss
Do this to feel normal again this weekend
Do you ever avoid making friends? (one more action item)
Melyssa Griffin, The Nectar Collective
Melyssa always gives you something extra. Even if the email is a reminder for one of her webinars or courses, she starts with something else that gets readers to open the email. She is open and very generous with her knowledge and consistently over delivers value. Melyssa grabs readers' attention with a very informal and friendly tone:
Why creating a "newsletter" is a mistake
Here's what I wish someone had told me sooner... (replay is coming down today!!)
Can we get personal? I want to share something that happened to me today.
My biggest business mistake? It's this... (plus another webinar added!)
My email list used to overwhelm me, too. But this was my turning point...
A free bootcamp to help you rock your email list and newsletter? Let's do it.
3 bogus myths about growing your email list (free workshop SOON!)
It's almost MARCH (whaaaa?). Are you where you want to be?
How to know if you're ready to quit your day job [p.s. price goes up tomorrow]
Each of the aforementioned marketers has their own style, but I've noticed a few common trends across the emails I analyzed. Many subject lines have a conversational tone, as if the email was coming from a friend. Many of them are either direct, intriguing, or personal. Others include an exact number or indicate scarcity.
Lastly, I want to note that all of the marketers I analyzed consistently deliver great value and that's what makes their emails so great. Writing email subject lines is an important craft, but nothing will help your email marketing as much as knowing your audience and consistently delivering quality content.
Would you add someone to this list of subject line pros? Please share your thoughts in the comments. To learn more about email marketing, visit Bold & Zesty blog.
Related