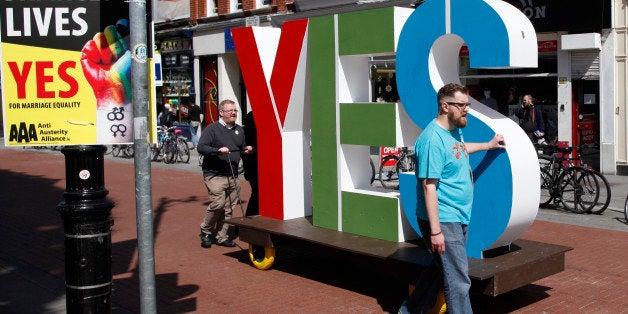 How will the groundbreaking success of the "YES" vote in Ireland affect the USA Supreme Court when they make their decision about possible countrywide acceptance and legalization of same sex marriage in America this month?
Those who are against gay marriage often attempt to invalidate the legalization of same sex marriage in the USA states that have legalized it because, they say, the issue was not put to popular vote.
What does the success of the "YES" campaign in Ireland -- that was put to the citizens -- mean for gay marriage -- and its opponents -- in the USA whereby it comes down to just a few judge's opinions in a court?
Does the Supreme Court take note of this unprecedented outcome in what has historically been seen as a staunchly religious and conservative country: a country that has eschewed tradition to usher in equal rights?
The USA has the deserved reputation of proudly making its own decisions for its own people and frequently shows how proud it is of its autonomy in both domestic and international affairs but how does globalization, instant reporting and the instantaneous nature of news and social media affect leaders now in the 21st century?
Will the Supreme Court be influenced by what has happened in Ireland or will they deflect and bat the ball back to individual states thus avoiding -- or simply delaying -- having to make a firm decision?
During the Supreme Court's session in April, whereby the judges heard arguments for and against same sex marriage in a packed court, a man was dragged out of the court by security as he screamed that the Supremes would "burn in hell if they supported gay marriage."
Nevertheless two rainbows simultaneously traversed Dublin the day the referendum results were announced in Ireland.
Divine intervention. Some say it was a sign...
One wonders if the rainbows will appear above the Supreme Court this month.
Metaphorically speaking, of course.
Calling all HuffPost superfans!
Sign up for membership to become a founding member and help shape HuffPost's next chapter