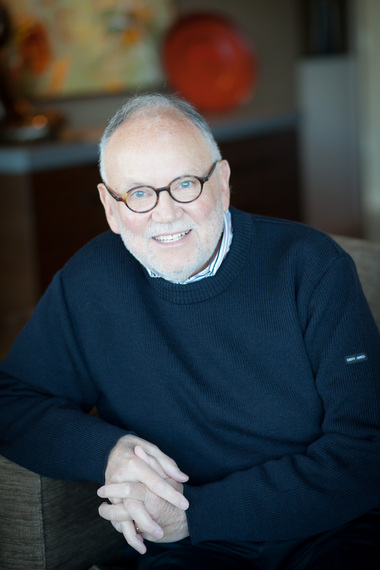 "Every day I want to nurture and inspire the human spirit beginning with myself first and then for others. I say self, first, because I found out that if you're not ok physically, emotionally and mentally with yourself it's hard to help someone else."
Meet Howard Behar...former Starbucks International President.
The quote above represents his mission statement, something he repeats to himself daily as a reminder of his life's purpose: then and now.
Not exactly what you'd expect from one of the three executives responsible for taking the coffee giant from a small regional chain to an international powerhouse.
Anyone from Seattle is as familiar with the Starbuck's "backstory" as they are ordering their favorite drink. Or at least I am.
Howard Schultz was the visionary, Howard Behar the soul and Orin Smith the financial.
The lore, according to Howard Behar's leadership book, It's Not About the Coffee, "We each had our distinct roles, individual strengths and weaknesses, and of course our own egos. But together we were a perfect fit."
Over time partners at Starbucks referred to the trio as H2O...two Howard's to one, Orin.
"There was a flow of communication that made the three of us, and the company, stronger than we would be by ourselves. There was an energy that kept us moving and never allowed us to get stuck." Behar explains.
His leadership book also chronicles how, together, they were able to build Starbucks into a multi-billion dollar company with a mission statement that emphasized growing and developing people and communities.
In the books foreword, written by Schultz, "As a leader, you're always trying to build confidence, so the vulnerability and doubt you experience aren't characteristics that a lot of us feel comfortable revealing and it can be very lonely. Howard and I had each other to talk to. Our conversations were about strategy, but they were also structured around our own dynamics. The results that followed came out of those conversations."
Which begged the question during a recent interview with Behar, what do you do if you DON'T have a "Fifth Beattle" to help mentor?
As someone who writes about people doing amazing things "outside the cookie cutter" and pursuing their dreams the idea begs the question...What if you're a scrappy entrepreneur just starting out, a farmer with a vision of creating a world free of GMO's, or a writer in the throes of creating the next great novel...what if you have the dreams, but no H2O?
Everyone has the potential to dream. But what if no one gives a damn about your grand plans? How do you get beyond the naysayers and self doubt?
To which Behar replied, "I'm not Howard Behar some brilliant guy, I just did the work. I started doing interpersonal work with myself in my twenties. I first had to know what made me tick...who was Howard and what were my values? I came up with my first core value is honesty. What are you trying to leave behind in this world?"
I had the chance to chat with Behar for my new podcast, Pippimamma: Life outside the cookie cutter podcast. The goal of the podcast is to serve up inspiration through authentic conversations with people who try to live their life everyday outside the cookie cutter.
Helping build a company that focused on people ahead of profits absolutely qualifies for a voice to inspire living a life outside the traditional lines.
Especially these days when there are more headlines about greedy CEO's whose life's work is less about leadership, values and principles and more about being totally driven, cut throat, and money hungry at the expense of employees.
"This is what I believe with all my heart and soul that when you get up in the morning you put on your hat, the hat that defines who you are as a person what your values are how you want to live your life, what you want to accomplish in your life, you gotta be able to where that hat in your marriage, you gotta be able to wear that hat with your family, you gotta wear that hat with your spouse and your kids and work. If you have to change your hat in each one of those places you are not going to have a very rewarding life...you have to find places where you can do this."
Behar has written a new book, The Magic Cup. A parable about the power of putting people and values first.
Yes, by all accounts Behar has an impressive career and track record but for him, even though retired, "his life's work is still his life's work."
Which is to nurture and inspire the human spirit.
Popular in the Community