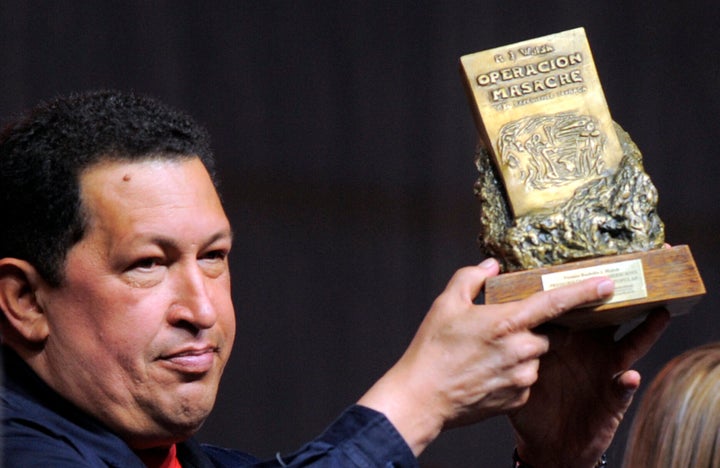 LA PLATA, Argentina (Reuters) - Venezuelan President Hugo Chavez, who critics accuse of stifling press freedom, was given a prize by an Argentine journalism school on Tuesday for his contribution to "popular communication."
Since coming to power in 1999, Chavez has polarized his country and opponents say he has set out to silence criticism by refusing to renew the licenses of a critical television broadcaster and dozens of radio stations.
Chavez, Washington's most vocal leftist foe in Latin America who often refers to the United States as "the empire," points to a plethora of daily criticism and mockery of his government as evidence of plurality in his own country.
"Long live free thought ... down with hegemony," Chavez said while accepting the prize from the communications department at Argentina's state-run La Plata University.
He told a supportive crown of hundreds of students that Venezuela is promoting "a new dynamic of communication and popular information free from the media dictatorship of the bourgeois, and of the empire."
Argentine President Cristina Fernandez, one of Chavez's closest allies in South America, and her late husband and predecessor as president, Nestor Kirchner, met as law students at La Plata University in the 1970s.
The university was a hot-bed of leftist activism during Argentina's 1976-1983 military dictatorship and the prize awarded to Chavez is named after Rodolfo Walsh, a journalist and author who was killed by security agents in 1977.
John Dines, a professor at Columbia University's School of Journalism in New York, said the controversy over the prize revealed differing ideas about press freedom in Latin America.
"For a journalism school to give (Chavez) a prize setting him up as a model seems to be a contradiction or it means the La Plata journalism school has adopted the view of communication viewed by Chavez: that ... state-controlled, direct communication is preferable to independent media and journalism as we know it."
(Writing by Helen Popper; Editing by Eric Walsh)
Related
Popular in the Community