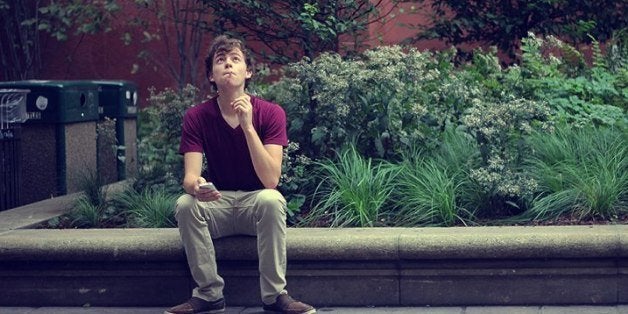 Taking photos of strangers helped Walter Martinez overcome being a "terrified" new college student. Posting those pictures online helped him gain a following showcasing that new world around him.
"It was a completely new atmosphere with thousands of new people, and none of my friends from high school were going to that school with me," Martinez, a rising sophomore at George Mason University, said. "Since I had just gotten into street photography a few months before, and also had recently discovered Humans of New York, I thought a good way to make my transition easier would be to make a similar project."
HOGMU is just one of many college copies of HONY. Similar projects have cropped up in other cities and on other school campuses across the country.
Some people are more willing than others to open up and allow Martinez to take their photos; some just ignore him as they walk by. Martinez said his work has helped him adjust to the new environment of college.
"The project was very intimating at first," Martinez said. "My subjects could always tell whenever I felt uncomfortable, which would make them feel uncomfortable."
Simone Caves, the 20-year-old creator of Humans of New York University, heard about HONY through a roommate right after starting at NYU. She was instantly a fan, she said. After realizing there were so many "interesting faces" around the NYU campus, Caves said, "I thought 'Oh, they should be featured on Humans of New York, why isn't anyone taking pictures of them?' And that's how I decided to take things I to my own hands."
Caves, like the other photographers, makes no attempt to mask where the idea came from, displaying the line "A total rip-off of the amazing 'Humans of New York' project, except focused only around the NYU community" on the project's Tumblr. Caves said she wants to collect as many students as possible to make Humans of NYU inclusive.
"I didn't just want interesting faces. I wanted all faces," Caves said. "I didn't want people to look at the website, see a face, and go 'Woah, they're pretty, I wish I was this cool to be photographed.' I wanted people to look at the website and see their friends and themselves. I wanted to create a sense of community, not of celebrity."
Caves is currently taking a break from NYU while she decides what to study. HONYU, she said, allows her to stay connected with the university. Martinez, meanwhile, said he now feels more comfortable on campus.
"I really feel that I'm not as awkward as I used to be," Martinez said. "Making friends has really become a lot easier. Also, taking pictures on a daily basis has made me a better photographer. Whenever my dad talks about my blog he says, 'You can see him getting better at taking pictures as each page goes by.'"
Check out some of the photos from Humans of NYU and GMU, republished with permission in the slideshow below:
PHOTO GALLERY
College Clones Of Humans Of New York
REAL LIFE. REAL NEWS. REAL VOICES.
Help us tell more of the stories that matter from voices that too often remain unheard.