 Several New York City subway lines will resume partial operations Thursday morning at 6 a.m. EDT and vehicle access to Manhattan will largely be restricted to cars carrying three or more people, city officials announced Wednesday, as authorities attempt to assuage the epic street gridlock and limited public transportation that have nearly paralyzed the city in the wake of Hurricane Sandy.
Mayor Michael Bloomberg and New York City transportation officials made the list of hurricane-related transit reforms clear Wednesday evening: Forced carpooling will complement limited subway service and buses running across the city. Metropolitan Transit Authority Chairman Joseph Lhota said fees will be waived on buses and subways through the end of the week.
"I know it is inconvenient for a lot of people but bottom line is the city can only handle so much," Bloomberg said. "I suggest picking up people who will be standing by the bridges. You are their solution and you theirs."
But with many of the roughly 8.7 million people who typically move around the city daily with the help of the MTA virtually at a standstill more than three days after the city initiated closures, questions remain about when operations might return to normal, what might have been done to prevent the subway system from flooding and what New York can do to prevent a repeat transit disaster in the future.
Bus service resumed Tuesday afternoon with one notable adjustment from the MTA's usual mode of operation: rides came free of charge. On Wednesday, MTA authorities said that New York's buses -- which typically move about 2.3 million people around the city, according to the Associated Press -- instead served about 5 million. Bus rides remained fare-free Wednesday. Ferry service between New Jersey and New York also resumed and limited Long Island Railroad and Metro North commuter rail operations reopened. The subway shutdown has a high price tag for the MTA: $18 million each day, transit officials said.
Transit options in the New York area will be evolving and expanding almost daily, MTA Chairman Lhota said during a midday press conference on Wednesday.
"Our whole goal every day will be to get the system back to normal, back to the service we were used to last week, if not even better," Lhota said.
Yet even before the storm, climate experts warned that New York city's transit system is vulnerable to serious weather damage and that the area's residents could face life-altering inconveniences given a combination of storms super-charged by climate change. Limited public investment in protective infrastructure and emergency management has exacerbated this vulnerability, they warned.
Klaus H. Jacob, a researcher at Columbia University's Earth Institute, said the storm surge from 2011's far weaker Hurricane Irene came close to toppling the city's transportation infrastructure. Something more severe, Jacob predicted, could take the transit system down for as many as 21 days. Jacob told The Huffington Post in an email Wednesday that he was not available for an interview because his home was flooded and he had no electricity.
Charles Seaton, a spokesman for the MTA, was quick to dispel the notion that the city had not done enough to prepare for the storm, noting that officials were well aware of the potential for flooding before Sandy hit.
"That's why we boarded up the entrances, and the subway's sidewalk grates in lower Manhattan," Seaton said Wednesday.
He suggested that that the success of those preemptive measures shouldn't be minimized.
"We moved 6,200 subway cars and 5,600 buses," said Seaton, adding that none incurred damage.
As far as recovery efforts go, Seaton said that three of the seven subway tunnels that run through the East River and were flooded as Hurricane Sandy battered the East Coast had already been pumped out by Wednesday afternoon.
A federal team of water removers was expected to arrive in Manhattan and begin work on the remaining subway and vehicle tunnels late Wednesday night, New York Gov. Andrew Cuomo (D) said in a Wednesday morning press conference.
Progress will no doubt come as welcome news to the New Yorkers who had little choice but to walk -- in some cases for hours -- between Manhattan and the boroughs in recent days, and to those who rode crowded city buses after service resumed.
Still, Mark Abkowitz, a civil engineer and the director of Vanderbilt University's Center for Environmental Management Studies, cautioned that moving too quickly to restore a subway system can cause its own problems.
"One thing I am concerned about is that the pressure to get things back online as fast as possible, l hope, will not lead to sort of secondary effects, unintended consequences," Abkowitz said. "The last thing New York needs is for there to be a subway crash because of a signal failure which was directly attributable to not being vigilant enough in testing."
Water has overwhelmed New York City's subway system just a few times in its 108-year history, said Tim McNeese, an associate professor of history at York College in Nebraska and author of a book about the history of the New York subway system.
In 2007, a storm sent so much water into the subway network so quickly that it had to be shuttered for a few days, McNeese said. And Hurricane Irene, he noted -- a weak weather system compared to Sandy -- prompted a short-term preemptive shutdown and some flooding in a few areas.
"Let's face it, anytime you dig or try to do something underground water is a problem," McNeese said. "That's especially true when you start running subway tunnels through a river. It's going to try to encroach. So the entire history of the system includes efforts to keep out, and to pump out, water."
Yet even from its beginning, McNeese said, the subway system has struggled to keep pace with the demands of New York.
"That very first day, demand for service, the number of people who used it was already almost twice the capacity it was built for," he said. "That's the way it was then and that's pretty much the way it has remained."
This population pressure was on full display Wednesday when daylight brought the opportunity for delivery trucks to make rounds and for millions of New Yorkers to return to work; to check on businesses and property possibly damaged by the storm; or to simply escape their often miniature apartments for new environs.
Together, those actions produced such extreme gridlock that one local newscaster described a four-hour trip from her home in Northern New Jersey to Manhattan on air when she arrived late for her shift. The trip usually takes 30 to 45 minutes, she said. The city filled with so many cars and trucks that some of the areas became nearly impassable.
Charles Komanoff, a Harvard University-trained mathematical economist and policy analyst who studies transportation and energy issues, told The Huffington Post that on a typical weekday, 70 percent of all transit riders use the subway.
"So when the subway is down you have a very serious problem," Komanoff said, "a gridlock crisis really."
With the city having to make due with only a part of the subway network for at least a few days, Komanoff said it's time to implement a carrot-and-stick approach to alleviating gridlock through bus-only lanes that run free -- or at a reduced cost to passengers -- as frequently as every 90 seconds, creating a sort of subway on the street. Giving police the authority to ticket anyone seen driving a car with less than three to four passengers would reduce the number of people who opt to drive into the city, Komanoff said.
Despite the significant challenges the city faces in the days -- or potentially weeks -- to come as the transit system recovers, Abkowitz, the civil engineer with Vanderbilt, said that New York has not been behind the curve when it comes to acknowledging the effects of increasingly severe weather.
"The risks and the consequences have been going up over time," Abkowitz said. "As far as New York City is concerned, ironically, they understand this and they've been thinking about it more than most cities have."
Yet, a storm like Sandy might prove pivotal in prompting the kind of cooperation between government, business and community that's necessary to make real changes, Abkowitz said.
"The silver lining for this in New York City may actually be that this has had enough of an impact on enough people that it finally will go from being an important but not urgent problem, to an important and urgent problem," he said.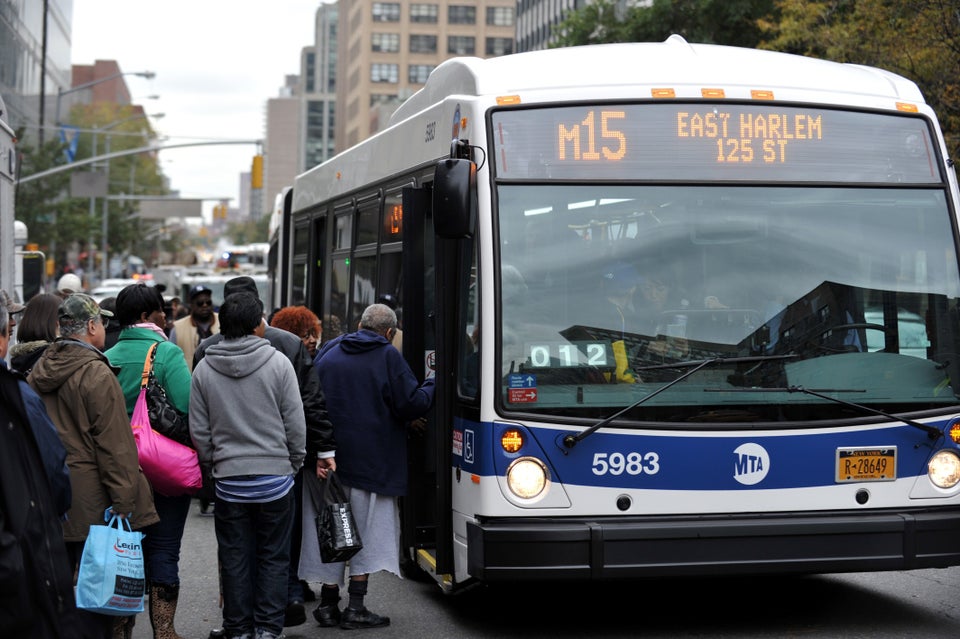 New Yorkers Commute After Hurricane Sandy
Popular in the Community