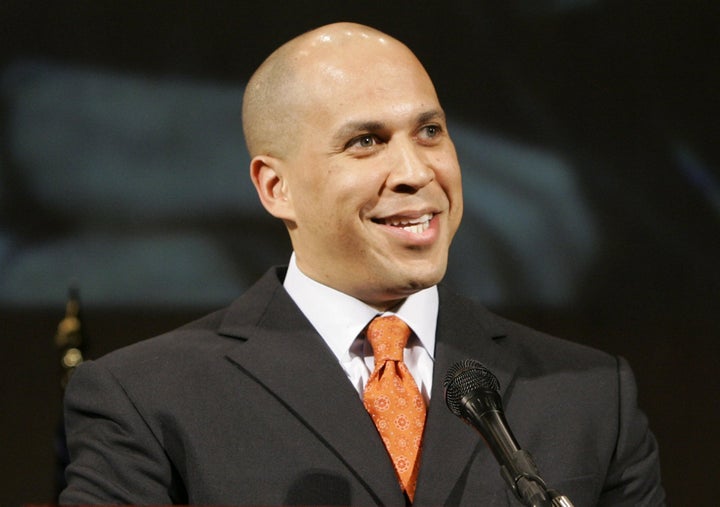 2010 was a challenging year. Our city, like so many others, faced extraordinary obstacles brought about by the worst economy in decades. Fiscal hardship unrivaled since the early 1970s forced painful decisions. Further, after four years of double digit percentage drops in shootings in Newark, shootings rose compared to 2009. Finally, at the end of the year, after our largest police union refused to make any concessions to avoid layoffs -- even ones worth as little as $50 to each of its members - we were forced to lay off 164 officers. This was a punishing end to a year full of challenges. I worked longer hours and had more sleepless nights than I can ever remember, and I know this was the same or worse for countless Newarkers.
Despite all of this, I greet 2011 with stubborn hope and relentless faith. Thanks to help from the US Attorney, FBI, DEA, ATF, State Police, County Sheriffs, local law enforcement partners, and new strategies developed by Newark's police leadership, the crime trends that unleashed such painful realities on our city are starting to be pushed back. While further sacrifice remains on the horizon, our budget blues are now in a much more manageable position.
Even more hopeful is the fact that this year should begin a boom in building and business growth in our city. We also have a great opportunity for our city to distinguish itself as a center for education innovation and transformation in the country. There are very real challenges in 2011, but I wouldn't want to be any place else. This great city, this hotbed for overachieving underdogs, this community with a hallowed history, indeed has a great future before it. We will seize it, we will claim it, we will surmount.
But perhaps the big lesson for me in 2010 is that you can't live an inconsistent life and truly be a part of change. When our words do not match our deeds and our preaching fails to be practiced, hypocrisy will undermine one's ability to truly lead. And, sadly, this type of hypocrisy is too rampant in our culture. But right now, I am talking about no one other than myself.
There is a great story about Gandhi, apocryphal or not, that makes a great point:
A woman waited in a long line with her son to see the Mahatma. When she finally got her audience, she asked him to speak to her son. You see, Gandhi was known to emphasize dietary discipline and her son's health was deteriorating due to the amounts of sweets and sugar he was eating.

"Mahatma, would you please tell my son to stop eating sugar."

Gandhi looked at her with sympathy and compassion, looked upon the boy as well, and then shook his head and said, "I will not."

The woman protested, and began to ask Gandhi again, but Gandhi raised his hand interrupting her and said, "Please, come back in two months and ask me again."
Disappointed, the woman left.

Two months later she returned with her son and made her plea again, "Mahatma, please tell my son to stop eating sugar." This time Gandhi got up from where he was seated. He reached out his hand, touched the boy on his shoulder, and said,

"My son, you must stop eating sugar."

The boy was obviously affected by the great Gandhi touching and speaking to him. The mother was overjoyed and profusely thanked Gandhi and then turned to leave. After a few steps, she stopped, turned around and said, "Great Mahatma, I am so thankful, but I am confused. Why didn't you just tell my son to stop eating sugar two months ago?"

Gandhi looked at her kindly and said, "Because two months ago, I was eating sugar.
Democracy, as well as social justice, is not a spectator sport. We cannot allow ourselves to simply sit on our couches and give passionate color commentary about what is happening in the world and how it must change. When we do this we are playing a painful part in the continuance of the challenges we complain of. If we want the world to change it must start with us as individuals and our own actions. We can't do the same thing we did last year and expect anything in the world around us to get better this year. We have to be a part of any transformation we seek in the world. As one of my city hall leaders always used to say, "If it is to be, it is up to me."
One of my prayers on New Year's Eve was simply this: let the obstacle that is me yield to the blessings that are we.
Michelle Obama asked me in 2010 to be an Honorary Co-Vice Chair of the Partnership for a Healthier America as part of her larger national campaign against obesity called Let's Move! I proudly and readily accepted, and loudly began to preach of the grave ills of our nation's obesity epidemic.
My city, which is exceptional in so many regards, is like many urban places in America when it comes to the obesity crisis. Childhood obesity rates are out of control and undermining our children's health, self esteem, performance in school, and ability to someday be productive adults. It is shortening their lives, and making healthcare costs dramatically more burdensome to them and all of our society. So with my new First Lady-bestowed title, I brought my community together to begin working on the problem. There were many Newark leaders who were already ahead of me and had begun to make significant progress. These leaders eagerly joined with our broad coalition and we soon had much to demonstrate here in Newark - hospitals, schools, nonprofits, churches and others were all pitching in to get Newark "Moving".
Michelle Obama came to Newark on November 18, 2010 to celebrate our progress and talk about the issue. On that morning, with a national audience soon to be watching our city, I went to my closet and ignominiously found my last suit that actually still fit me well. You see, the stresses of 2010 weakened my resolve to watch my weight, and I had ballooned. I was preaching a good sermon but my practice was pathetic. As I sat with the First Lady exhorting Newark school children to eat healthy foods, exercise more, and have fun while doing it -- my stomach was still trying to digest the French fries and cookie dough from the night before, and I hadn't exercised for more days than I could remember. I simply couldn't help feeling the shame of falling so far short of my own words to the children and my favorite Gandhi story.
"Children are never good at listening to their elders but they never fail to imitate them." - James Baldwin
So, enough! This year I am going to talk less about what others need to be doing around health and fitness, and instead focus much more on how I'm living up to my own values and ideals. I am going to be the leader I dream of being in every area of my life, and lead by example.
On Christmas Day I weighed in at 295 lbs. It was the heaviest I have been in my life -- even when I played tight end at Stanford I was just 265 lbs., and 18 months ago in 2009 I was 230 lbs.
As I write this on January 4, 2011, I am down to 287 lbs. (and that was achieved by simply reviving a long-lost moderate exercise regime on my stationary bike, and by stopping my compulsive late night stress eating). I am making a public commitment today that by my birthday on April 27th I will be below 240 lbs. and still making progress towards my healthy goal weight of 230 lbs.
I invite you to monitor my progress. I invite you to join with me. I invite you to be the change you want to see in the world.
You can follow my progress on my Facebook page under the tab: "Let's Move!" or by following me on Twitter for intermittent updates. My Facebook page will include my stories and those of others, strategies for living a healthier lifestyle, and full disclosure when I slip up.
Oh, and this isn't about dieting; it is about lifestyle. It isn't about getting skinny; it is about getting healthy. It isn't about denial; it is about living a more abundant life.
Here is to integrity, here is to health, here is to having life and having it more abundantly.
Popular in the Community