After five years and eight months, I can finally admit, what I have tried to convince myself for so long: I was sexually assaulted and harassed in college. However, I am neither defined, nor limited, by that fact.
My attack occurred in 2010, on the second day of my second year in college. My attacker was a friend. Before it happened, we talked about our post-college dreams. And we talked about our summer vacations. Then he touched my body in places that I was reserving for someone I loved. His fingers caressed my body as if their existence on me was consensual. Despite his stocky body frame, easily outweighing me by 100 pounds, I was able to push him off and get him out of my dorm.
The next day, he saw me on campus, grabbed my arm and yelled at me for not replying to his text messages, as if my physical pain wouldn't be valid without emotional abuse to boot. Then a few days later, he showed up at my job, caused a scene, and ended up in handcuffs. I remember looking at his mug shot online and feeling confused, because I did not feel safe or satisfied. I felt that there was no real recourse for his actions.
But I've learned that despite my soul being paralyzed and denial clouding my every emotion, I was in the abyss of humanity's devilishness and felt the protection of God - a presence that I now know will never cease to exist.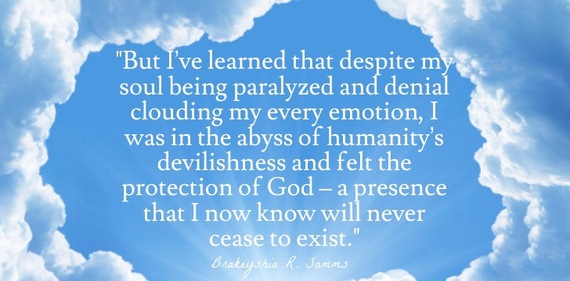 After many dark days and nights, I found stories of women and men who were victims just like me. They were lawyers, doctors, professors, nurses, and soldiers, among many other professions. Once I realized I was not alone, I began to realize that I needed to build myself back up.
My journey to this moment has consisted of waiting for a savior. Someone to save me from him and what he did to me. Someone to hold me when the nightmares were too much to bear. Turns out, that savior did exist: it was me all along. Once I realized that I am my own savior, I began to understand that only I could begin the journey to improving my mental strength and self-confidence.
It was my decision to seek help. It was my decision to share my story with psychiatrists and therapists. It was my decision to take my medicine. It was even my decision to stop taking my medicine prematurely, seek help again, and start taking my medicine faithfully.
Now it is my decision to embrace myself as my savior.
As April marks Sexual Assault Awareness Month, let this be a month of continued personal growth and the path to finding the savior within. Here's my advice:
Know yourself. Take time to figure out what makes you excited about life. For me, I find excitement when I am around my friends and family. I love to make them laugh and really enjoy it when they can make me laugh too. Figure out what makes you mad, too. I get mad when people use inappropriate language when discussing the poor and communities of color. Knowing yourself will help you realize your potential to succeed and accomplish all of your goals, but more importantly, it'll keep you calm.
Recognize that you are mentally stronger than you think. Our brains are resilient machines. After my attack, self-doubt and paranoia plagued my mind. I wondered if it would happen again. But with positive thoughts, I persevered and graduated from college with a bachelor's degree in three years and graduated with a master's degree two years later.
Keep the past in context. When you've been sexually assaulted or harassed, the fear of rejection by your peers is at an all-time high. But don't worry and get bogged down in the minute details of others' perceptions of you. Rather, wake up everyday anew and focus on feeling both refreshed and energized. For the days, where energy is hard to come by, take a break or do something that motivates you.
Commit yourself to choosing your own future. Society tells us that when we have mental health problems, the solutions are to take your medicine and stay at home. But that's not the case. Plenty of people, especially a few celebrities and politicians, have faced bouts of mental illness and have gone on to be extremely successful. Bottom-line, don't let society dictate your future.
Seek help when necessary. This is the most important advice that I can offer you. Reaching out to mental health resources, like therapists and psychiatrists, helped me cope. I started writing in a journal, which helped me get my emotions out. That ultimately allowed me to rise above the unfortunate circumstances of my attack. If you don't feel comfortable going to a therapist or psychiatrist, reach out to the National Sexual Assault Telephone Hotline at 800.656.HOPE(4673).
Marcus Aurelius, Roman Emperor and Stoic Philosopher once wrote,
"I am unhappy, because this happened to me." Not so: say, "I am happy, though this happened to me, because I continue free from pain, neither crushed by the present nor fearing the future."
Since I've survived my attack, I've received many awards, internships, and prestigious fellowships. I've also seen a handful of therapists and psychiatrists. I've taken all types of medicines. I've taken steps to improve my self-care and mental well-being.
One fact still remains: I am my own savior.
Support HuffPost
A No-B.S. Guide To Life
Related
Popular in the Community