Escape to New York had a lot on its plate... and I'm not just referring to the World's Largest Festival Brunch, which was planned to kick off on Sunday. The first-year festival on the Shinnecock Reservation in Southampton billed itself as more than just a three-day music event -- like its sister festival in the UK, Secret Garden Party, Escape to New York promised an interactive experience of art, music, food, camping and culture (and by culture, I mean hipster culture).
The festival catered to a fancier crowd (after all, this is Southampton), one that expected on-site glamping with suped-up teepees, private performances and catered food by Fat Radish; while festival-goers expected an indie-happy lineup headlined by Edward Sharpe and Patti Smith, an off-the-radar dance tent and the convenience of raging the day away, in the comfort of their Hamptons 'hood.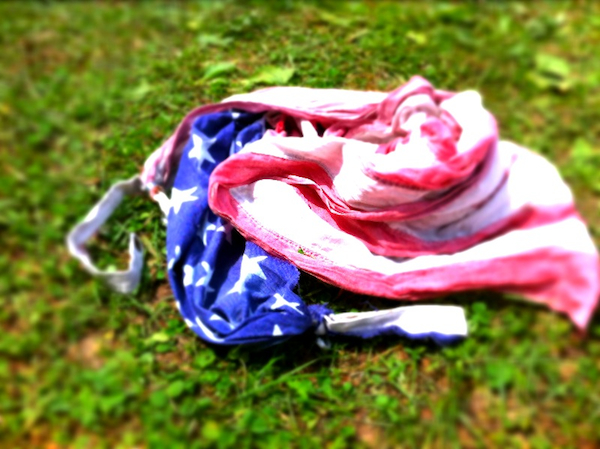 Although the three-day party was cut short due to bad weather on the reservation (yes, I woke up in a soggy teepee with a soaked cell phone), Saturday proved successful enough for Escape to New York to announce that they'll be back next year....
Next year, already? A bit soon, no? Clearly, this British bunch has a hold on the teammates-in-tank-tops who raided the empty lot off Route 27 for three days (did I feel like I was crashing a private party? Yes, yes I did), but a star-studded campsite does not a festival make. So let's backtrack and face some facts....
Thank goodness for Edward Sharpe and The Magnetic Zeros who brought in an enthusiastic crowd on Saturday night. The stage, equipped with a busted NYC Taxi, was enough to impress the most cynical of cynics who compared this first-ever fiesta to Coachella. A calypso-inspired, steel-drum rendition of "Home" brought the creative set to a close. This was exactly the type of act that Escape to New York needs. One to keep your indie mantras, but draw a large crowd too.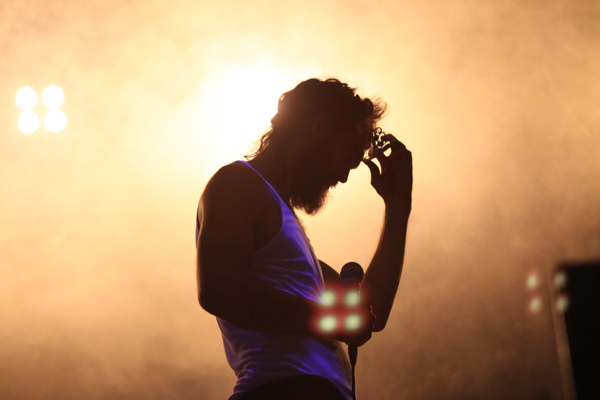 Photo: Jaclyn Fidler Photography
Founder Fred Fellowes' creative vision was brilliant. The festival was in fact full of surprises, pop-up performances and secret stages. This Midsummer's Night Dream was a delightful change from the standard three-stage triangle formation we are used to finding during festival season. I loved the bicycle-driven musical Toad who played some of the best music I heard all weekend and the dance-off ring (and by ring, I mean an actual wrestling ring) hidden deep inside the foggy forest.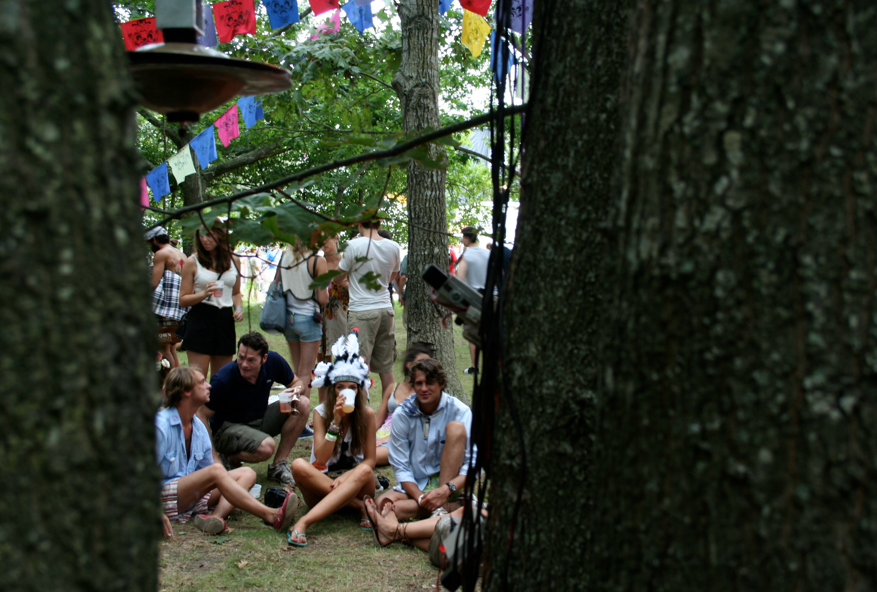 Xaphoon Jones (of Chiddy Bang) spun an electric set on Saturday night. There's nothing better than an out-of-nowhere, out-of-this-world DJ set, especially when most festivals this year are on a recycling binge. Heilbronn, Duvall and Alex English rocked out too.
Teepees and safari tents are winners, in theory...
When you say glamping, I expect glamping. Don't get me wrong, I love me some mud, but when someone shouts "G" for glamorous, I leave my supplies at home. Sans the bed, mirror, lights, bug spray and amenities of our promised "package," these were just teepee shaped tents. Good thing I'm always Amazing Race ready.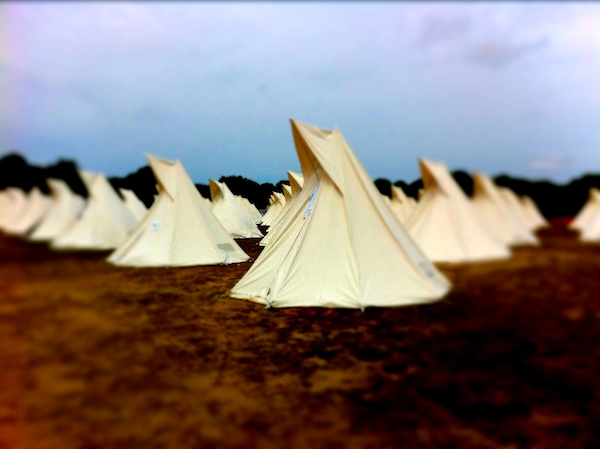 Asia Dogs, Standard Hotels, Milk Studios, Soho House, Veuve Clicquot, Fat Radish, Urban Daddy -- there were super sponsors everywhere. And yes, there were some great acts (The Vaccines, Au Revoire Simone, Edward Sharpe) but put your money where the cash is. If E2NY had put just one art installation or chic-boutique on hold, they could have brought in a big name; and a big name draws a big crowd, and a big crowd brings energy. And energy was the one thing this clan forgot to buy. On Friday, they expected 5,000 people and according to The Guardian, 1,000 attended at max. (Side note: I lived for the low-key, well mannered and easy-going staff. If their attitudes were a result of the small crowd, it was still a great result.)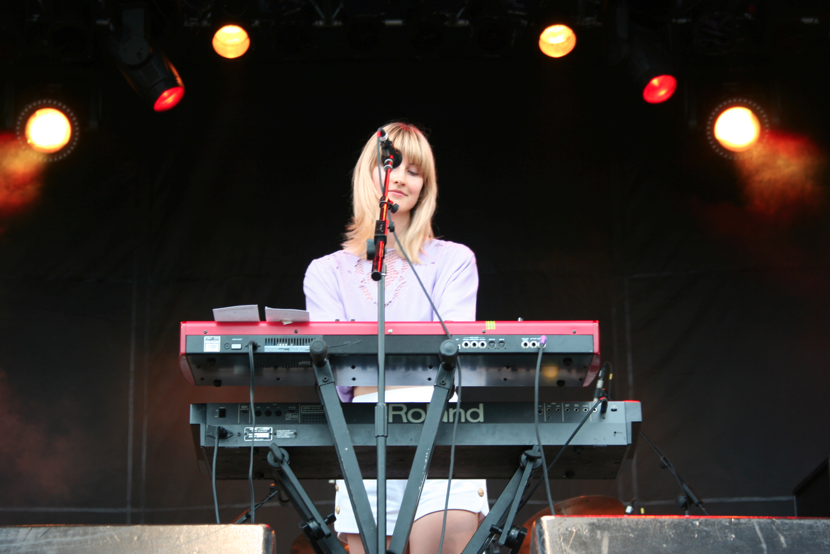 Despite the cheap cigarettes, Shinnecock proved to be a poor location choice. We weren't really wanted there, as evident by the quick cancellation of the event on Sunday, and by the odd placement of the campsite off of 27. Second, the standard Native American-inspired garb found at fests (I'm 100% guilty of it) suddenly seemed inappropriate. While there was major space to roam free in the art-filled forest, the late-night ride to the grounds felt a bit like the start of a scary movie -- and not even a good one.
Oh, and did I mention there was no liquor?
I'll never turn my back on innovation, and in that department Escape to New York wins. Winkel & Balktick produced a forest full of fantasy from the Panda Pit to the robotic Gamelan Orchestra. But what E2NY really needs is to get out of their own way. We get it, you're the cool kids (I mean, Alexander Skarsgård probably stayed in your teepee -- we saw him roaming the campsite during a surprise set from Gary Clark Jr.), but cool kids won't fill acres. We will. Fans like me who love to fest, be it with Best Coast or Boyz Noize, will fill your field with fire. And some fire is exactly what you need.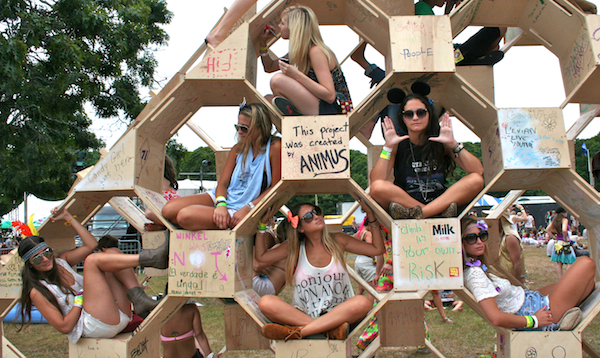 Support HuffPost
The Stakes Have Never Been Higher
Related
Popular in the Community