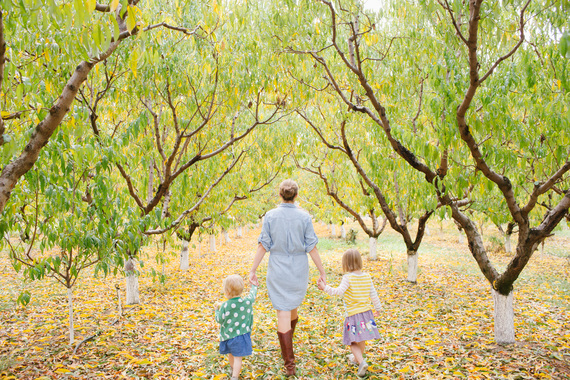 Five years ago, I was working as a food writer in Portland, Oregon. I had an interesting career, a flexible schedule and great job perks. I'd published a cookbook and written for my dream magazines. And I'd just become a mother to a beautiful baby girl.

To the outside world, I had it pretty good. I'd checked all the boxes of the "good life;" I had a nice home, a supportive husband, a successful career and a healthy daughter. But when I looked at my life, I honestly thought Is this it? And on top of that, I felt guilty for feeling that way. I felt incredibly ashamed that I couldn't just be grateful for all that I had.

But the truth was that sometime during that hazy postpartum period, I realized that writing wasn't what I wanted to do with the rest of my life. And yet, I also knew that motherhood wasn't my only purpose in life. There was no doubt in my mind that it would be the greatest and hardest and most rewarding thing I'd ever do. But I also knew I needed to find fulfillment outside of my role as a mom to feel healthy and happy and whole.

The problem was I didn't really think it was possible. With my new mom blinders on, I could only see two choices: I could settle professionally so I could be the kind of present parent I wanted to be. Or, I could give up my chance to be an engaged parent and pursue my purpose beyond motherhood instead.
In hindsight, the mistake I made was thinking I had to choose. I didn't yet have the perspective to see I could have both. I could BE both a present mom and a bold woman doing inspiring work in the world.
My beliefs started to shift when I became a mother of two. When that little girl arrived, I saw so clearly that I could keep waiting indefinitely for the right time to come to make a change in my career and, ultimately, my life.
Or, I could listen to that voice inside me that said I wanted something more. I could take control of the direction my life was headed.
I wish I could say that was my "aha moment" -- that I pictured a future I didn't like, immediately quit my writing gigs and found my true calling. But the reality was it took me many months to shed my identity as a food writer, explore my options and decide what I wanted to do next.
Though I knew I needed to take action, I didn't know how to go about finding my purpose beyond motherhood or how to find time to pursue it. And even when I did carve out an hour or two to explore ideas, I became consumed with "mom guilt" over all the things and important people I was neglecting at home to prioritize me.
But I also wanted to believe that taking care of myself and finding time to pursue my dreams was essential to my happiness and my family's well being as well. So bit by bit, I learned how to stop waiting and start doing. I got focused. I sought help and support from my friends and my family and a life coach who knew how to help women like me.
But most importantly, I gave myself permission to prioritize myself and explore my passions beyond motherhood RIGHT THEN. And when I found my purpose working as a life coach, I took the next step and the next step after that to create the life I desired for my family and myself.
Now I can finally say I've found a way to be a present mom and a woman making a difference in the world. I've found my purpose helping other mothers uncover and pursue their purpose beyond motherhood. My struggle became my strength.

I now know that when mothers question limiting beliefs and realize they can be both great parents and empowered women making a difference, their collective power as leaders and movers and shakers is astonishing. Because when mothers change their mindset and when they have the space and the support and the opportunities to create a fulfilling, balanced life for themselves, the only thing left for them to do is soar.
Ashley Gartland is a life coach and mentor for moms who want to find fulfillment outside of motherhood so they can use their innate talents to make a difference in the world. As a veteran entrepreneur herself, Ashley has a passion for helping aspiring "mompreneurs" uncover their purpose and commit to making their dreams happen. Through her one-on-one work with clients and her coaching program, Bold Mom, Balanced Life, Ashley helps moms prioritize themselves and pursue their dreams so they can create rich, abundant lives for themselves as moms and individuals too.

You can connect with Ashley at www.ashleymgartland.com or on Instagram at @ashleygartland.