Having covered ecofashion designers for four years now on my blog and having written a book discussing ways to live green (including supporting ecofashion), I was interested and excited to attend the "Is the Future of Fashion Green" discussion recently held at SoHo House in association with the NY Salon.
The crowd, despite the subject matter, was definitely not filled with agreeable zombies nodding in blind acceptance as Bruno might have us believe about fashion-industry folks.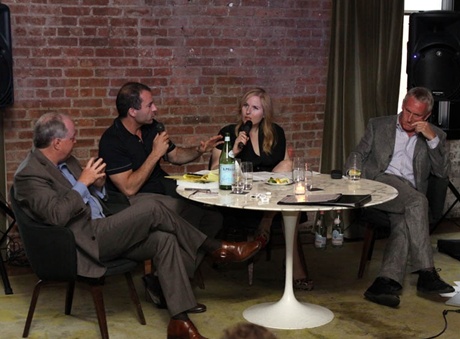 L to R: panelists Jeffery Hutchison, Alan Miller (moderator), Sandra Ballentine and James Woudhuysen. Photo courtesy of Elle.com and LLR Consulting
No, instead this was a real salon-style dialog (attendees were heartily encouraged to participate, and they did), which included disagreements, tangents, and departures, and some difficult but worthwhile issues were raised. The intellectual wranglings were, however, made by a crowd was also obviously quite involved with fashion; most who sat in designer chairs and perched upon overstuffed couches, or even lounged on the floor- were dressed a la mode.
The panel was composed of Jeffrey Hutchison, who designs fashion retail spaces for stores like Donna Karan and Narciso Rodriquez; Sandra Ballentine, the beauty and style director for T: The New York Times Style Magazine; and James Woudhuysen, a professor of forecasting and innovation at De Montfort University in Liecester, UK and author of Energise! A Future for Energy Innovation. Julie Gilhart, SVP and fashion director of Barney's (and a true leader of the ecofashion movement) was unable to make the panel due to a family emergency, but she sent along a statement that I will reference here. Due to Julie's absence, the panel was a bit lopsided, as she represented the day to day reality and success of ecofashion over the last 2-3 years.
James Woudhuysen got the panel off to a rousing start as he blamed environmentalists for thinking too small, and was vociferous in trying to persuade the audience that the solution to our environmental issues shouldn't be in individual's hands, but turned over to corporate, scientific and government agencies who could make a real difference. Citing Adam Smith, Barack Obama and Thorstein Veblem, James said, "If you want to do something about the world, you ask the engineers to do it. Ask intelligent, specialized people. My first argument is that if you want to do something about CO2 go to energy sector, not the fashion sector."
This could a sensible argument, except for the fact that we live in a free-market capitalist society (or so we're told) and unfortunately, the energy sector has dragged its heels in moving away from fossil fuels, as that is where the short-term monetary gains are. Money hungry oil, gas and coal companies are not going to change their ways unless they're forced to. And who has the power to change policy? Why the American voter of course, that is, millions of individuals, voting with their dollars and at their ballot boxes. Of course change has to happen at the highest levels (where it can make the most significant change), but without the passionate, expressed will of millions of people, business as usual will continue. And in America, we vote with our dollars. "Green" has succeeded (and continues to) because people have learned about the irreparable harm we are doing to our own health and the health of future generations and we are demanding change, from the bottom up.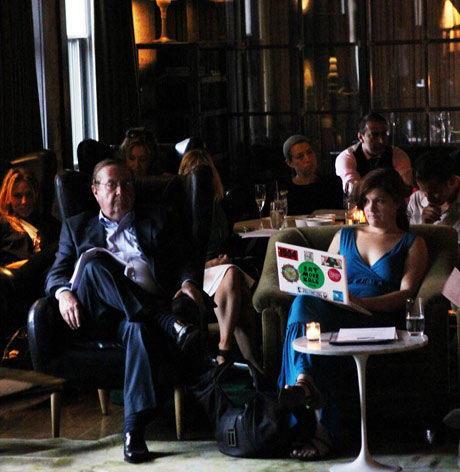 A shot of the audience L: A climate change skeptic and R: Yours Truly, Starre Vartan
The idea that the solutions to our planetary ills should be removed from the people's hands and thrust into those of what James calls "experts" is problematic on several levels. First of all, companies and governments are notoriously slow-moving, and change needs to be nimble and creative. Also, all forward progress about how we live (and certainly, shifting the focus of our energy production methods and consumption patterns is a massive movement) has always come from the grassroots. Civil rights, women's rights, animal rights; none of those movements were top-down, and so far, the environmental movement has been about a lot of dedicated people who care (from fashion designers to journalists to community activists to health care workers) toiling for years to educate and inspire the people (individuals) who are both consumers and involved in making new products and deciding how to package, ship and sell new stuff to us all.
Taking power from the people (James suggested greenies were running around exerting a lot of energy and alleviating guilt rather than making real change) and putting it in the hands of the wealthiest, most educated takes the power of debate and disagreement from the people and puts it squarely in the hands of those who already have (and routinely abuse) power and resources. It's the old fight between Democracy and Capitalism, wherein the former is supposed to temper the latter; taking away the individual and personal involvement cancels those natural checks and balances. Lastly, those big corporations that James says can make the biggest change? They are filled with individual people, who are inspired and educated in their communities, the places they shop and by their friends and families, which is why real change happens from within.
Back to the fashion. Jeffrey Hutchinson, the industry expert, said, "Consumerism is not bad or dead, luxury is not bad or dead and shopping in stores are not bad or dead. But significant course corrections must be made. How can we make retail sustainable? Green is just one part of that conversation. It's the rapid growth over past 20 years that is not sustainable," said Jeffrey. He then pointed out that both megastores and fast fashion were to blame for the unsustainable trends in the biz, but said that there were also great ideas out there, like pop-up stores. These temporary shopping destinations are ideal for a more sustainable fashion future because designers or large retailers can still have a place to showcase exciting new collections without expending resources on ever-expanding (and totally unnecessary) brick and mortar stores. Jeffrey advocated smaller stores, smaller collections, with an emphasis on making things more fabulous and special within those constraints.
I can see a future where each piece of clothing has a story, pop-up stores appearing in your city have a fun "let's go check it out" vibe similar to a travelling art exhibition, and shopping becomes an interaction with creative forces rather than a money-making fast fashion mill of togs that fall apart after a season.
Jeffrey said it was incumbent upon the consumers and fashion industry leaders to make change, "We work in a creative industry, so we must be creative in our solutions. reconnect with local communities and cultures. Not so fast, let's reconsider the pace of the growth, not so big, not so disposable, and not so indulgent."
Julie Gilhart of Barney's echoed this idea in her statement. "For the business of fashion to be sustainable, we need to acknowledge that fashion celebrates beauty. If the way we make beautiful clothing and accessories actually damages the natural environment and our precarious health within it, how can we enjoy this kind of so called beauty?"
Sandra Ballentine of the NY Times seemed to agree too, though she was skeptical about green. "It's about quality, integrity, authenticity, realness. I am so tired of the green PR; green this, sustainable that. I'm against that, I want to see a real conversation. Most often the 'eco' piece is a really amazing thing, and often means a craftsman that is making unique or one of a kind," said Sandra.
Fashion is evolving, and despite James Woudhuysen's view, it seems that change is coming from designers, passionate ecofashionistas who support them, and the behind-the-scenes folks who do the heavy lifting to get new clothes to us each season. Julie Gilhart makes the point: "Now and in the future, it's not really about being 'green', per se. I see the need to develop and sell fashion and consumer products, in general, which contain a greater level of consciousness. Period."
Calling all HuffPost superfans!
Sign up for membership to become a founding member and help shape HuffPost's next chapter