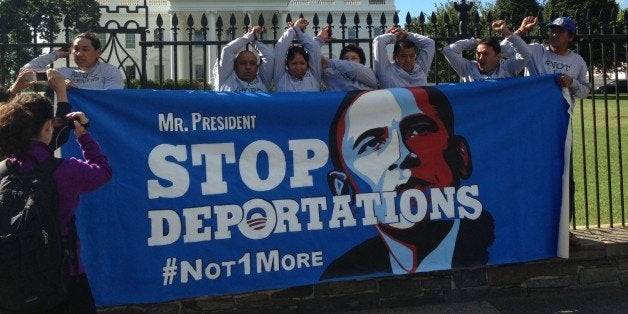 WASHINGTON -- Seven undocumented immigrants, some of whom are already in removal proceedings, were arrested after tying themselves to the White House fence on Wednesday -- just a day after President Barack Obama said he will not act on their calls to suspend deportations.
"Not one more! Not one more!" they chanted after tying their wrists to the fence.
Police moved in within 10 minutes to clear the area of tourists and other viewers, and made arrests about 20 minutes later. Within an hour, the seven protesters had been loaded into a white van and taken away. They came from Georgia, Arizona, Louisiana and New York. Two of them -- day laborers Narciso Valenzuela Siriaco, 38, and Jose Francisco Rincon Cautino, 43 -- were detained by Border Patrol in April and are fighting their deportations.
"I don't want there to be more deportations," Siriaco said in a statement. "Our children suffer. I don't want people to go through what I did."
Advocates were incensed and disappointed on Tuesday when Obama told Telemundo's Jose Diaz-Balart he would not expand a program to allow some undocumented immigrants to stay, currently offered only to young people who came to the U.S. as children.
"If we start broadening that, then essentially, I would be ignoring the law in a way that I think would be very difficult to defend legally," Obama said, according to a transcript provided by the network. "So that's not an option."
Immigration advocates have long urged Obama to expand the deferred action program or halt deportations until Congress settles immigration reform that could allow some people to stay legally. Those calls have grown over the past few months as House Republicans declined to take up a Senate-passed comprehensive reform bill and have shown little interest in a path to citizenship for undocumented immigrants. Wednesday's protest was part of a string of actions, including one last week that led to the arrest of more than 100 immigrants and advocates near the Capitol. Advocates plan to protest in Arizona next month to again call for an end to deportations.
United We Dream, a group of young undocumented immigrants, said in a statement that Obama would be held accountable for deporting thousands of people per day "to meet an arbitrary deportation quota."
"He does have the power to stop deportations, and we will keep challenging him," Cristina Jimenez, managing director of United We Dream, said. "But we're not just pressuring President Obama; our country needs a permanent solution and our families deserve a path to citizenship with permanent protections."
Other reform advocates urged their fellow activists to keep the focus on Congress, and especially House Republicans, to pass reform.
"To think that we've reached a point that you can declare the legislative process dead is, I think, shortsighted," Marshall Fitz, director of immigration policy for the Center for American Progress, told USA Today's Alan Gomez. "Until that time, it makes no sense to shift the focus to something that would, at best, be a temporary form of relief when we are as close as we are to providing the type of lasting solution that has been the objective since Day One."
UPDATE: 2:45 p.m. -- All seven protesters were released Wednesday afternoon, according to the National Day Laborer Organizing Network.
Calling all HuffPost superfans!
Sign up for membership to become a founding member and help shape HuffPost's next chapter
BEFORE YOU GO
PHOTO GALLERY
11 Ways Immigration Reform Helps The Economy