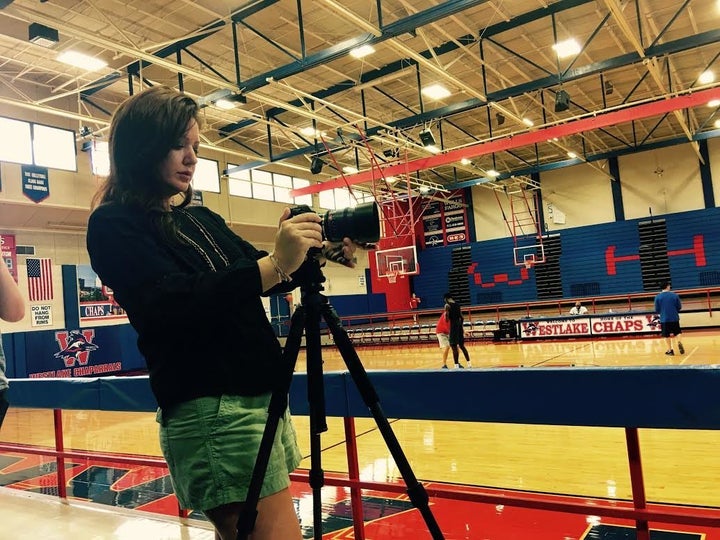 Last summer's invitation to direct and produce my second film propelled me back into a dark room in which I had left a piece of myself 14 years ago. This weekend is the premiere of my film, "ProtectHer," a feature documentary on sexual assault prevention.
All I've been able to think about since day one of filming is the Q&A part of the night, when I will get asked, "Why did you decide to do this film?" and "Why were you the right one to tell this story?" Rather than navigate through the "whys" in front of a theater full of male athletes, I wanted to be able to answer for myself in my own way.
I find myself inserting pieces of my own identity throughout my work. We now stand in a moment when more truth of where and how and why we stand must be brought to the front lines. Fearful that I would be known as the female director behind only a bullying film, or the female director behind only a sexual assault film, I have been less upfront about my own experience. Until now. Thank you, Ashley Judd. Thank you, Emily Doe. Thank you, Delaney Colaio, for inspiring me with your own words, nudging me up to the microphone.
I have had my ass cheek patted and my face cheek pinched by financiers while I pitched for venture money. I have been ignored in hallways and kicked under tables with stilettos for speaking too much for my female boss' liking. And I also have survived sexual assault. None of these make me unique or newsworthy in this moment. They actually make me belong in this moment even more. And for my own walk in my career, I simply choose to accept the possibility that I can still be surviving them and look to the future all at the same time.
When I was 27, I moved from Chicago to Los Angeles after finalizing my divorce, looking for a fresh start. Within eight weeks, my story was just another added voice to the chorus. I knew him. I had two margaritas. He went to the bar to get me a drink. The next thing I remember, I am being violated, saying "no" repeatedly in his bed, as I floated in and out of consciousness.
I didn't use my power at the time. I didn't know where to find it or even if I had any power to use. And after looking at my own broken pieces, picking each of them up, holding each of them, no matter how painful, I was taught that we also have the power to release them and leave them behind as we keep walking forward. I know where my power is now. And I am learning how to use it my way.
I didn't use my power at the time. I didn't know where to find it or even if I had any power to use.
I am proud to bring forward "ProtectHer" as a film that challenges the notion that there is only one way to speak to men about this issue. I approached the film not as an a vengeful victim or hostile survivor but as filmmaker capturing Alexis Jones' advocacy of convincing young male athletes that their influence to protect girls on campus was worth standing up for. We both believe in the active community of good men and that the choice for them to rise rather than retreat is theirs alone. The truth is, if athletes would commit to protecting the women in their lives with a sliver of how they protect each other on the field, women wouldn't feel the need to protest, only to rally.
If "ProtectHer" says something about me, it says that I, too, approach my life and my work from a place of hope. There is ample exploitation of traumatic issues around us, and to me that is a rhythm that only further divides and aggravates fear. I want to continue focusing on the issues facing women through positive storytelling and highlighting the individual choices driving personal power. By Lizzie Velasquez flipping her life's script of receiving the "ugliest" label to forging a "beautiful" one. By Alexis Jones fearlessly elbowing her way and her provocative voice into a locker room built to exclude her. And soon, for my brave Delaney Colaio, fellow sexual assault survivor and quieted child of 9/11, raising her hand higher in front of the world, saying, "you will hear me now."
To paraphrase Rumi, I do believe that it is the light that shines through when we are broken that helps us see more clearly, and if we are audacious enough to think we can impact others with a story on a screen or on a page, we can also heal ourselves. In essence, we can find peace in the broken pieces.
REAL LIFE. REAL NEWS. REAL VOICES.
Help us tell more of the stories that matter from voices that too often remain unheard.
BEFORE YOU GO