I've always dreamed of becoming successful by creating characters for books, games, and movies. I moved from Perú to the U.S. and, to pay the bills, I worked for Apple, Adobe, and other technology companies. But (as told in Part 1 and Part 2 of my story) I decided to leave my life in Silicon Valley to return to Perú and focus on my dreams.
I've tried many things to be successful, but none have worked out. They say the road to success is long and hard... and boy, I made sure to hit every pothole along the way.
I was around 30 years old and I needed to come up with a new plan to achieve success. That's when I decided I was going to be: a Toy Inventor!
I had recently written a children's book about shape-shifting characters named the Blobbies, so I decided to invent a toy that transformed, just like them.
I went to RadioShack looking for parts that I could use for my new toy. Then I went to Toys"R"Us and bought toys to open them up and get their parts. One by one, I dismembered the bodies of countless Barbies, Barneys, and Elmos. I shed a tear as I dismembered my beloved quack-quack electronic Ducky. My living room looked like the aftermath of a Sesame Street gang war.
Unfortunately, to create the kind of toy I wanted, I required complex pieces and tools I didn't have. Ducky had lost its life in vain.
I researched on the internet and found out about resin casting and latex rubber. I went to Michael's Arts & Crafts and I got all the supplies. I was able to create crude prototypes but, though I had fun, I wasn't happy with the results.
Then, on my next trip to Michael's, I had a revelation! There was a whole other section I had not yet explored: the Sewing Section.
I filled my cart with threads, zippers, fabrics, and foam. I brainstormed on a toy design and then used my rudimentary sewing skills to bring my design to life. After a few tries, I was able to sew a Blobbie plush toy that morphed into a teddy bear. And with that, the amazing Blobbiemorphers had been born!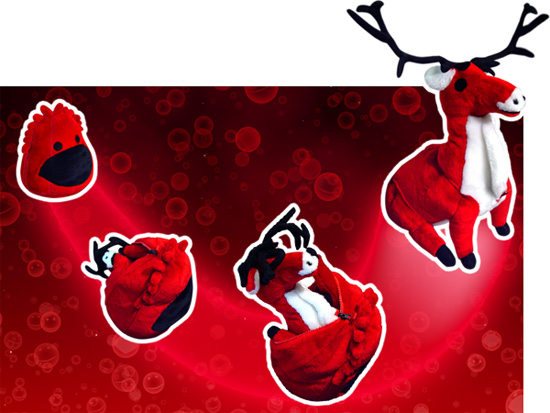 I asked my parents for help improving my franken-prototype. My dad helped me cut new molds and my mom, who can actually sew, put together a set of decent Blobbiemorpher prototypes. Now, all I needed was someone who would want to produce my toy.
With prototypes in hand, I went to toy conventions, I reached out to dozens of toy companies, and I had the honor of being rejected by FAO Schwartz, Mattel, Toys"R"Us and the top toy companies in the world!
It soon became obvious that if I wanted my Blobbiemorphers to become a reality, I would have to produce them myself.
I went to the New York Toy Fair and met with manufacturers from China and Indonesia and gave them my samples. Soon, I received their "counter samples" and price lists.
I still needed a distribution partner and I was struggling to make a deal ... but then the Universe gave me hope: I landed a meeting with a large US retail chain ... let's call this chain ... hmmm ... "Dry's Electronics". Well, "Dry's" loved the Blobbies!
They requested Blobbiemorphers on consignment, but I still needed time and money to manufacture the final toys. So, in the meantime, Dry's would sell the Blobbies' books. They just had one request: large POP displays for each of their stores. Unfortunately, custom POP displays were very expensive. The best quote I got was $7,000 for a set. I figured, I had to risk it (Bad Business Decision #64).
A couple of weeks later, my beautiful POP displays were ready! I shipped them to Dry's and then ... they lost them!
They lost my expensive, gorgeous displays and they blamed me for "sending them to the wrong address." I contacted UPS and got a copy of the shipping receipt with the signature of the receiving person at Dry's. I sent this proof to Dry's and they replied: "The guys at the warehouse probably didn't know what the boxes were and they threw them away. Send a new batch of POP displays".
Chésu Madre!!! (pardon my spanish). I could not believe this! I told them that I could not afford to create a new set and that they should at least help with half the cost... they stopped responding to my calls. Eventually, they returned my stock of books, most of them broken and in unsellable condition.
After this unpleasant experience, I decided to use my credit cards (I never learn) to order a container of Blobbiemorphers and try to sell them directly to stores at the N.Y. Toy Fair.
Thankfully, the Blobbiemorphers were very well received! People loved stopping at my company's booth and everybody smiled while looking at my products. I was able to get several small orders and I also caught the interest of some influential people.
A director from a video game company was very interested in the Blobbies. He even flew me to their headquarters and everything. The director said that they were going to put a million dollars to start the marketing campaign for the Blobbies!!! I was on my way to success!
Once I got back home, I called the director. He never answered. A few days later, I opened a gaming news site and there, in the front page, it said "Video Game Company has dreadful fourth quarter." The company lost many people... including the director interested in the Blobbies (didn't I go through this before?).
Then a direct marketing company wanted to make an infomercial for the Blobbies and sell then on TV! Of course, there would be a small one time fee of $25,000. I thought it was a scam, but I confirmed they were a legit company and I decided to get a loan and risk it (Bad Business Decision #76). Well... all I got was a cheesy infomercial that went nowhere ... except YouTube.
It seems the company tested the infomercial and the numbers weren't excellent, so they lost interest in the project. Funny how they had been calling me non-stop before I paid the $25,000 but after, they stopped replying to my e-mails and phone calls...
Then I was approached by Nelvana and other TV/Film companies. They all requested a script and series bible, which I didn't have. So, I created a script and animation shots for: the Blobbiemovie! Unfortunately, by the time I had everything ready, my contacts had either lost interest or moved on to other companies.
The good thing is that I now have a very nice script, ready to be made into a blockbuster movie. So, Mr Spielberg, if you are feeling generous, feel free to give me call (please leave a message, I screen all my phone calls).
I kept trying everything to spread the word about the Blobbies. I even sent the story of my life and a set of Blobbies to Ellen... but, apparently, the story of the poor Peruvian boy trying to succeed had been done to death.
On a positive note, I was able to sell Blobbiemorphers to stores in the U.S., Europe, and South America. They received a "Toy of the Year Award" and they were featured in Better Homes and Gardens as one of the "Top Holiday Gifts" of 2005. Man! That Christmas I was packing Blobbies non-stop. Everybody would tell me "you are going to be a millionaire next year." Well, "next year" hasn't arrived yet!
I was never able to get a large distribution deal, so my profits couldn't cover my many many bills and/or stop the calls from my dear friends at Discover Cards.
I continued producing and distributing the Blobbiemorphers on my own, but eventually, China decided to place better labor laws (the NERVE!) and voilá! plush prices went up!
Now Blobbiemorphers were too expensive to manufacture ... so I decided to put them on hold until the day I get a good distribution deal.
I have more stories to tell... but I think I reached the quota of whining in this article.
At this point, I am thinking how unfair it is that success seems to come so easy for people like Justin Bieber, the Twilight actors, and the Facebook guy.
Giving up on my dreams has never been an option but, when I turned 40, I started to wonder... what if I am not meant to be successful? What if I have all this talent (yes, yes, humility, I know) but in the end I am meant to be a failure?
Should I give up and just "live"... just work/eat/sleep, repeating that cycle with no purpose until I die? For dreamers like me, that is a fate worse than death ...
I started reading Steve Jobs' biography trying to find out if he struggled like me. I read and re-read the pages trying to convince myself that "Yes, Jorge! Steve also struggled! Just like you!" And well...he kind of did. He had several failures, he was removed from his own company, he even had public crying meltdowns...while I've never had a public crying meltdown (HA!). Then again, all through his struggles he was a bazillionaire, so ... he did beat me on that.
J.K. Rowling may be a better example. After all, she was broke, considered herself a failure, and even contemplated suicide... until she made it big with Harry Potter at 32. And 32 is almost the same as 41, right? Right?
Well, thanks to Google (another company that reached success in, like, 2 minutes!) I found some people who found success later in life: Sam Walton started Walmart at 43, Ian Fleming published James Bond at 44, Henry Ford created his Model T at 45, Taikichiro Mori (Forbes' world's richest man) got into investing at 55, Coronel Sanders started KFC at 65, Grandma Moses started painting at 76!!!
So, now that I've convinced myself that there is still hope for me, I am ready to continue with my next plan for world domination ...
Popular in the Community