I have always wanted to draw well. Although the best I've ever gotten is stick figures, I very much enjoy the arts. Having made my living for decades dealing in words, I admire how artists can use sight and sound to convey ideas and feelings that escape words.
The power of art to inspire--and even heal--was wielded quite well during the 1980s and '90s at the heights of the AIDS crisis. The efforts of HIV activists were arguably enhanced by the widespread adoption of the pink triangle and the red ribbon as symbols of the fight.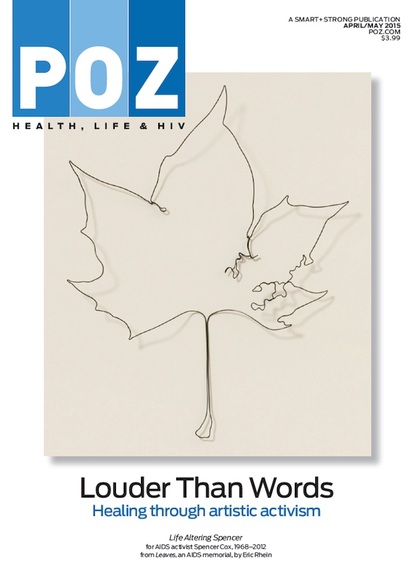 Countless artists during those years were lost to AIDS. The absence of an entire generation of painters, photographers, actors, dancers, singers, designers and other creative people is just too large to comprehend. As they left us, the once seemingly omnipresent voices of artists in the HIV fight grew quieter.
This distancing has manifested not only in the art itself, but also in institutional support from the arts for HIV/AIDS. However, the partnership between the arts and the fight against the virus is far from dead. This special issue on art and wellness explores the connections between creativity and health.
Artist and long-term survivor Eric Rhein embodies these connections. His ongoing Leaves piece--a collection started in 1996 of leaf portraits memorializing over 200 people lost to the virus--combines memory and activism, which hopefully provides healing in the process for Rhein and the rest of us.
The 2012 death of activist Spencer Cox was a reminder for many long-term survivors across the country of the ongoing costs of their collective achievements. In response, Rhein created a leaf for Cox. That leaf graces our cover. Click here to read more about how Rhein continues to expand his art.
The Cox leaf also will be one of the many attractions of Art AIDS America, a traveling exhibition a decade in the making of more than 100 pieces by well-known artists, as well as by regional and community artists. The show kicks off in June. Click here for more about the exhibition, including locations.
Poet and songwriter Mary Bowman uses words to paint pictures. Born with HIV 26 years ago, she is able to share her insights as a long-term survivor with young and old alike. In addition to her poetry, Bowman also has recorded her first album. Click here for more on her art and to read one of her poems.
Photographer Duane Cramer lost his father to AIDS 10 years before testing HIV positive himself in 1996. He uses the lessons those events have taught him in his photography, especially in his work with several HIV/AIDS awareness campaigns over the years. Click here for our Q&A with Cramer.
The World AIDS Museum, located in Wilton Manors, Florida, officially opened its doors this past December. Click here to find out how director of operations Ed Sparan and his team are making HIV history accessible to all.