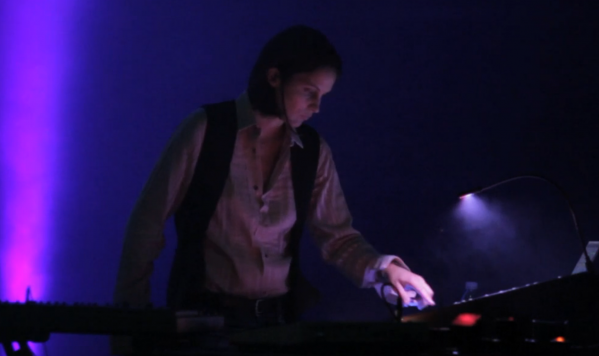 Chloé, video still from her live performance at the Centre Pompidou.
The Ingénue Interview features select artists and scene-makers from around the world, revealing their inspirations, cultural tastes, and dance party playlists. This week, French DJ, artist, and composer Chloé discusses Surrealism, the enduring "French Kiss", and her most experimental project to date.
***
On October 13th at the Palais des Beaux Arts in Lille, French DJ and producer Chloé Thévenin - or Chloé, as she's known - will reprise her sold-out, special live performance of "Chasser Croiser/The Surreal and Its Echo", an un-broadcast radio sound piece that debuted last month at Paris' Centre Pompidou. Steeped in Surrealism, the piece draws upon elements of the early 20th century avant-garde, both in its composition and content. Eclecticism, juxtaposition and an irregular strobe rhythm inform its intentionally illogical structure, while manipulations of archival voice recordings of Dadaist and Surrealist icons evoke sensations of dream, desire and revolt.
This week's performance, accompanied by Bernard Joisten's light/video installation "Rainbow", coincides with the global release of the project's second component: a book bearing the same name. Published through Dis Voir, Chasser Croiser/The Surreal and Its Echo attempts to illuminate Chloe's creative process through montages of personal ephemera: photographs taken during tours, notes on various projects and collaborations, and extracts from the notebooks she keeps while traveling. In addition, the book includes a CD-version of the sound piece, which is set to air November 3rd on the French radio program "Atelier de Création Radiophonique".
Chloé's style, poised between genres and aesthetics, reflects a unique eclecticism which has led her to become one of the most sought-after leaders of the contemporary electronic scene. She became one of the emblematic figures of the legendary Pulp Club in Paris through her monthly residency; she plays at all the most prestigious European clubs, including Frankfurt's Robert Johnson, Barcelona's Mondo and Paris's Rex Club; and is a regular headliner on the festival circuit. Chloé continues to produce remixes, EPs and albums, including 2010's One in Other, which was nominated for a French music award, "Les Victoires de la Musique" and was released through the label she co-founded, Kill The DJ. She continues to expand her collaborations with other artists, choreographers, performers and filmmakers.
How did the idea for Chasser Croiser/The Surreal and Its Echo come about?
This project was commissioned by the French radio show called "Atelier de Création Radiophonique" (ACR). Frank Smith and Philippe Langlois, coordinators of the program, also published books taken from some of their radio shows in partnership with the publisher Dis Voir (ZagZig). They had already published books and CDs with Laurie Anderson, Jonas Mekas, Lee Ranaldo/Sonic Youth, Ryoji Ikeda, and Dennis Cooper/Gisèle Vienne/Peter Rehberg. They asked me to be part of this series.
Were you given any parameters? How did you approach the project?
ACR tends to ask artists from an array of disciplinary backgrounds to arrange and to compare their artistic practice to radiophonic creation. Really, radio is a laboratory of sound experimentation.
This project was one of the most inspiring I have had as I was free to choose the theme of the radio show, and for the book I was very free, too, as it is an intimate book, for which I've selected some pictures from my tours as a DJ and live gigs and some other notes.
This project took me nearly a year to work on, especially because I never thought one day I would release a book. I selected some interviews from the French National Archives, interviews from Man Ray, Duchamp, Elsa Triolet, Aragon, etc. and then I made a forty-minute radiophonic piece. I revisited the sound piece for the live performance at the Centre Pompidou. It's a mixture of interviews, surrounded sounds, and music. It was a very exciting and inspiring performance.
In addition to voice recordings of Man Ray, Marcel Duchamp, Elsa Triolet, Gertrude Stein, and others, you've incorporated poetry by Guillaume Apollinaire, Louis Aragon, Vladimir Maïakovski and Joyce Mansour. What attracted you to the audio clips and poems that you ultimately chose?
I was interested in having diverse languages, diverse vocal tones, men, women, diverse recordings, from the past, but also from today. I found Guillaume Apollinaire reading his poem "Sous le pont Mirabeau"; it is a specific recording from his time. I also found some funny interviews with Man Ray, Duchamp et al. in which they explain their own approach to Surrealism. I've found some extracts of Dadaist performances. I didn't find any Maïakovski interviews, so since he was Russian, I asked a Russian singer if she would recite a poem by Maïakovski in Russian. I asked a friend of mine to recite in many diverse ways the Joyce Mansour poem "I want to sleep with you" so that I could have more material, and mix the vocals I had recorded myself with some old recordings.
Appropriately Surrealist, your use of these audio archives manifests itself as a hybrid of art and life, in which there is no clear delineation between the two realms. Would you comment on your use and manipulation of the voices throughout the sound piece?
My idea was to have some vocals I've found with their original old recordings, but also treated with many diverse processes from today that we can find in electronic music. This work allows me to enter my music even further, going further, allowing me to challenge some technical work that I use and get some interesting results.
In terms of composition, how is this piece a departure from work you've previously produced?
I've always composed music without setting a limit of styles on myself. I'm a DJ, playing club music, but I've also composed slow songs as well, beginning with my first EP released in 2002 on the label Karat. I've released a lot of club music and remixes, but at the same time I spent four years attending some electro-acoustic classes at a conservatoire in Paris.
Was it necessary for you to break from the traditional forms of electro music in order to render this piece an evocation of Surrealism?
There are many different ways to do electronic music, each artist has his or her own approach. It is a way of being totally independent and free in the creation, and this freedom is a real boost to my work.
Surrealism is more of a lifestyle than an artistic movement; it does not set any limits. It boasts a spirit of liberation. I can have the same approach when I produce music, and especially with this project, in which I wanted to have the freedom of Surrealism.
The juxtaposition and eclecticism of both the sound piece and the book appear to reflect your itinerant lifestyle as a DJ and collaborative methods as a producer. Would you say that your lifestyle and work propel your creative impulses?
I am inspired by many different things. I get inspired by many things to create: it can be a book, a feeling, a show, a record, etc. I am very open to having new projects that can nourish my work, by collaborating with performers, dancers, cineastes.
Which artists, writers, or filmmakers (past or present) do you admire?
I recently really liked Metronomy's latest album. There's an exhibition on Munch at the moment at the Centre Pompidou that I would love to see. I have times when I like to listen only to my old vinyls at home, so it can be from classical music to rock music, and there are times I like to have silence.
What are your favorite dance tracks?
I'm still listening to some old club tracks like "French Kiss" from Lil Louis, Georges Morel's "Sex Groove", and "Blue" by Latour...
Where do you like to spend your time in Paris?
I like to be out on some terraces in Paris, wherever.
Trailer from Chloé's live performance at the Centre Pompidou.

Related
Popular in the Community