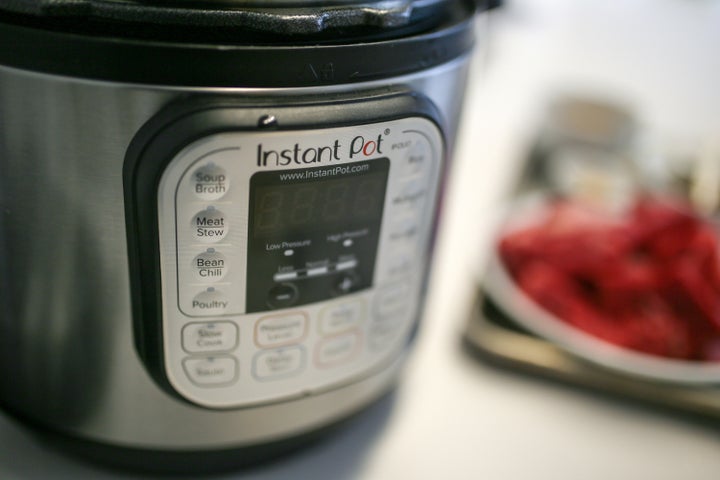 The Instant Pot is arguably the greatest kitchen appliance of all time. Anyone who doesn't believe that can fight me … except for world champion boxer/kitchen appliance pitchman George Foreman.
The reason the electronic multi-cooker is so popular is because of its versatility, enabling you to use it as everything from a rice cooker to a yogurt maker to a pressure cooker. One slight hiccup: It doesn't cook everything perfectly.
So how do you know what to throw in the Instant Pot and what to prepare elsewhere? You have to ask the experts. That's why we rounded up a handful of people who have cooked tons of meals in it and developed recipes for the fancy countertop device. We've asked them the same question: What foods would you never put in an Instant Pot?
This is what they told us:
"Pressure cooking will never yield the same flavor and texture as grilling, broiling or frying a steak. Not to mention it will also take longer to cook! You'll likely end up with bland, watery and overdone steak if you try to cook it in the Instant Pot." — Julia Nickerson, Savory Tooth
"I'd never cook a burger in the Instant Pot because then it would be a steamed patty, and the essence of a burger is the outer caramelization and searing of the meat. Besides, burgers cook so quickly anyway; I see no reason to use an Instant Pot." — Neena Panicker, Paint the Kitchen Red
"While one of my favorite things to make in the Instant Pot is lentils (especially Instant Pot lentil curry and Instant Pot lentil soup), stay away from delicate red and yellow lentils. Opt for heartier brown or green lentils instead. Where brown and green lentils can hold up to the intensity of pressure cooking, red and yellow ones turn to a sad mush." — Erin Clarke, Well Plated
"I've been asked several times how to cook prime rib in the Instant Pot. My advice is to not do it! Do not waste an expensive piece of meat. It'll make the meat dried out and rubbery." — Carla Bushey, Adventures of a Nurse
"I'd never cook fried chicken, or any fried foods, in the Instant Pot. A pressure cooker isn't capable of making anything crispy; it tends to make everything soft and moist, not crispy. That's why it's great for soups and stews." — Nickerson
"[If you cook bread in the Instant Pot], the result is steamed bread that's dense and has no real crust. Baking gives bread airiness, and the crust is formed when moisture evaporates; this can't happen in the moist environment of the Instant Pot." — Panicker
"While you can use your Instant Pot to make some pretty fabulous desserts, one dessert you should never ever try to pressure cook is cookies. Because moisture and pressure build in the pot, you won't get those nice chewy edges or a soft middle. Plus, you won't be saving any time — a batch of cookies in the oven can cook in less time than it will take your Instant Pot to reach pressure." — Clarke
"Puff pastry and pressure cooking don't go well together. You'll [inadvertently] come up with a new dish called Beef Meltington. Gordon Ramsay will not be proud." — Jacky, Pressure Cook Recipes
"I know many might not agree with me on this one, but I'd advise not to cook egg bites in the Instant Pot. [Unless you like a] rubbery texture, use a sous vide for those." — Carla Bushey, Adventures of a Nurse
"I cook just about anything in my Instant Pot, but [I'd] never try to make cookies or pie in a pressure cooker. They would just turn into a big soggy mess from the moisture. I'm guessing nobody has ever said they like their pastries wet and spongy." — Amy Locurto, Living Locurto
"Don't cook jumbo sea scallops in an Instant Pot; they can go rubbery quickly. They deserve to be [prepared] on a piping-hot pan." — Jacky
Support HuffPost
A No-B.S. Guide To Life
Popular in the Community