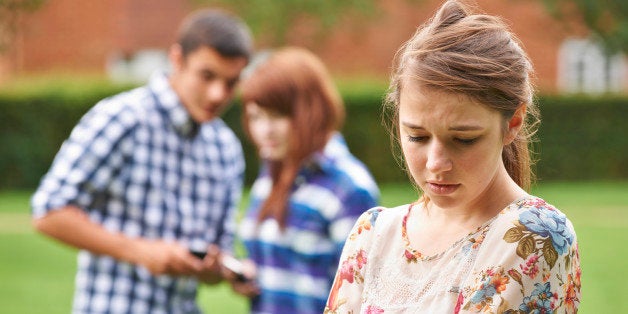 The stories are heart wrenching. Rehtaeh Parsons, Audrie Pott, Amanda Todd -- one young teen after another taking their lives following vicious in-person and on-line harassment after they were sexually assaulted, yet labeled the school "slut."

Slut-shaming is not a new phenomenon. Women have been called sluts, whores, tramps, hos and worse in an attempt to punish them for their alleged or reputed sexual activity. Some use these labels to police sexuality, a way of drawing a line between approved, acceptable sexual activity and what they deem as inappropriate or unacceptable actions.
For others the label has little to do with sexual behavior, and is part of a larger system of control. Recent research suggests that slut-shaming is a function of social class differences between women. However, critics argue that reducing slut-shaming to mere girl-on-girl gossip bypasses a crucial point: As author Shira Tarrant, Ph.D. points out, "slut" is most often used as a slur against women, meaning no woman is immune.
Emily Lindin is founder of The UnSlut Project, a collaborative space that draws attention to sexual bullying and strives for a world where "the word slut doesn't even make sense as an insult."
This week, a preview of her movie "Slut: A Documentary Film" was featured at the CatalystCon West film series. CatalystCon is a conference designed to engage sex educators, sex workers, writers, researchers and activists in conversations about sexuality and acceptance.
"The preview we showed at CatalystCon is the product of the year of work since our kickstarter campaign," Emily said.
"The audience at CatalystCon was so receptive and the screening allowed me to get feedback from people with decades of experience in the sex positive world. They have already helped me understand my own history better, and I'll apply this knowledge in the making of the longer version of the film."
Although The UnSlut Project is driven by Lindin's own personal experiences as a sexually bullied middle school student, slut-shaming affects women of all ages, as well as men.
As battles over consent heat up on college campuses across the country, sexual bullying also raises consent issues in several ways. The "slut" label sometimes stems from derogatory photos or videos that are taken without the consent of the person involved. The reputation spreads when these photos or videos are then shared with others via cell phones and social media, again without the person's consent.
Being labeled a "slut" can also occur when photos or video that are shared privately with a romantic or sexual partner are later shared with others -- yet again, without consent.
Once someone is labeled a "slut," the reputation attached to that term can contribute to the misguided belief that the person is "asking for it." Comments such as "she wanted it," or "you can't rape the willing" suggest that the mindset driving slut-shaming may present serious concerns with regard to sexual violence.
Additionally, slut-shaming isn't limited to gossip, in-person bullying or virtual harassment. Last month, a college student reported returning to the parking garage after class to find the word "whore" keyed into the hood of their car.
Before we begin blaming the actions of individuals or further analyzing societal conditions, a few questions to think about:
Have you ever used the word slut? If so, in what context?
Have you ever made a quick judgment about someone else based on what you thought you knew about their sexual activity?
Do you know someone who might be the victim of sexual bullying?
What can you do to interrupt the cycle of slut-shaming?
We can start with our own spheres of influence, whether at work, at school or among friends. How will you start the conversation among your friends? What strategies will you use to point out slut-shaming when you see it?

Nina M. Flores is a PhD Candidate at UCLA's Luskin School of Public Affairs. Follow her on twitter: @bellhookedme. For more information on The UnSlut Project visit www.unslutproject.com. For more information on CatalystCon visit www.catalystcon.com. CatalystCon East is set for March, 2015.
Related
Popular in the Community