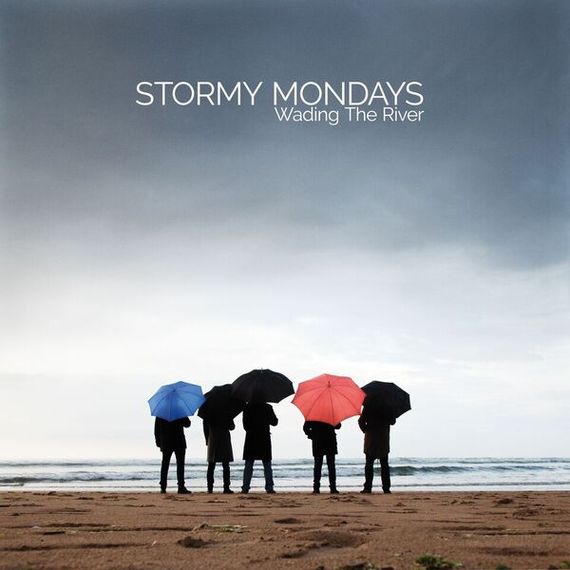 (Randy Radic contributed to this interview)
What's your favorite song to belt out in the car or the shower?
Great question! I like to sing stuff that's way out of my league, like
Otis Redding or Roy Orbison. Or whatever comes up on the car audio!

What kind of guitar do you play, and why?
I love guitars, and I try to keep my collection down to a reasonable
number. The jewel of the crown is a Teye "La Perla". Teye is an
incredible luthier that makes the most beautiful sounding, and
over-the-top looking guitars. It allows me to go from Les Paul to Tele
and all the sounds in between, and the top is finished in real mother of
pearl and abalone shell. Stunning!
My first real guitar was a Gibson Les Paul Standard in cherry sunburst,
and I'm more of a Gibson than a Fender player. Although I have a
fantastic Telecaster that looks very much like Bruce Springsteen's.
What musicians influenced you the most?
The Beatles, Bob Dylan, Springsteen, The Jayhakws, Counting Crows, Del
Amitri, The Waterboys to name but a few. And let's not forget Marty
McFly, playing "Johnny B. Goode" in "Back To The Future"! I think that's
where it all started for me as a guitar player...
Of the many places you have performed, which was your favorite? And
why?
The gig at Woodstock '99 was quite epic. For us it was a great
validation of our work: A little band from Spain, singing in English,
with their first album out on their own record label, getting to play
the biggest festival... on the smallest stage of course!
What music have you listened to lately?
I was just listening to a Cowboy Junkies live show that I downloaded
from NoiseTrade. I love that band. I admit I find it hard to make time
to listen to really current music. A good trick is to go on Spotify, and
create a radio out of a song. Many times the algorithm is pretty good
and picks a lot of great bands that I haven't heard of.
Does listening to other bands and/or singer-songwriters tempt you try
something completely unusual? For example, let's say you listened to
Ozzie Osbourne. Would you ever consider doing something with a metal
flavor?
Maybe not something that extreme as metal, but yes. One way or another,
anything that falls within the boundaries of the Stormy Mondays sound
finds its way into our music. And probably some things that don't fit at
all too!
In my review of your new double EPs I describe your musical style as
folk rock. How would you describe your style?
Folk rock is quite accurate, and it includes so much as well. Being in
Spain, the musical influences are diverse. We've been into Americana way
before that term existed, but we are equally influenced by the 60's
British Invasion bands. In our heart, we've always wished we could be a
soul band, hence the horn section. And this record, with the
hurdy-gurdy, violin, bagpipes and whatnot, is definitely folk rock.
How did you come to write the songs on "Wading the River" and "The Lay
of the Land".
I tried to give myself a framework to write in. I was aiming for two
4-track EPs, so I said to myself "you need to write a big rocker here, a
slower song there". It was just a trick to get the writing started,
really. However, the deliberate folk rock adventure of "The Lay Of The
Land" really influenced the writing, both the lyrics, which are more
poetic, and the music.
What kind of acceptance have the double EPs enjoyed?
Everyone loves them: our long-time fans, and people that have just
discovered us. That's good! The move into a more folk oriented sound
could have been risky but it turned out great. World domination still
eludes us, but we're working on it!
Where do you find inspiration for your songs?
When I'm in songwriting mode, my antenna is up all the time. If you are
around me, "anything you say can and will be used in a song". The
process has changed over the years. When you are starting out, it's
always easy to write a song, they come to you anywhere. When you've
written a few albums, it becomes something you have to sit down and work
on.
We wrapped up our "Folk and Roll Tour" in November last year, with a
private show that was filmed in video. We played some very nice shows
all over Spain. For our Barcelona show, U2 were in town, and they had
the day off. So naturally, we sent out an invitation. They didn't come,
but they sent us an invitation to their show the next day. That's class!
When will you go back into the recording studio? And when you do, do
you foresee the next album reflecting a similar sound or might fans
expect something totally different?
We're a bit behind schedule, but our plans were to release a new EP in
May. I'm still in the writing phase, and at the same time I'm setting up
our studio for the recording. I've always worked on the recording of our
albums, and I'm really looking forward to spend some time in the studio
again.
I'm still not sure which direction this will take. I have song sketches
that point in different directions, but I think we will keep on the folk
rock path for a bit. We're really enjoying it.
I'm a sucker for good drumming. Who played the drums on the album and
where did he learn his style?
You have a good ear! We are lucky to have a master drummer, who's been
with us since 2002: Danny Montgomery, from San Francisco. Danny's
recording and live credits include Ray Charles, Percy Sledge, Concrete
Blonde, JJ Cale, Alex Chilton, Taj Mahal... and a lot more! Danny spends
his time between the US, Spain, France and Italy, touring and recording.
He is the most musical drummer I've ever played with - or seen play.
He's got something very special going on, and he really listens to what
everyone is playing and reacts to it. Plus, he tells great jokes!
Calling all HuffPost superfans!
Sign up for membership to become a founding member and help shape HuffPost's next chapter